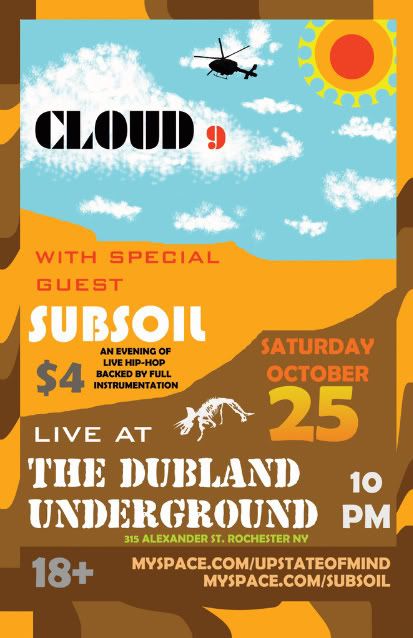 werd: james niche
I don't know if you are like me, but I've been tired of MCs on stage at live shows with a DJ and bunch of guys yelling like baboons waving towels in the air.
Those days are done, and they were short lived to begin with.
Hip-hop samples live bands. Hip-hop is live music. It's a drum kit, a bass, a guitar, vocals and some horns.
What better way to translate that live, than to have a band presenting those elements with real live musicians?
In comes SubSoil.
Now, SubSoil is not the first, and certainly not the last of great hip-hop orchestras to grace the stage, but they represent a long line of live bands like, The Roots, for instance.
Founded by tattoo artist/MC/comic book fan/idealist/soon-to-be-married/model American, LAZ and bald head slick aka Moon, this band has been keeping it real on the stage and on the streets.
They are comprised of keys, a drummer, a bassist, a guitarist, horns and two MCs, Moon and LAZ being those MCs.
Their music, in a live show, goes all the way from hip-hop and rock to funk and jazz. It can be a beautifully blurry line on the sound waves.
They have now been traveling all over New York State with their groove, including shows with New York City pals, Cloud 9.
SubSoil and Cloud 9 have a show October 25th, at Dub land Underground.
It's a Sunday afternoon and I am at Extreme Graffix, on Dewey and Steko, with my man LAZ and Moon. LAZ has a break from burying some ink, so let's get started. On with the interview.
LAZ: This is Lazarus Green, one half of the binary nuclear nexuses, SubSoil.
I started rapping a while ago in Rochester and then hooked up with SubSoil, but I came up with Build, Destroy and Pounds.
I like to focus on live hip-hop orientation and bring flavor back to Rochester so it doesn't taste so bland.
Moony: This is Moony, the other MC in SubSoil. SubSoil is something I've been doing for like ten years.
I used to have a hip-hop band in high school called Brazz Nuts.
I had been trying to form a good band for a few years and LAZ dropped in a while ago and that's completed it.
ACT:LIVE:
How many members are there now?
Moon: Seven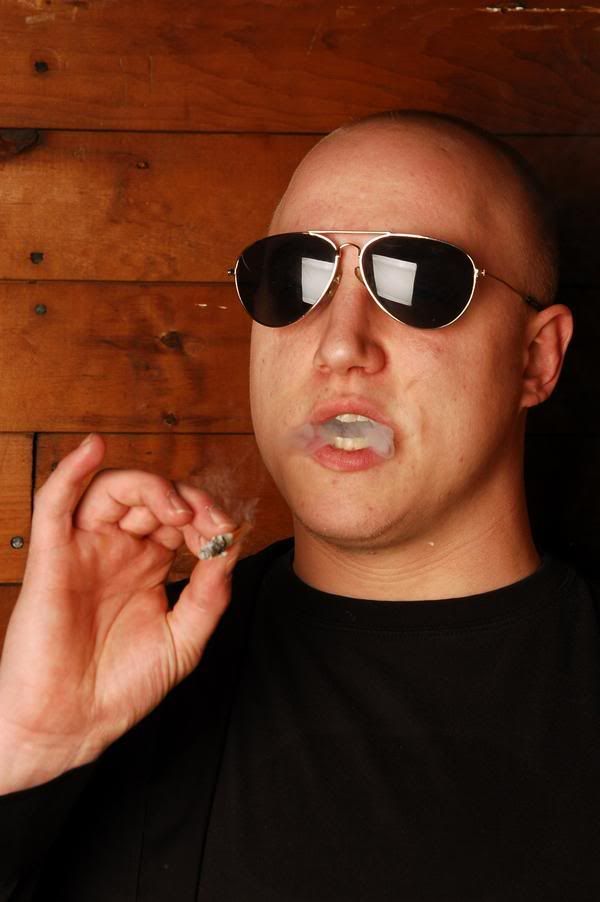 ACT:LIVE:
What kind of music are you guys looking to represent, is it a world theme?
Moon: We want to keep playing different kinds of music. We want to play everything from afro-beat, to reggae, to funk, to hip-hop.
ACT:LIVE:
Where have you guys been playing in New York? I know you have played there a few times.
Moon: We played at Kenny's Castaway a little while ago and in Syracuse recently.
LAZ: We've been to Buffalo a few times at a few different clubs, too.
ACT:LIVE:
Do you guys get a good response when you go out of town?
Moon: We played in Manhattan and Plattsburgh with another hip-hop band called Cloud 9 and the response is great, but it seems like we're introducing people to real hip-hop.
A lot of times we're not even playing with bands in the hip-hop genre, so we slip them the hip-hop Mickey.
LAZ: We get them there to get down to some real, live hip-hop funk and then we slip them what we call the hip-hop Mickey, with a side-order of funk.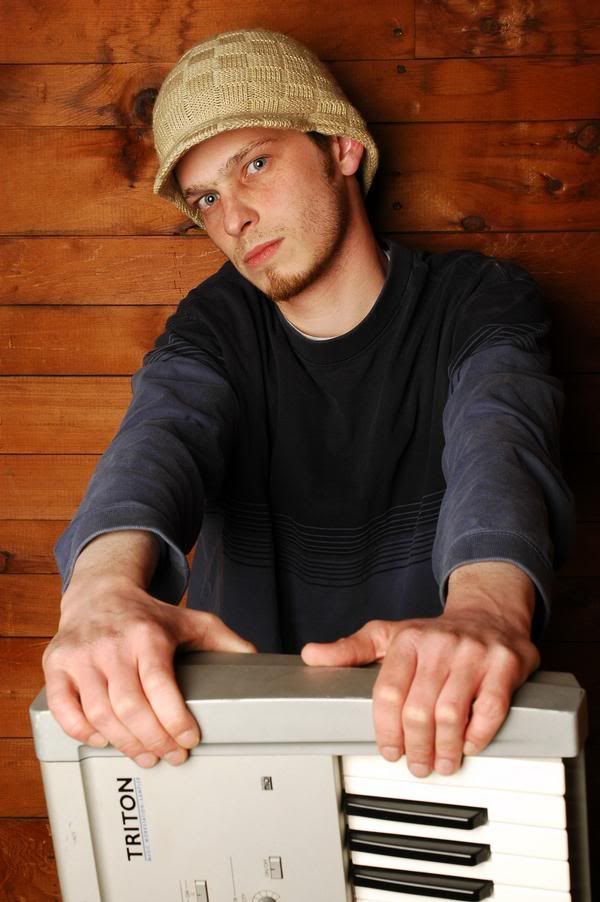 ACT:LIVE:
I think people are tired of the plain old MC and DJ and they want to see more out of a performance.
Moon: The DJ and MC duo is still accepted, but there has to be something more.
I like that people will come up to us and tell us that they aren't even hip-hop fans, but they really like us.
I really wish they would say that all they listen to is hip-hop. (laughs)
ACT:LIVE:
What's the subject matter that you most explore?
LAZ: We focus on an organic feel. We like to explore every aspect of being a human musician. We're people, so we grow and change, as do our style and presentation.
We like to keep relevant to music we like and music that's memorable.
A lot of kids have a Frooty Loops program and a laptop and they can make it big. We try to express ourselves in many ways.
Moon: It's great if you can light up a stage with just your voice, but we are really glad we can have the live band element, too. It's the best of both worlds.
ACT:LIVE:
What's the live show like?
LAZ: It's hard to write a set list sometimes because we have music that's so diverse. It can be hard to puzzle it together. We mix it up and we try to not play the same set twice.
A lot of times, music will just take shape within the live set. Our music is also sometimes written live.
Moon: Or re-written.
LAZ: I go to so many hip-hop shows with MCs rapping over their beat with vocals still on the live music track; it's like watching hip-hop karaoke.
Hip-hop has become formulaic. To me, that's where it started its creative decline.
ACT:LIVE:
Is the writing process pretty democratic for your band?
LAZ: Yeah, we try different things and would like to appeal to everyone's tastes and we want to do it based on the merit of the musicianship.
Moon: Absolutely, we like to let everyone be themselves and put forth their best, but we usually make the calls. If there are too many cooks, you can ruin the sauce.
We're a band, so everyone plays a big part.
LAZ: I will never tell someone in the band how to do their job, I may not even know their instrument, but I will ask them to play a melody I may have in my head and see if it works out.
Moon: Sometimes some things pass because a member may be really passionate about their position.
ACT:LIVE:
Where's your favorite place to play in Rochester? What do you like about playing in Rochester?
Moon: Bug Jar was my last favorite, but I like Spike's and I like Dub Land, too.
LAZ: I really like Dub Land right now. The crowds are always good and it's right by my house.
That is the bar that I regularly choose to go to, so it's like playing in my living room.
Moon: There are great promotional opportunities at Dub Land, too. I can go there and promote like three shows at one time.
LAZ: I like the Bug jar too because it's a Rochester staple, and if I could be so bold as to say this, I think it's like Rochester's CBGB's. It has that kind of history to it.
ACT:LIVE:
Any words to the new kids on the block?
LAZ: I was telling you earlier, you can tell who the new kids are in town.
The younger kids aren't networking or sharing any love. Maybe they don't know how to.
The older guys will get around all the time and just talk about music and try to put each other on because at the end of the day, we're all fans of each other. These young cats are trying to hide in the corner and think they can do it all by themselves. You can, but you need to be able to talk to people.
The bragadocchio thing is played out and corny.
Moon: Everyone has to do well for everyone else to do well.
The degrees of separation in this town are slim.
ACT:LIVE:
You guys have probably been through all the local ups and downs with gigs, tell me about some.
Moon: Man, we really have been through it all, full circle. We were playing gigs downtown until they started to frown on that, then moved to all the places that were still booking hip-hop, like Penny Arcade, and went through hell.
Nobody wanted to come to the Penny Arcade, it was way out of the way. So, no one came. Then, clubs stated seeing a market for what we were doing and let us back in. Milestones was one of those places.
LAZ: Weekend at Chucky's was awesome tough, we played there at like 4:30 in the afternoon and we had people flowing down the hill in numbers to listen.
It was like were the pied pipers of rap. People treated us like superstars.
ACT:LIVE:
What is Weekend and Chucky's?
Moon: A festival we want to play again.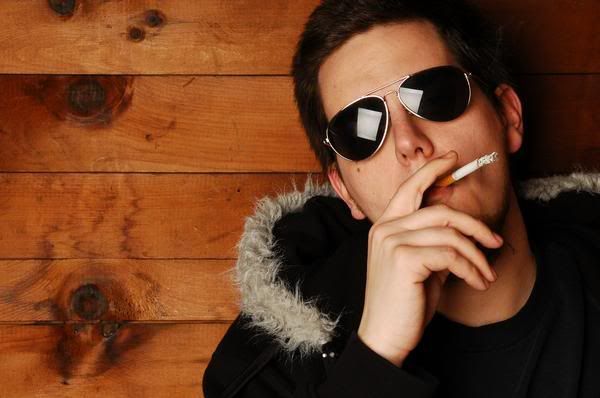 ACT:LIVE:
I want to ask you about something I hear in regards to Travis McCoy of Gym Class Heroes and something he said about the New York msuci scene…did he shit on New York?
LAZ: Ok, well, I used to work with Travis at Extreme Graffix in Geneva. He used to tattoo there.
So, I don't want to try to shit on him, but he was asked about the New York music scene and he basically said it was dead outside of New York.
My problem with that is that he is from up here and he can't even say something positive. He isn't even Rochester, NY and doesn't know what the hell is going on up here.
He's discrediting all the bands like Panda, Buddhahood and Filthy Funk.
ACT:LIVE:
Too bad he hasn't tuned in, because there are some really talented guys doing their thing in Rochester. They really need to be heard.
Moon: The best music is always being created on the lowest level.
LAZ: If someone asked me about the scene of where I came from, I'd say –
Moon: How much time you got buddy?! (laughs)
LAZ: I would name drop as many people as they would allow.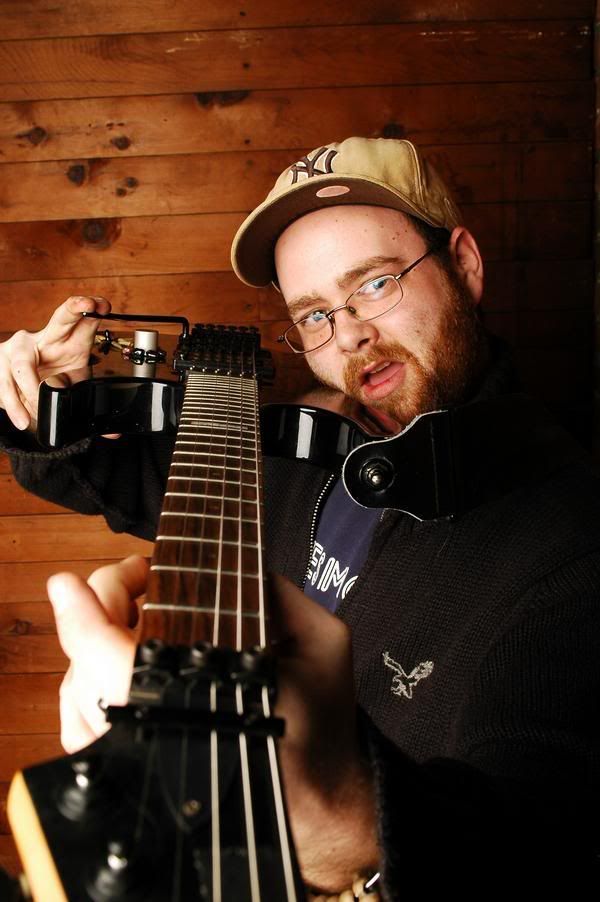 ACT:LIVE:
So, you have a show with Cloud 9 in a week, what's the relationship there and how's that going?
Moon: Big ups to Doug and Tags in Cloud 9
LAZ: Tags, I got your tattoo, don't worry. By the way, I do tattoos, too.
I work over at Extreme Graffix at the corner of Dewey and Steko, in Rochester.
ACT:LIVE:
Do you guys have a lot of fun with Cloud 9?
Moon: Oh yeah, we've had some really good shows together.
LAZ: They opened their house to us, they let us crash at their crib…they let us do their madlibs, it was crazy. (laughs)
From the moment we walked in the door it was like we had known them forever.
Moon: They set up a great show in Manhattan.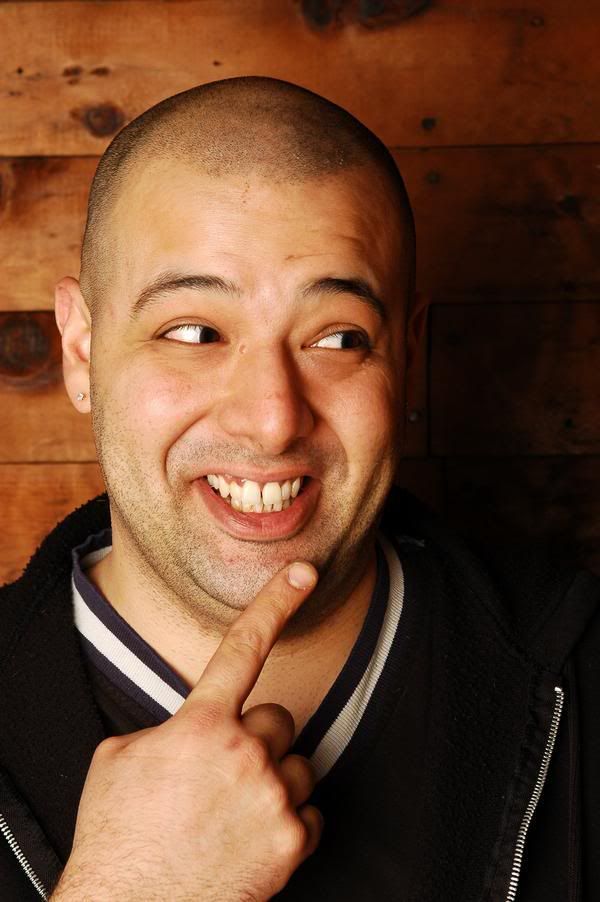 ACT:LIVE:
The last question…what's the superhero name?
Moon: Moon Knight, or Mark Spector.
LAZ: I'm a huge comic book fan; it's been an obsession of mine for a while. I like to read them, make them, and buy them.
I've even been making submissions when I can, I'm trying to work with the Marvel team.
My superhero name would be Lazarus.
There are a few Subsoil shows coming up in the next few weeks, but one to take note of is their October 25th gig at Dub Land Underground with Cloud 9.
Cloud 9 is a musically related hip-hop based band out of the New York City area and have played with SubSoil a few times. Click
here
for more on Cloud 9.
SubSoil is also playing at the next ACT:LIVE event, Future Sound. Stay tuned for all the details for it's going to be good and it's going to be fun.
Till next issue when I interview legendary drum and bass producer, EWUN and talk about the Halloween show at Pearl.
I also interview Cloud 9, before they come into town.
Peace kids.
- Games

Right now we're listening to:
J San and the Analogue Sons
"Freedom Sound"
(
"Sound Resistance"
, 2008,
Entak/Universal
)