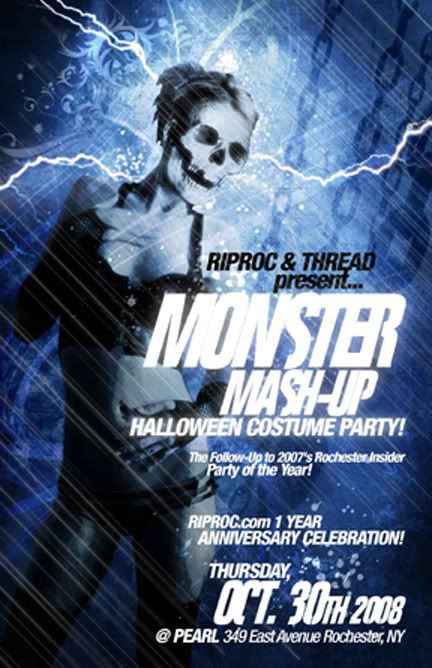 werd: james niche



Happy Halloween everyone!

You're going to party this week, you want to get down, you want to get dressed up and you definitely want to be entertained.

You need to pay attention to the news…..now.

This coming Thursday, the 30th, the day before Halloween, is a show at Pearl Nightclub that you do not want to miss.

RIPROC.com presents their follow up to last year's party of the year, as selected by Rochester's Insider magazine.

(Last Year's Party)


The night will be a celebration of local art talent, fashion, music, personality and mayhem.

There are few people to grace Rochester with such stellar ability to coordinate talent on this level and leave you with feeling you will talk about for years to come.

Patrick Gaffney, better known as DJ Banshee, and his partner Kill The Noise, also known as EWUN, LUDACHRIST, Ray Boardman, Minus Music and many other aliases, are two of these people.

Together, they have woven a very crucial web of Rochester talent over the past year.

They celebrate one year under the roof of RIPROC on October 30th.

RIPROC has evolved from a thought, to an image, to a blog, and now to the best parties Rochester has seen in years.

EWUN, having been a long-standing and very visible part of the electronic music scene, has taken the best of his relationships gained over the years and is applying them to a new generation of thought and musical enlightenment. This shows in his approach to the events he has thrown in the past year.

For example, the LUDACHRIST party. Last May, he assembled an army of painters, DJs, photographers and graffiti artists for the White T-Shirt Party at Pearl. That party was not only a huge commercial success, but also paved the way for artists from all over the region to meet one another and network.

That's what I'm talking about people. ACT:LIVE would not be here today if it were not for these events and this mode of thinking.

I am going to leave you now with some words that Kill The Noise shared with me on Monroe Ave one night last week. He shares a bit of insight on what he does and what is really helping Rochester music and art promotion.





KTN: I guess more people in the scene would know me more as EWUN, as opposed to Kill The Noise.

ACT:LIVE: Let's talk about the Monster Mash-Up and RIPROC for a bit. How did RIPROC evolve? You guys are working on a year anniversary of amazing events.

Right now, we are doing the RIPROC thing. The integral components of that are me and Pat (Gaffney, aka djb).

The concept of RIPROC is not something I came up with independently. 'Infiltrata' actually came up with the name.

I did this thing with 'Meek', Mike Matthys, called ROC DNB. We did that for a couple years and that was fairly successful, we did mainly drum and bass oriented events. We would dabble in a few other genres, but it was predominately drum and bass.

He and I pushed it as far as we could.

ACT:LIVE: What happened from there?

Well, we didn't really have a falling out; we just decided it couldn't really go any further. That's when 'Infiltrata' came into the picture.

We were out in Los Angeles together and he was asking me when I was going to bring him out to Rochester for a ROC DNB show, but when I told him that ROC DNB was dead, he said…"R.I.P. ROC."

I thought to myself, that has a good ring to it. So, I wanted to start something called that.

It has a dual meaning to me. After ROC DNB crashed, the scene kind of took a dip. That was part of the reason for us to stop doing the events; a lot people were saying the scene was dead.

It's funny, because people were tagging our shit, 'Rochester is dead', but when they go and look at the scene, it's not. It's as alive as ever.

I really just like the idea of the dual meaning.


ACT:LIVE: How did Pat (Gaffney) come into this picture?

I've lived with him before, in the past. I knew he and I could work together, so I was shooting ideas off to him about trying to do some new things. He was just getting out of a project with a couple guys, so we decided to work together.


ACT:LIVE: To many in this city, you guys are the gurus of proper party coordination, what's the secret? I try to tell these kids I work with that relationships are almost everything in this business. Wouldn't you agree?

I think you nailed it right there, but I am also pretty fortunate to be able to travel and get different perspectives on events. I get to compare and contrast what works and what doesn't.

You don't get the same opportunities in Rochester, unfortunately, because there are not as many people putting on these kinds of events. The shows are kind of sparse.

But, if you compare Rochester to a lot of other parts of the country, there are a lot of things going on here if you look around. ACT:LIVE is doing shows, and even the clubs here are taking it upon themselves to bring in big name DJs from all over the world. Even in cities larger than Rochester, you can't find that.

It helps to get out every night to all these different events in the city and get to know people.

I think that the biggest thing that we try to do is establish and create positive relationships. We like to get out and talk to people, find out what they may be into, where they stand and try to position ourselves in a place where we aren't taking anything away from anyone.

If anything, we're trying to bring everyone together.

(White T-Shirt Party)


ACT:LIVE: I think you guys have done an incredible job uniting artists of every medium together for your events. I would not be doing what I am today if it wasn't for the LUDACHRIST show and the relationships I gained out of that party.

I have seen so many people connect and do things together, including venues working with new promoters and artists working together. Even when I am doing shows with other artists, they will put their friends on to what we are doing and together we can all build on bigger things.


ACT:LIVE: What's your outlook on the Rochester scene, or even RIPROC?

We'll see how things go, but I feel a real good energy around here. I remember when I was 17-18 years old and how things were going back then. I am feeling a lot of that same energy sprouting up again.

I think it's really important to have a bunch of different promoters pushing for different causes.

A lot of clubs and even promoters don't see that as a good thing, having so many independent people, but that's what gets me inspired. I love to go to new places and meet new people.

I think the scene is really here right now.

ACT:LIVE: I agree. It can only go up from here, in my opinion.

I remember a time when we would promote shows, like this one, and would be saying to each other, "Where the hell are we going to go? There's nothing going on."

But, now, I think the soil is pretty fertile. There are a lot of interesting new ideas out there, between all the artists and musicians.


ACT:LIVE: So, you get to travel all over the world and work with some of the biggest names in the music industry…I assume you do your best to spread the good will of Rochester arts to these people and places, right?

Yeah, man.

ACT:LIVE: What's the word on the street about Rochester when you are out of town?

I can only really speak on the electronic music scene, but I know that a lot of the guys I deal with are stunned by the resilience of the scene up here.

A specific example of this would be when Deiselboy came up last time. He told me that it was one of the best shows he had played in the past six months (at the time). I can quote him on that, which is great, and it says a lot about drum and bass, too.

These guys can come to Rochester, NY, which is smaller than most cities that harbor drum and bass, and they can say that coming to Rochester is sick. Deiselboy is really looking forward to coming back here now.

I think guys like DJ CRAZE like the fact that they can come here and play everything in their arsenal, not just hip-hop.

It's a little bit different for guys like CRAZE because they will come here and play for 500 people at Pearl, but then the next night he will be performing with Kanye West in front of 30,000 people.

Rochester is a really good meting pot of musical tastes, which is great because everyone comes out and supports one another.

ACT:LIVE: RIPROC definitely keeps it pretty diverse, I love that.

Absolutely. Just look at the bill for the mash-up. Not only do we have an incredible drum and bass DJ performing, but we have hip-hop, funk, house, electro…you name it.

ACT:LIVE: Hence the mash-up.

Yeah, that way everybody can have a taste of something they really enjoy, the night becomes an experience.

I haven't always been like that as a promoter or music listener. I went through my phase of drum and bass, and drum and bass only.

ACT:LIVE: That can get boring.

Yep. As time has gone on, I have realized I like everything. Now, I really like pushing in a lot of different directions because it's exciting and you get to meet more people that way.

ACT:LIVE: So, the secret being…

Logically, things are just a lot better when everyone is involved.

I think the idea of having separate crews and alienating yourselves from other artists is a dying business model.

I think the music industry has evolved to a point where genres rely on each other to stay going.

ACT:LIVE: Were you nervous at first when you started reaching out?

At first I was like, "Oh man, are all the drum and bass kids going to leave if, like, somebody else goes on?"

It was a little scary at first.

It was people like DJ CRAZE and A-Trak that helped to really bridge that gap.

Another classic example is Herbie Hancock. He is a personal idol of mine. He was consistently about a couple steps ahead of the crowd.

ACT:LIVE: Is LUDACHRIST your homage to that way of thinking? You blend every sort of pop, hip-hop, house, drum and bass and electro break there is, on that album.

Yeah, man!

LUDACHRIST is like, the amalgamation of all the music I have listened to in my life.

It's the idea of mashing all the components together and taking it to a freakishly new level, and it's fun.

It's a time when I can do something and not worry about what the 'scene' thinks about it. It doesn't really fit into any particular genre.




Now that is good brain eats folks. Take that home, chew it, savor it and regurgitate it into the mouths of your young.

Once again, the party is this Thursday at Pearl. The only thing I have to say is...

It's going to be packed, so get your tickets. We may not be letting people in if it is sold out. If we are letting extra heads in, they will be paying a premium price of $25 for admission...so, my advice is get a ticket now!!!

ACT:LIVE has tickets available or you can check RIPROC.COM for ticket outlets.

Back to Kill The Noise...the man has many names and projects out there in the mix, the infamous 'Screw-Up' drum and bass track is on that list, but as of last year, he released a project entitled 'LUDACHRIST: Bangfest'.

I suggest going to the LUDACHRIST download link and getting it. Click it and you can download it.

If you like Girl Talk, you probably won't after you hear this mix created by Dr. Ray Boardman and Knick (Los Angeles).

As Kill The Noise says, it's an amalgamation of everything you hear growing up, cut with hip-hop, drum and bass and electro, all in a nice Ableton blender.

You need to listen to Bangfest if you haven't yet.

After that, I'll see you at the party of the year.

Peace kids...

- Games




Right now we're listening to:
LUDACHRIST
"Metallitroy"
(
"Bangfest"
, 2007,
Dr. Boardman/Knick
)