werd: james niche
E. Moore's latest project, "The Symphony" could be best described as just that. It's an orchestra of local artists and out-of-towners that have helped to shape who we know as E. Moore, the producer and MC.
If you look back in the ACT:LIVE archive and read the interview I did with him last month, you'll find that this CD is everything he promised us, and to me, the fact that he lived up to that promise means a bit more.
First off, I have to mention the packaging and quote E. Moore from our interview.
"I'm doing everything real grassroots. The CD could come out looking something like this (picks up a demo of a random artist, plain white writable CD with the artist's name scribbled on it). It could be stencils and shit, maybe some spray paint. We're working with what we got." - E. Moore
It's exactly that, a stenciled, spray paint image. Rugged and raw, it represents true art. He could have come off with the typical tough guy street image, which is popular today in this era of cookie cutter rap images of dollar signs and champagne bottles, but he didn't. Instead, on each CD you're getting a personal touch from the artist.
Hip- hop is about the art and the street. Graffiti covers these streets, just like it covers "The Symphony".
The CD is in mix tape form and features local cats like
Magz (The SuperProducer)
,
Bobby Fischer
and one track with
Azariah
entitled, "How Will I".
If you're familiar with E. Moore, it's another experiment that's heavy in loops and samples. There's an intro and one interlude, but no breaks really, just thirty minutes of beat banging.
The CD length is doubled by the addition of a "side two". E. Moore decided to place all the instrumentals on there as well. So, if you cats out there like these beats get out there and get the disc and put your own spin on it, it's all love in this game.
I'm a big fan of the track "Better Days", but I'd have to say the track that shined the most was "Care", with Slim Chance. It's not necessarily for the lyrical content, but Slim has a flow pattern that marries the beat in the right way.
"The Symphony" is also a good blend of east coast hip-hop, but also represents a real west-coast swing in the gangster sense. I'm talking about the heavy synth samples he loops over almost every song when I say that.
PyInfamous
, of the famed duo E.B.B & F.L.O.W., makes an appearance straight from Mississippi on the track "Dignity". If you're into hip-hop and follow the scene, you'd have to have your head in a hole to not hear about Py. He makes his way up here July 19th for a show at High-Fidelity being put together by local hip-hop DJ,
Tim Tones
.
All in all, this mix is a good platform for E. Moore, and it's a great example of where he is right now.
E. Moore's been found everywhere between New York City and Toronto pushing this disc and getting the name out there. There's no ads, no flash, just some good word of mouth. It's great to see another local artist getting his name and the good name of Rochester out and beyond for others to pay attention to. There's some serious talent in this town and it needs to be discovered and sharpened.
As for my ratings, well, I go by a rating of elements involved. This is how I will be rating all musical submissions on ACT:LIVE.
WOOD
FIRE
EARTH
METAL
WATER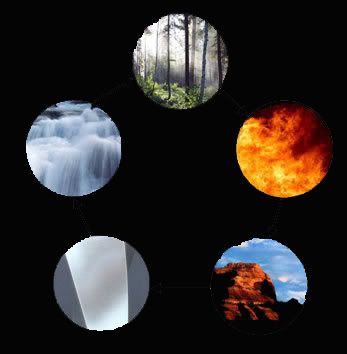 "The Symphony", comes in at 3 out of 5 elements.
The album is solid and consistent throughout, it was done with heart honesty.
That represents the earth, wood and metal the album concept structure is made of.
You can get out to any hip-hop show here in the city and find E. Moore backpackin' the CD old-school style, so pick it up directly from him, or you can visit his webpage linked here on ACT:LIVE to purchase it. Get your tickets to "The Symphony", now.
Peace.
- Games
Right now we're listening to:
DJ Shadow
"Six Days Remix"
(
"Private Press"
, 2002,
Universal records
)