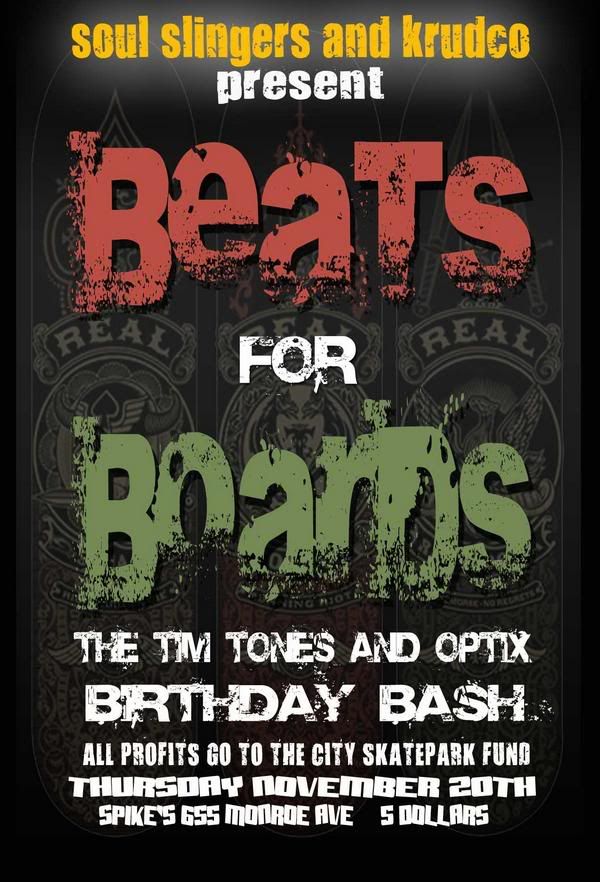 werd: james niche

Tim Tones and The Soul Slingers, along with the help of an army of locals including ACT:LIVE artist Reece Q, has put together a special night of music at Spike's on Monroe Ave to raise money for the Rochester city skate park.

If you haven't been reading, I did an interview with the men of Krud Co. to explain what the plans are for this park and they explained to me they were trying to raise a substantial amount of money to get this project under way.

If you want to see a real skate park that operates 24/7 and rides like a dream, then I strongly urge you to come down, donate and have dance to some great music.

If the money doesn't get raised, this city will have "a turd on a tennis court for a skate park", as Aaron Costa so eloquently said.

The party is this Thursday at Spike's. Come on down and meet some of the brightest talent in Rochester and give a little bit out of your pocket for the city.

For more information, contact Tim Tones HERE.

I'll see you all there...

- Games
Right now we're listening to:
Nine Inch Nails
"Mr. Self Destruct"
(
"The Downward Spiral"
, 1994,
Nothing Records
)