werd: james niche
This past Friday I went down to the New Life Presbyterian Church on Rosedale St., to sit in on the
Bread and Water Theatre's
production of "My Gay Family" and "The Crochet Penis".
I wanted to make sure that I took some time to not only raise a bit of awareness to Gay Pride Week, but also give a bit of attention to another small group of actors here in our great city of arts.
Between the dates of July 20th and July 30th, there are many activities and events being held in honor of gay pride and celebration, this is just one of the many.
You won't hear much on the news or in the newspapers about Pride Week. Sure, there might be the little mention here and there in a publication or two, but when it comes down to it - no one wants to talk about sex in the mainstream media.
Pride week isn't just about sex, it's a celebration of a lifestyle that has been given a horrible name through mainstream media because of mainstream religious beliefs and the media outlets who are sponsored by companies supporting business as usual.
ACT:LIVE is for the city. And, Rochester has a large gay population. A population that votes, works, plays, eats, sleeps and lives just as the rest of us "heteros". I tip my hat to those working hard in the gay community to support their lifestyle and choices.
Now, back to The Bread and Water Theatre....
Let's start at the beginning.
Bread and Water Theatre was founded as a non-profit organization in 2000 by a bright young man named J.R. Teeter, while attending Nazareth College. I was greeted by J.R. and the associate director Carl Girard. Both gentlemen were a pleasure to talk to, very talented and are working very hard on a shoe-string budget to see this group succeed.
The Bread and Water Theatre name is derived from the idea of thinking simple. However, the material and approach of the group is far from simple. The writings, ideas and performances are thoughtful and deliberate.
The plays, "My Gay Family" and "The Crochet Penis", were written by
Nancy Agabian
. Nancy is an Armenian born poet, writer and actress now living in New York City; teaching at Queens College.
Both plays are based on poems and writings of Nancy's while she was a young woman in her mid-twenties, struggling to find her identity as a lesbian or bi-sexual.
"My Gay Family" is performed solo by Gina Menzer-Kunz. The play is set in her house as she speaks to the audience and to her mother. The set is comprised of many chairs strewn about the house, which are later used as symbolic props for the duration. It's an emotional tour through Nancy's mind as she struggles to find her place in a family of homosexual siblings and homophobic parents, altogether, encompassing the entire spectrum of gayness.
"The Crochet Penis" is performed by Tiffany Widrick. This play is another solo performance shedding light on Nancy's struggle to find her sexuality and her struggle to convey that to others. The duration of the play she talks to the audience in her pajamas, while crocheting a penis made of yarn; only to be unraveled in the end.
Here is a video from YouTube on crocheting a miniature stocking. You could easily make your own miniature penis from these instructions. (no one likes a mini-penis though.)
Apparently, the posters for these shows were posted on Monroe Ave. for promotion, but when some of the area merchants and residents saw the word penis (a biological term) on the bill, they had a fit. J.R. was then asked to take the posters down!!
So, Monroe Ave. merchants and residents...this is to you. You can let drugs, bums, hookers and all trash alike onto your street, not clean it up and not do a damn thing, but because you see the word "penis" on a poster, you attack? Shame on you. You are contributing to the possible failure of a great event and production in this city. You are contributing to the problem and not working on any type of solution.
Have you not noticed that we are losing venues and performing arts groups in this city one by one?! Is anyone noticing this?!
Comix Cafe: gone
RAPA: gone
Shipping Dock Theatre: barely alive
Penny Arcade: who knows
And that's just a few.
Who knows who is to blame, but do not attack our arts. We are a city that has always thrived on the arts and festivals alike.
The plays were touching, metaphoric explorations into the mind of a young woman finding her identity. They were not penis parades that were going to invade your home and kidnap your children.
I found it very interesting that the venue for these plays is the New Life Church on Rosedale St. That's right, a church. A beautiful space as well. It gives me ideas for events in the future. There is a good sized theatre attached to the church that could easily hold a 200 person capacity.
Bread and Water Theatre has helped to revive the Rainbow Theatre productions since 2004. The Rainbow Theatre productions are plays inspired by the themes of the Pride Flag. Here is a little bit of info I have learned about the Pride Flag and it's history, enjoy.
"Color has long played an important role in our community's expression of pride. In Victorian England, for example, the color green was associated with homosexuality. The color purple (or more accurately, lavender) became popularized as a symbol for pride in the late 1960's; a frequent post-Stonewall catch word for the gay community was "Purple Power". And, of course, there's the pink triangle. Although it was first used in Nazi Germany to identify gay males in concentration camps, the pink triangle only received widespread use as a gay pop icon in the early 1980's. But, the most colorful of our symbols is the Rainbow Flag and it's rainbow of colors - red, orange, yellow, green, blue and purple - representing the diversity of our community.
The first Rainbow Flag was designed in 1978 by Gilbert Baker, a San Francisco artist, who created the flag in response to a local activist's call for a community symbol. Using the five-striped "Flag of the Race" as his inspiration, Baker designed a flag with eight stripes: pink, red, orange, yellow, green, blue, indigo and violet. According to Baker, those colors represented, respectively: sexuality, life, healing, sun, nature, art, harmony and spirit. In the true spirit of Betsy Ross, Baker dyed and sewed the material for the first flag himself.
Baker soon approached San Francisco's Paramount Flag Company about mass producing and selling his "gay flag". Unfortunately, Baker had hand dyed all the colors, and since the color "hot pink" was not commercially available, mass production of his eight striped version became impossible. The flag was thus reduced to seven stripes.
In November 1978, San Francisco's gay community was stunned when the city's first openly gay supervisor, Harvey Milk, was assassinated. Wishing to demonstrate the gay community's strength and solidarity in the aftermath of this tragedy, the 1979 Pride Parade Committee decided to use Baker's flag. The committee eliminated the indigo stripe so they could divide the colors evenly along the parade route - three colors on one side of the street and three on the other. Soon, the six colors were incorporated into a six-striped version that became popularized and that, today, is recognized by the International Congress of Flag Makers."
All in all, Bread and Water Theatre is a company worth checking out. They also have ties to The Method Machine, a production company located on South Ave. in the South Wedge. I will also be checking them out in the coming months.
I have grown up around many of the performing arts here in the city and urge you all to take a step away from the bar occasionally and get a seat in these theatres.
The great thing about these theatres is that they are always bringing something fresh to the stage. And what I mean is, places like Geva and Downstairs Cabaret are great to go to, but their productions are typically ones that have done well in other markets on or off Broadway. Bread and Water, The Method Machine take a little more risk by approaching plays that are brand new to the general public.
You can check out all of the places and people I have mentioned by clicking on the links provided.
I would like to thank J.R., Carl and everyone involved for working so hard and staying determined in their art.
Get out there and keep these places alive, Rochester.
I'll see you on the streets kiddies....
Peace.
- Games
Right now we're listening to:
Soul Slingers
"Joy Ridin'"
(
"Tim Tones & RICRUDE Present: The RICRUDE Mix - Soul Slingers"
, 2008,
Soul Slingers
)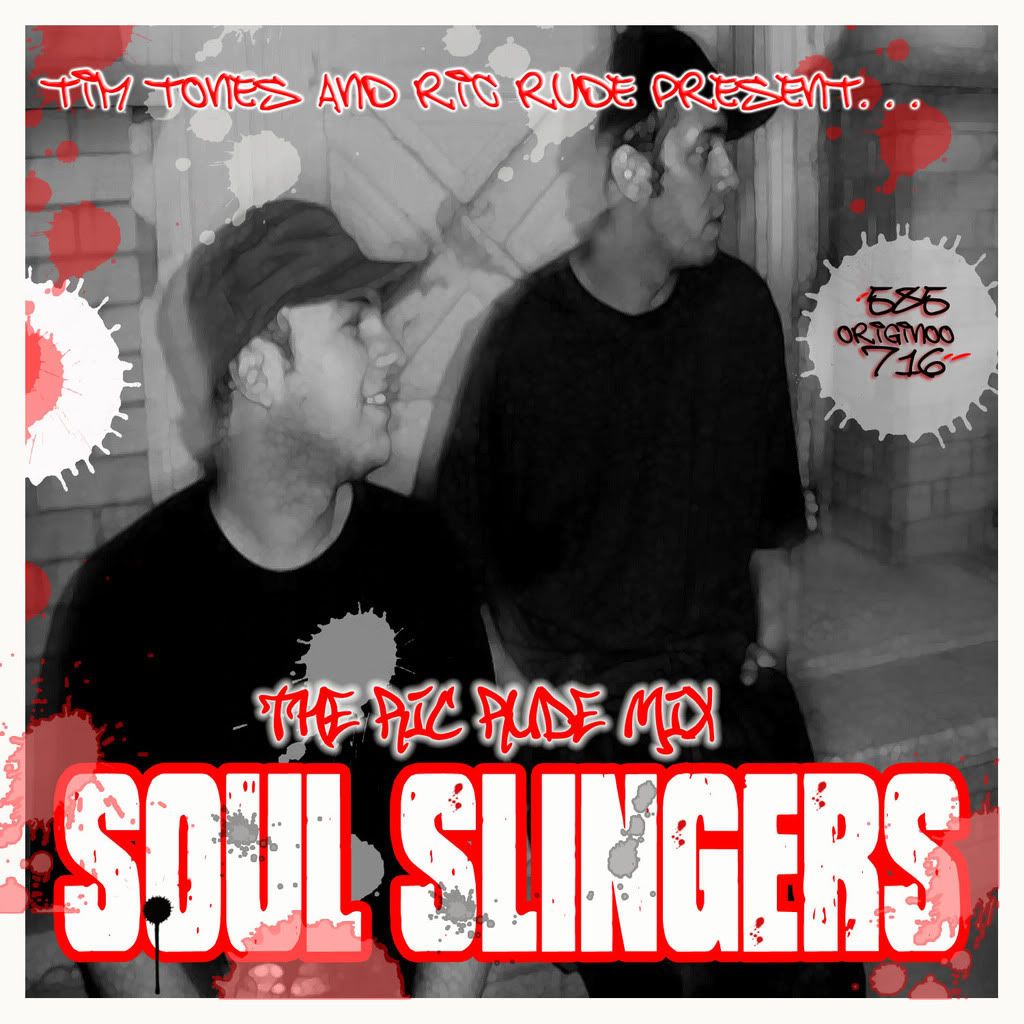 This Post Has Been Powered By:
For Advertising Information, please call us at 585-615-9663 or email at actliverochester@mailcity.com