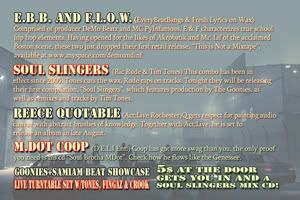 werd: james niche
This Saturday, July 19th, is the showdown folks. Tim Tones has put together a local hip-hop showcase comprised of not only local talent, but he has also brought in the talent of E.B.B. & F.L.O.W.(Crystal Springs, MS / Boston, MA), pictured below.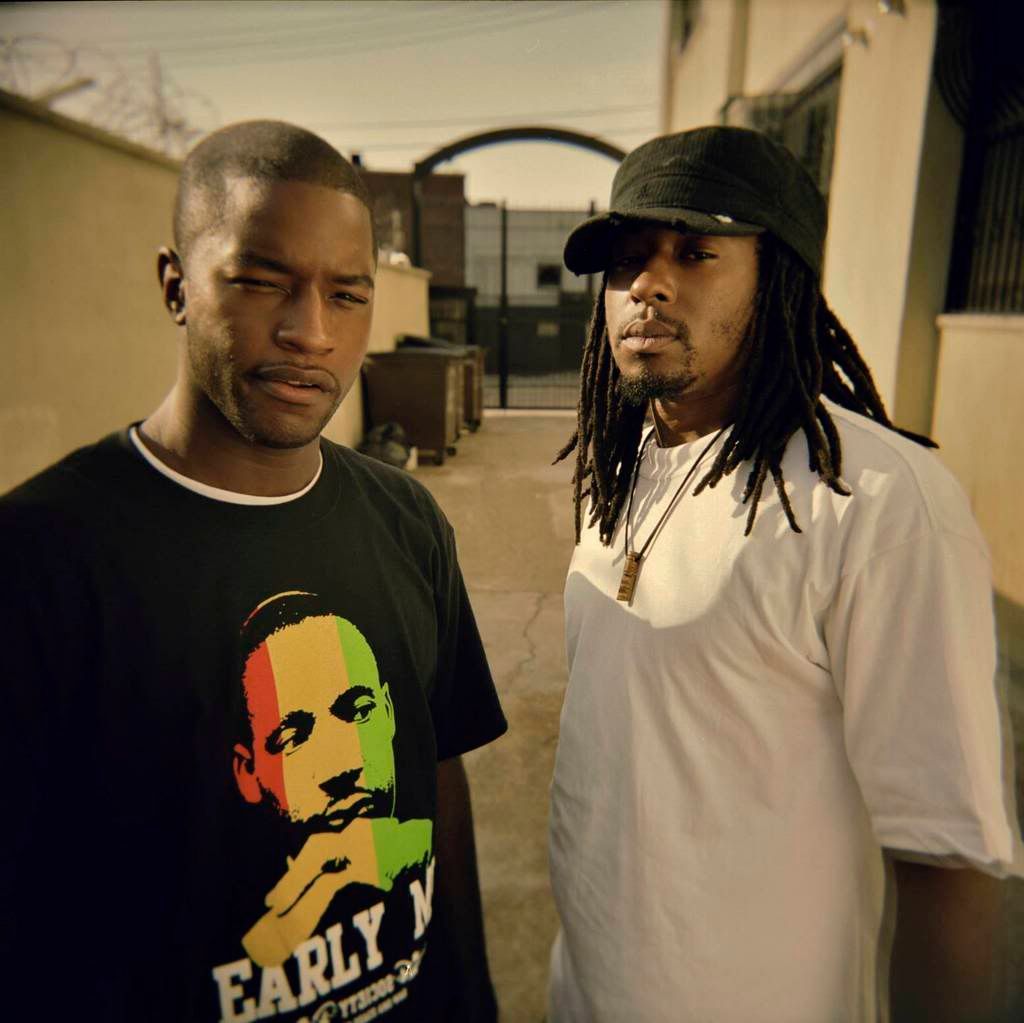 E.B.B. & F.L.O.W.
have a new album entitled "This Is Not A MixTape". The title makes sense, in this era of the mixtape onslaught to consumers.
The duo is made up of Demo (Boston, MA) and PyInfamous (Crystal Springs, MS).
PyInfamous made an appearance a few months ago at the Bug jar, some of you may have caught that.
The music can be described as progressive hip-hop, but in English, translates as: When they perform, there's lots of room for putting your hands to the sky, sippin' a drink and singing along to the party.
You can purchase their new album online for the low price of $5. Damn, that's nothing, so pick it up. You can also find out more about these guys on their MySpace page, linked up where you see their name at the beginning of this article.
The Soul Slingers
, the group for which the showdown was named, are also going to be performing this Saturday as well.
The Soul Slingers duo is
Tim Tones
, long time Rochester hip-hop DJ and producer, along with
RICRUDE
, long time Rochester MC. And people, when I say MC, I mean just that. This dude is a MASTER of ceremonies. Known well for his work with Filthy Funk, RICRUDE is not only a talented lyricist, but can truly shake a crowd.
Soul Slingers have been working hard on their latest CD release.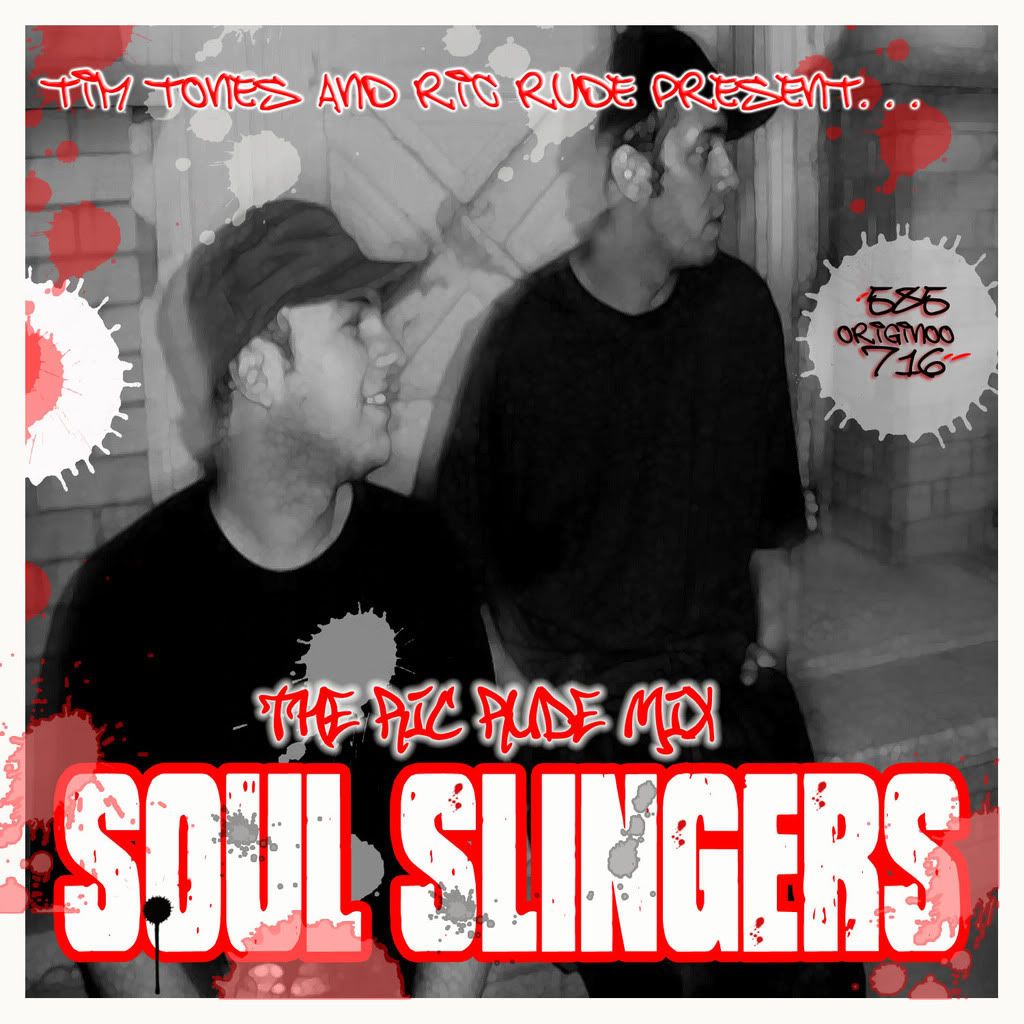 You can pick up the new disc at the show because everyone that comes and pays their five bucks to get in, gets a CD.
The new disc is going to feature fresh lyrical content from RICRUDE, new beats from Tim Tones and some interesting turntablism sets as well. I personally can't wait to hear it.
Along with these fellas is, ACT:LIVE artist,
Reece Q(uotable)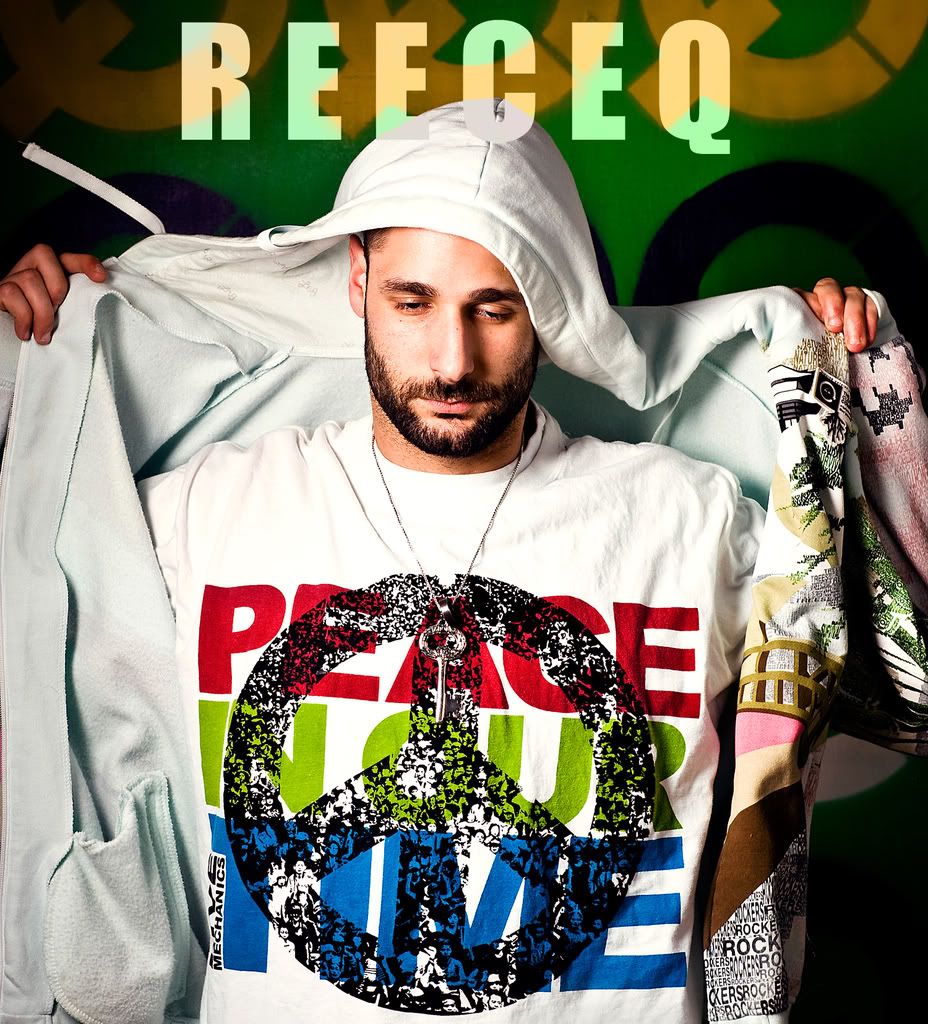 Reece Q is performing live with the talent of
DJ NUGZ
(
GOONIES
crew) and
Sam.I.Am.
. Both of these guys have been an integral part of production on Reece's debut CD, "Quote To Self", which is scheduled for an August 23rd release date.
Reece Q stands for the difference between commercial bullshit rapping and what's really real in creativity and talent.
Reece Q's beat styles are definitely jazz influenced, but he also strays into the abstract with some of the new tracks. This is an MC with a large musical knowledge, original writing style and fun presence. Be sure to check this cat out.
For you beat junkies...DJ NUGZ and Sam.I.Am will also be performing a beat showcase to start the evening off right.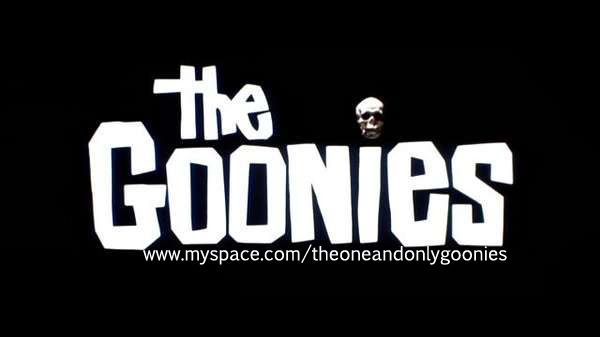 For those of you that don't know, The GOONIES and Sam.I.Am. are some uber talented producers that have been working so hard over the past 2 year to develop their sound and are doing it just right. Take note that these guys are barely 21, at the rate they are moving they'll be a strong force to contend with in the future.
There's so much talent in this town and these guys are right in the thick of it. If you're into hip-hop then don't let these guys pass you by, you need to check out their pages. Just click on the links provided.
Also, newcomer to us,
MC M Dot Coop
. He is a Rochester native and hip-hop MC. This dude's been showing some real promise and has the gift of gab for sure. He'll be performing a set as well.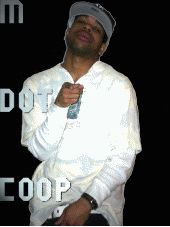 To end the night is Tim Tones, Fresh Fingaz and
CROOK (FUA)
. Tim and Fresh will be performing a turntablist set, while CROOK drums along.
This show is just the beginning of a new era of hip-hop in this city, in my opinion. Hip-hop containing all the elements is what we're spreading. DJs, MCs, graffiti, art, creativity and fun are the fundamentals of the hip-hop culture.
ACT:LIVE, along with the strong support of others in the music community, is going to be a strong supporter and provider of more events intertwining art and music in the future.
Hip-hop isn't just baggy pants, fitted hats, bitches, bottles or cash.
Some of you might get that, but what's being laminated onto the brains of the young people, concert-goers and now club owners, is a picture so far from the roots. It's an image that's even further from the reality of the local scene.
ACT:LIVE urges you to pay attention, show support, get off your ass, put down the PS3 controller, call your boyfriend/girlfriend back later, tell your boss you got a show to get to and come see us.
Come have some fun this Saturday July 19th at
High Fidelity
(the old Milestones, 170 East Ave., downtown).
Show begins promptly at 9pm. $5 over, $8 under and that also gets you the new Soul Slingers CD.
And when you come, tell Joe at Hi-Fi you want to see more hip-hop at the venue.
Peace kiddies...
- Games
Right now we're listening to:
Craig Mack
"Flava In Ya Ear"
(
"Project: Funk Da World"
, 1994,
Bad Boy Records
)