werd: james niche
ACT:LIVE:
So what have you been up to, Nikal Fieldz? We see your name all over the place, but rarely see you home.
Nikal: "Just workin'. I've been working on the new project, "Hip-Hop's Hero". I'm getting ready to wrap that up. I've also been doing a lot of publicity for "Almost Somebody" and as of recently, working on a video for "Racist".
That's going out to promote the
UMA
nomination for best song of the year. I'm Trying to expand basically. The same booking agent that's been getting me and
Annalyze
over to China is working on a college tour for us as well."
ACT:LIVE:
What are the college tour gigs going to be like for you? Is Annalyze going to be backing you up live?
Nikal: "The line-up isn't finished yet, but it's going to be a headline tour for me. There are a couple underground cats down in New York City that I want to link into this tour. For the college tour, the foundation is just being laid, there's a lot more to come. What I do know is that we are going to start up in the northeast, the Boston or New York City areas."
ACT:LIVE:
Are you guys flying for this tour or driving? I ask because gas is so damn expensive now for so many artists that tour. It's a large part of the budget now.
Nikal: "I'm not sure yet, but I am looking at getting a bus. Either way, transportation is costly. I'm not Kanye West over here; I don't have that kind of dough to be jet-setting everywhere."
ACT:LIVE:
So, how was China?
Nikal: "It was fun. Last year it was like, shit, we may never come back here again, so we were balls to the wall the entire time. It was like one long fucking party.
This year we were over there a little more business minded. We had a few less shows, too. One of the clubs we performed at last year ended their relationship with the promoter we were working with, so we had like five days off a week this time.
It's like that chick you meet, the first time you're with her, you give it to her real good then the next time it's like…eh." (laughs)
ACT:LIVE:
Did you get to push the "Almost Somebody" CD while you were over there?
Nikal: "Because of shipping costs, customs and yaddah yaddah, I just stuck with pushing the digital thing. I would give a lot of DJs my music via jump drive. I didn't push any discs around this time, but I was getting my music out to several thousand people a night at the clubs. The clubs were
packed
.
I was also scoping out some clothing manufacturers for
Black Sinatra's
, Don Status Clothing Company.
Black Sinatra and I have been friends for years and have been working in music together for almost ten years now.
He's got a broadcast gig down in Long Island this week, so I plan on getting down there with him as well."
ACT:LIVE:
As an American MC, I'm sure they loved you over there in China.
Nikal: "Yeah, I had fun. (laughs) It's crazy; all these people that don't speak English singing rap songs, its nuts.
The Asian women seem to love anything not Asian. We'll leave it at that."
ACT:LIVE:
Let's talk about the Underground Music Award. How did you get nominated for the UMA?
Nikal: "We had submitted the single in early spring and to be nominated, really, you just need to be visible and have a track or album with a good quality production value to it. The music has to stand out and have some sort of following.
Over the past five months, between me,
Brent
and my publicist, we've done a pretty good job of locking ourselves into the underground scene.
We're down in New York at least once a month, doing shows and just promoting. It's just a matter of constantly being on the ball."
ACT:LIVE:
Is there an awards ceremony and are you attending?
Nikal: "Yeah, the show is at B.B. King's in Manhattan, on 34th St. It's August 10th this year.
It's covered by almost every underground music publication, music website and since last year, MTV covers it as well.
It's definitely growing, this is the 6th annual."
ACT:LIVE:
Who puts on the awards?
Nikal: "This guy named Jessie. He runs
Hip Hop Palace
online. He does a lot of seminars and publicity within the industry. He founded it.
He started it from the ground up, as is every business, but the Village Voice calls it the "Grammy" for the underground artist."
ACT:LIVE:
What's it going to mean for you if you win this?
Nikal: "There is no "if". We got this one, man. We're taking this one home.
When I first hooked up with my publicist I told him, I want a UMA nomination.
Next thing you know, I'm nominated.
Now, I'm bringing it home. I'm the first artist from the upstate region that's been nominated for any Underground Music Award, so to be able to bring it back here will be an amazing feeling.
Rochester hasn't really had its mark in the hip-hop industry on many occasions, so this is important. There's a lot of talent here in Rochester."
ACT:LIVE:
Agreed, there's a great wealth of talent here, but, getting that talent on the ball is another thing altogether.
Nikal: "Absolutely. There aren't as many outlets for those artists here, but the people that do have the real talent need to learn how to network. Some people just don't have that ability to create that network.
There's a lot more going on out there past MySpace. I'm not trying to say that MySpace isn't a great resource, but people in the industry are branching out to other sources now."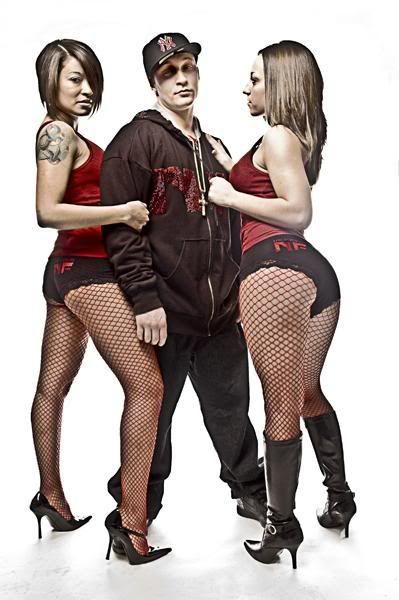 ACT:LIVE:
Have you stepped back from writing at the moment to focus more on publicity?
Nikal: "I never stop writing. It's a balance though, at my level. When I moved down to New York City, two years ago, I was taught a big lesson in self-promotion and the balance it requires for an up and coming artist like me.
Down there, it's an entirely different mentality. The grind is actually that, it's a
grind
.
A lot of guys are making music in their basement, and it could be the best music in the world, but if no one knows about it then it goes nowhere. The local cats here need to understand that making the music is just ten percent of what you need to be doing to get up. That's all there is to it.
Everything I make, I funnel back into my projects too. My advice to all those cats who want to do something with themselves is, stop spending money on Jordans every two weeks. I see all the money that people spend on weed, or going to the bar or whatever as money they could spend on a publicist for that month or some other investment.
Everybody's waiting for a hand-out and the world don't owe you shit. Go get it yourself."
ACT:LIVE:
So what are your plans for shows or events at home? What are you contributing to the home base?
Nikal: "I'd like to bring some seminars up here and other artists that I know from elsewhere. I'd really like to get some bigger names to Rochester for some different shows.
I started the Word of Mouth Wednesdays because we used to have Club Red. That's where I came up and developed my skill.
Clubs like that aren't here anymore, so I hooked up with Provide because I had wanted to do it for a while and we found the right venue, so it just clicked.
It hasn't been as big as I've wanted it to be, but I don't think a lot of people are really repping the art form of it anymore. It's an art, it's a place to be creative and grow. Everybody's got his fucking ego.
If they think they are the king of the shit-pile, then where else are they going?
If you think you made it to the top, then ok, you can have that. Have fun being the king of Shit Mountain. I'll see you in New York. If you put a limit on yourself, you're not growing anymore, you're done."
ACT:LIVE:
The song that's nominated is your single "Racist". That song has been generating requests like crazy on
WBLK
in Buffalo and all over the place online. Congrats man, that's a ballsy song.
Nikal: "Thanks man, a lot of industry people were like, "Ehhhh, you might want to be careful with that song".
Taking that award home will feel good to show all those people that doubted it. A nice big "Fuck you; I knew what I was talking about."
With "Racist", it's all about thinking outside the box. There's a lot more going on in that song than things about just racism.
There's so much shit in that song that I say that people don't even catch. Media and people by nature are just ignorant sometimes. When it comes to that song people will always try to spin it in some other direction."
ACT:LIVE:
Yeah, that word has such a negative connotation to it.
Nikal: "That's why it was the perfect name for the song. It at least catches eyes."
ACT:LIVE:
Ok, while we're on the topic…you make a reference to Kanye West and the remarks he made about President Bush on the song. Do you think people in general give more power to those negative thoughts by even acknowledging them as opposed to ignoring them?
Nikal: "I believe in the freedom of speech, so he can say whatever the fuck he wants, doesn't mean I agree or disagree. It is what it is.
People that can't think for themselves will just run with that.
If you're an asshole, you're an asshole. I don't care what color you are."
ACT:LIVE:
Tell me about the video for "Racist".
Nikal: "I did it to put a visual out there for the song. It's got a lot of media clips in it to emphasize a lot of the political aspects of the lyrics. I think the video will be good to raise awareness to a lot of what people are missing in the song.
The videos gonna be crazy, that's all I can say. Its no fifty thousand dollar production, but the footage is great.
I've been shooting all over Rochester for this one. It's got some really cool shots in it.
I'm editing it myself and have taught myself how to use the software. I really wanted to do it myself to make sure I get the message across in the right way.
I have to mention that "Racist pt. 2" is coming. (wink, wink)
That's going to feature
Emilio Rojas
and
Sha Stimuli
."
ACT:LIVE:
What's Emilio been up to anyways?
Nikal: "Working, man. That boy's a problem. That whole Wax Reform crew is sick."
ACT:LIVE:
A lot of people have been wondering where the 585 Remix video is, any word?
Nikal: "That's coming. Nobody worry. I've seen parts and it looks crazy. It just didn't make much sense to release a video done in winter, in the summertime. That will be coming this winter for the city to enjoy.
We do everything for a reason."
ACT:LIVE:
So, as we end this…anything you want to say to the peeps in town or fans at Word Of Mouth?
Nikal: "Yeah, learn how to hold your fucking mic right. It's the fucking worst, the absolute worst. If I start hearing mumbles out of your mouth I'm going to start unplugging mics.
I will unplug your shit, I've done it before and I'll do it again. And, just come out and have a good time. Period.
There aren't many outlets for what we do here, so come out, have a good time and be creative. Show me something I haven't seen or heard.
Enjoy it and support it. You never know who might show up."
ACT:LIVE:
Anthing else?
Nikal: ""Almost Somebody" is in stores and on iTunes, go out and get a copy. Stop asking me for a free copy, you cheap fucks. (laughs)
The "Hip-Hop Hero" is coming soon; the website is dropping soon and first and foremost, this UMA. Make sure you go online and vote for "Racist" as best song of the year.
I'm bringing this home for upstate New York."
I want to thank Nikal Fieldz for spending some time at the Berkeley Mansion with us and being real. Like Nikal Fieldz will tell you himself, he's got a lot of haters out there and there's no reason to hate.
This dude is working his ass off and repping the ROC worldwide. Show some love for a hometown musician and get off your ass and vote for his UMA nomination for "Racist". Just click
HERE
to do so.
ACT:LIVE wishes the best for Nikal Fieldz in all of his endeavors, now and in the future.
Next week, the DJ HeavyGrinder interview drops just in time for her gig at Pearl NightClub. Keep your ears and eyes posted.
Peace kiddies....
Now, the video for "Racist"
- Games
Right now we're listening to:
Thrice
"Firebreather"
(
"The Alchemy Index Vol. 1 & 2: Fire & Water"
, 2007,
Red Eye Records
)