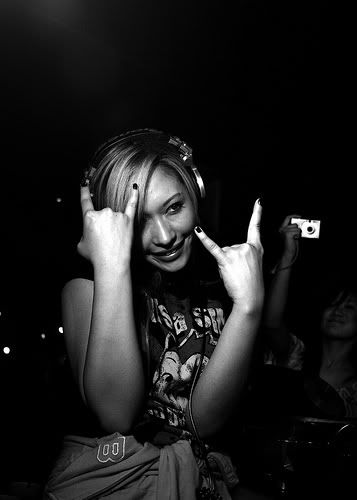 werd: james niche
ACT:LIVE:
Is this your first major tour along the east coast?
HeavyGrinder: No, I've played North Carolina and D.C., but not a lot in the north. I haven't played in New York or Boston at all though.
ACT:LIVE:
Have you traveled to NY ever?
HeavyGrinder: I have, but for more personal vacations in New York City.
I haven't been to upstate New York before.
ACT:LIVE:
So how did you get started playing records? I read that you headed down to Los Angeles for fashion and modeling originally.
Heavy Grinder: Really, it was friend's little brother. He's in Germany now, he's a DJ there. I would watch him play all the time; it wasn't like a song or an album in particular that got me into it. It was actually putting my hands on a record that did it for me. All the learning involved, that was so much fun.
ACT:LIVE:
So when did you start playing records at clubs?
HeavyGrinder: I started playing records out in 2003. That's when I was playing out in clubs.
ACT:LIVE:
Did you start playing out with vinyl or was it digital?
HeavyGrinder: I was playing records from the beginning. A couple of weeks ago though, I was traveling and I brought some records with me. When I got home they were warped, so I just started bringing CDs with me instead because records are a lot heavier and they get warped too easily. I don't want to have to get new ones over and over.
ACT:LIVE:
What are your plans for the future with your music and abilities?
HeavyGrinder: I'm really just taking this ride as far as it will go for now, I'm just living in the moment and enjoying everything as it comes right now.
I get to travel all over the world and see different places and meet different people. I love it.
In the future I hope to write more music and I also hope to travel more.
ACT:LIVE:
So, I see you work with Grant Stetski, a big house name on the west coast and in Asia. What are your ties to Grant? Is he someone you toured with in Asia?
HeavyGrinder: He is a great guy; he and I play the same club in Taiwan a lot.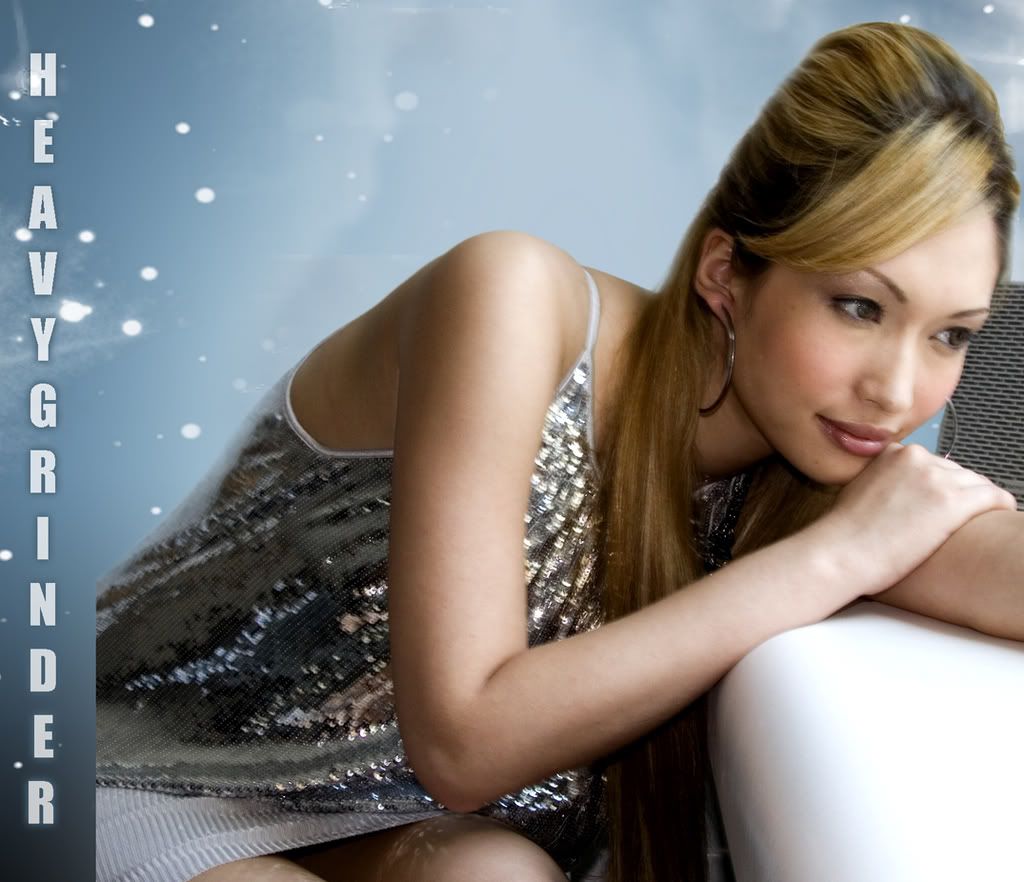 ACT:LIVE:
So, you're twenty four years old, right? You have been all over the place in just a few short years…what age did you start touring as a DJ?
HeavyGrinder: I was down in Hollywood playing at twenty. It kind of screwed up the whole drinking thing because I was underage. (laughs)
That's also when I started playing out of state.
ACT:LIVE:
Having you been producing the music you have been releasing?
Heavy Grinder: I have been producing my own and I hope to be working with a few different people in the next few months.
ACT:LIVE:
Who is Su Su Bobien? I saw you have her on a track.
HeavyGrinder: She's from Soundmen on Wax; she's more of a soulful vocalist. She's on my track "Can't Nobody".
ACT:LIVE:
I liked that track a lot, it's a really deep soul track.
ACT:LIVE:
So, random question…do you have any tattoos by any chance?
HeavyGrinder: No, I do not. I thought of getting one, but I don't know what I would like. So, it's better not to do it yet. It's going to be there forever, you know?
ACT:LIVE:
Oh, yes, I know. I've got a few as it is.
ACT:LIVE:
Do you ever bump into DJ Faust or Shortee out there?
HeavyGrinder: I think DJ Shortee was on the same roster as me a couple weeks ago, but I am not too familiar with her music.
ACT:LIVE:
That's cool, I was curious because DJ Annalyze from here in Rochester, has a female duo called "Twice as Nice", with DJ Shortee. Shortee is also married to DJ Faust.
HeavyGrinder: Cool, that's good to know.
ACT:LIVE:
I also see you like hip-hop, with that "Down, Down, Down" track.
HeavyGrinder: Yeah, that was a random thing I did.
ACT:LIVE:
Do you play hip-hop in your set?
HeavyGrinder: Yes, absolutely. I play a variety of remixes, whether it's hip-hop or rock. It's something that people really seem to dig.
ACT:LIVE:
That's cool, I would just like to give the people reading this a good taste of what to expect when you come and play at Pearl.
HeavyGrinder: Yeah, you can expect a good amount of house, electro and hip-hop, yes.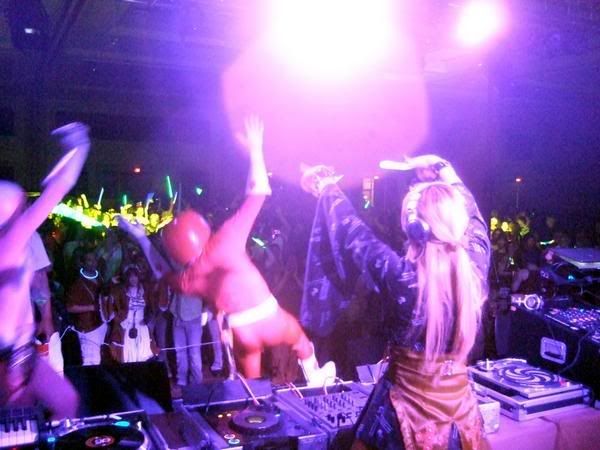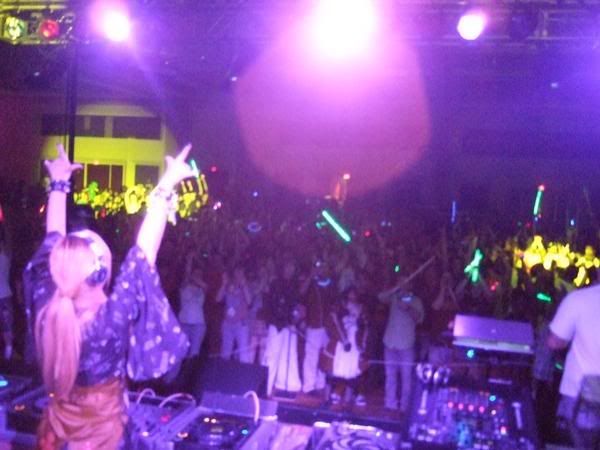 ACT:LIVE:
Are a lot of these remixes your remixes you play, or are they mixes you can find elsewhere?
HeavyGrinder: I play other artists, but yeah, a lot are mine that you'll hear.
ACT:LIVE:
So what's your newest CD, for the people out there that don't know?
HeavyGrinder: "Eternity", is the newest CD that I'm touring with. It's put out by me and Rhythm Club Records.
ACT:LIVE:
So what is HeavyGrinder going to do tonight, being a Monday?
HeavyGrinder: Well, I am going out to dinner with a friend…that's really about it.
ACT:LIVE:
One last question…I ask everybody, what's your superhero name?
HeavyGrinder: (laughs) HeavyGrinder, because Wonder Woman is taken.
ACT:LIVE:
Well, thanks so much for giving us a call and letting Rochester know a little bit more about yourself and what to expect. The gig should be a lot of fun. Pearl is a great venue and between Earl, the staff at Pearl and me, we'll make sure you go away with great things to speak about Rochester.
HeavyGrinder: Thank you so much, I'm looking forward to it. Sounds like fun.
Aside from her latest release, "Eternity" (Rhythm Club), all of her songs from Mind Eraser are remixed with Zelma Davis and are now available on iTunes. Be sure to peep those songs and give her a shout out on MySpace.
Thanks go to Gerry McCarthy at Rhythm Club Records, as well as Earl @ Dade's Planner.
Special thanks to the beautiful and talented HeavyGrinder for taking some time out to speak to me.
HeavyGrinder is performing July 12th at Pearl Nightclub at 349 East Ave.
HeavyGrinder is looking for the hottest dancer at the club and is paying a good $200 to the person she chooses, so get your ass out on the dance floor and move somethin'.
Earl @ Dade's Planner also has $20 gift certificates to the first 100 people that walk through the door.
2112 Clothing will be down at Pearl also giving away clothing and promoting their new line here in Rochester the same night.
See you July 12th at Pearl NightClub kiddies!
- Games
Right now we're listening to:
John Viviani & Filthy Funk
"Electromatic"
(
"Tasty Licks"
, 2008,
Filthy Funk Records
)