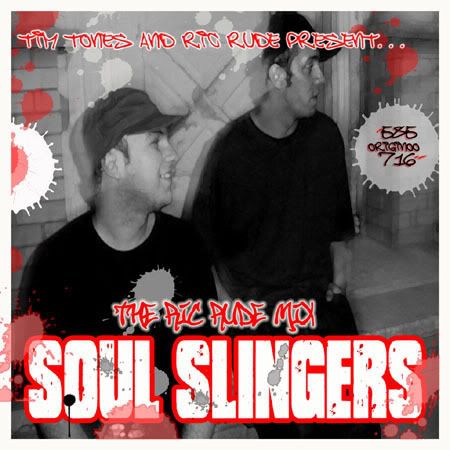 werd: james niche
Last month DJ/Producer Tim Tones and MC RICRUDE unleashed the fury of the Soul Slingers Mix to the Rochester hip-hop community and let it tear up the yard.
This CD is 25 tracks of the most intelligent, well put-together, street beating, wax-cutting, blunt laced tracks I have yet to ever hear out of the ROC.
Mastered by Tim Tones but produced by Rochester's dream team, it features songs from the most intelligent minds in hip-hop this city has yet to hear in the hip-hop community.
WOODY, Optix, Husky, Pasadena, Tim Tones and more round this mix out to the perfect circle it forms.
Favorite tracks include "Native of the City", "Joy Ridin'", "Now or Never" and the intro.
It's a well balanced blend of local producers and mixes and cuts by our man Tim Tones. Tim did a great job of keeping the CD upbeat and constantly flowing north, just like the Genessee.
There are a few live tracks recorded with Filthy Funk at the end of the disc that really highlight RICRUDE's live abilities as well.
In some ways, this CD has been years in the making and it has been well worth the wait. The Soul Slingers mix is everything I have wanted to hear out of a hip-hop production here in Rochester, and more.
There are creative little interludes in the mix like all the local artists that call up and give shout outs between tracks and the interludes also highlight the turntable skills of Tim Tones. This CD is Rochester. Period.
I cannot think of a mix that better represents the ROC or the people working hard in this city to make musical magic happen.
I rate CDs on a scale of 1-5 elements, as in Chinese lore.
Wood, Earth, Metal, Fire and Water.
This CD rates at 5 out of 5. It has every element. Especially the element of Fire.
You can pick up this CD at The Reece Q CD release party and anywhere else Soul Slingers are performing. They can also be purchased at The Record Archive and online.
Big, HUGE props to everyone involved in the mix and especially to Tim Tones and RICRUDE for pouring their heart, soul, lack of sleep and honesty into this production.
This CD needs to be heard nation-wide. Period.
Go out and get it today. Peace.
- Games
Soul Slingers in association with Filthy Funk hooked up the new "Native of the City" video. This video is off the hook for a local video. These guys are killing it across the ROC. GET THIS DAMN CD!!
This article is powered by:

Right now we're listening to:
PyInfamous/Sam.I.Am.
"Greetings"
(
"Intelligent Discussion"
, 2008,
Indie
)