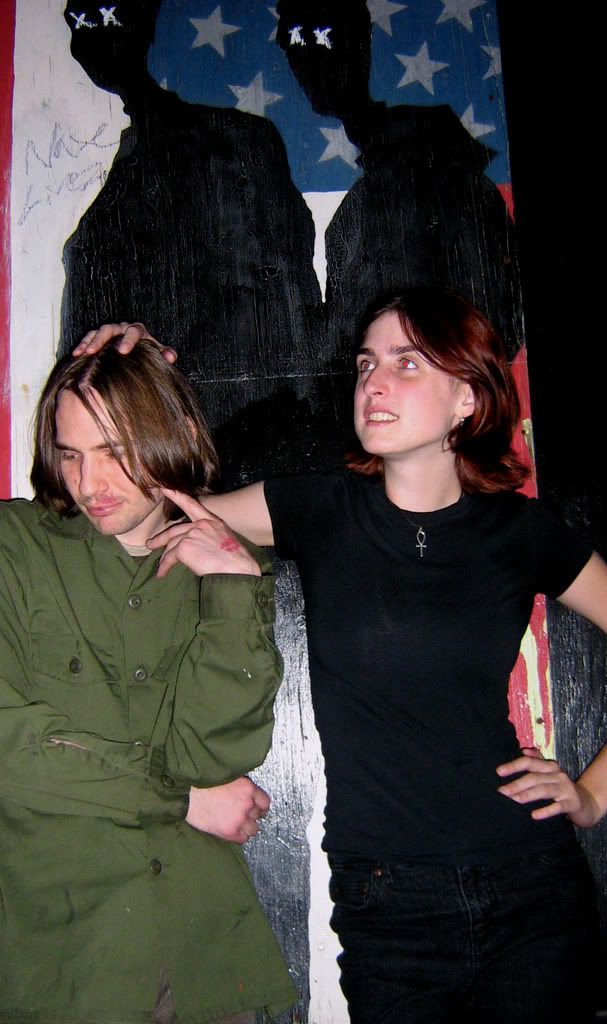 foto: james niche
werd: james niche
Sunday, August 3rd, Robert and Allie presented their latest drawings and paintings to Rochester at the Bug Jar. I was given a heads up by my friends .chickenbone. and Banshee about the event, too bad I couldn't find out about it in the paper. (wink wink, media)
I thought I would share some photos with you of these very talented young artists, as well as give you a little bit of background on this couple.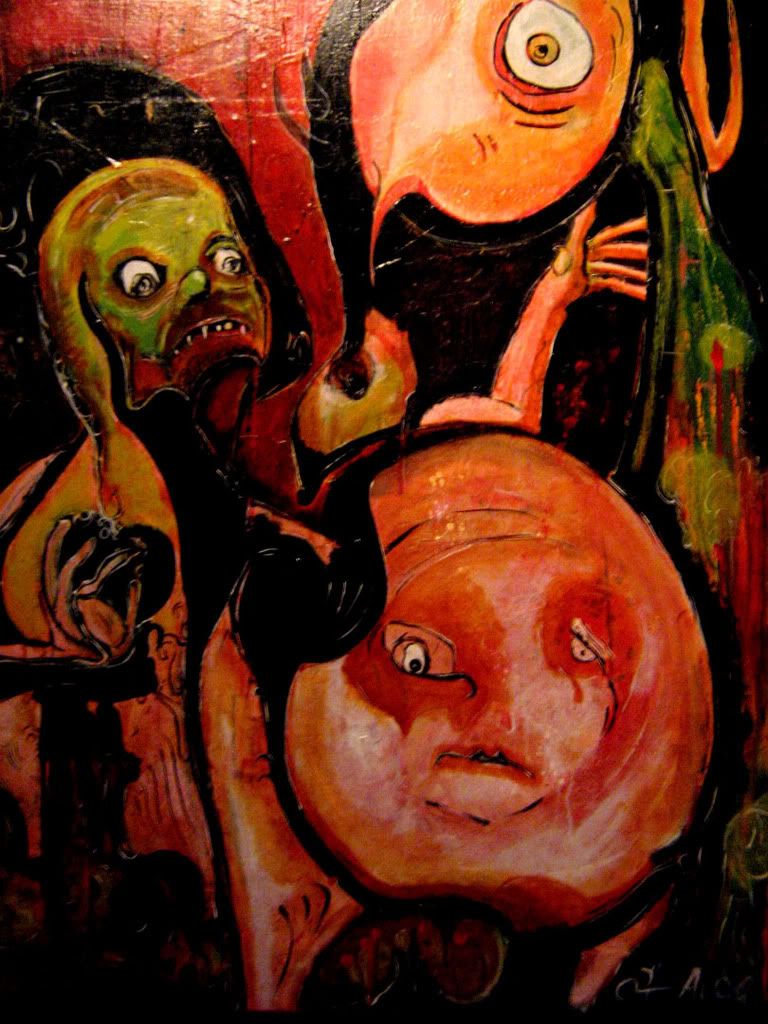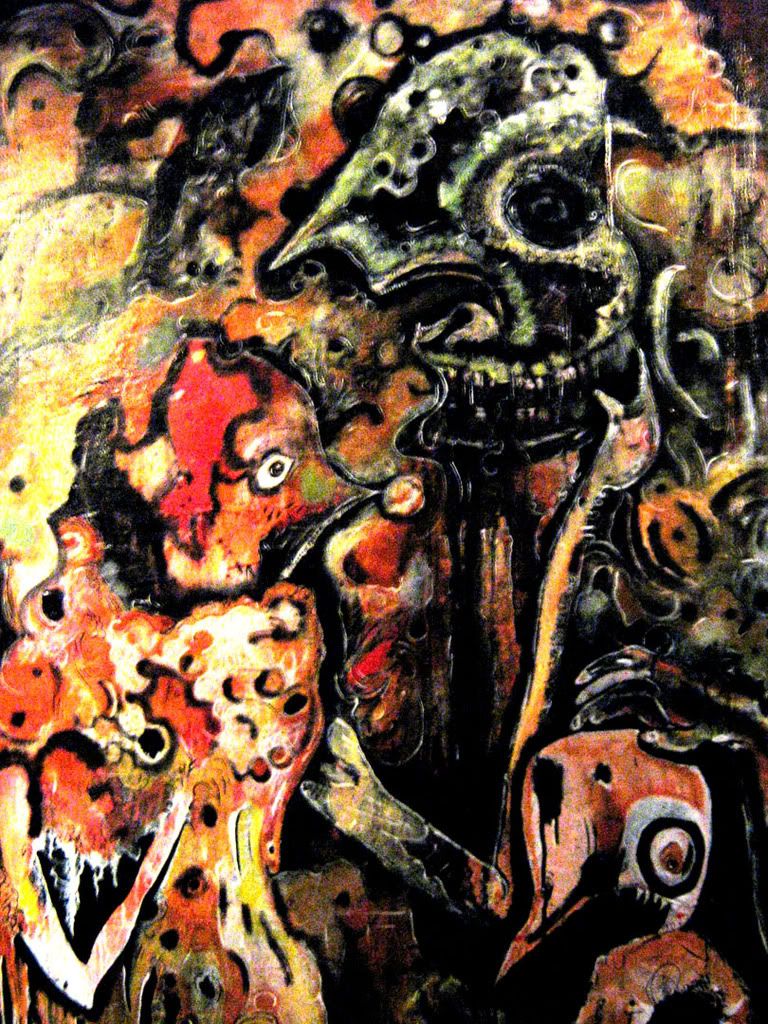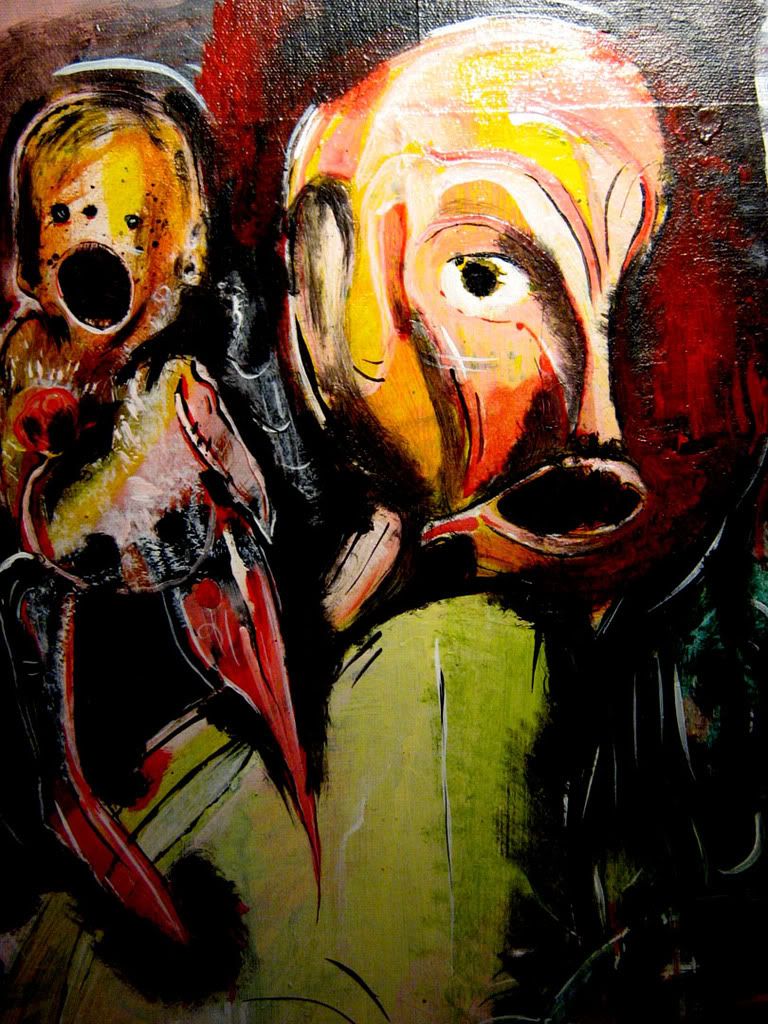 The paintings are the work of young Robert Frank Abplanalp (if you took an English class, you should be able to break it down by syllable, it's an easier name to pronounce than you think).
Robert is a native of the Catskills region who decided to come up to Rochester to attend RIT for photography, graduating in 2001.
He spent a lot of his time building miniature sets of abstract beings and shapes, and that is where he developed his love for painting. While building these sets painting was an important step in the design, but building these sets was so time consuming just for a one second "click" that, in the end, he saw painting as much more rewarding.
So, he then packed up and moved to the Syracuse area to live with his uncle and explore his new found painting passion.
"He started painting in his bedroom, but quickly took over the garage and the rest of his house with his work", laughs his uncle.
Robert moved back to Rochester in 2004 with his work and sold all of his cameras and photography equipment to establish a home and work space in the city. He didn't know much about Rochester besides RIT and the Eastman House, but he knew it was a bigger city and had a much more vibrant art scene to showcase his work. Good move Robert!
He still plans on getting back into photography but, he says, "My vision is beyond my means at the moment, and equipment is very expensive for photography."
That makes me excited to see what he will come up with in the photo lab. His works on canvas are large paintings, very "Munchesque", in my opinion. Dark images, yet very animated. I would like to know where he gets those colors because they are brilliant.
Many of the paintings have been years in the making.
While back here in Rochester, he has stepped down to part-time day job work so he can focus more on his painting. He has also met fellow artist and now girlfriend, Allie Hartley. They both met on MySpace and have been together since. Another exciting online union! That's another one for eharmony!
As far as plans for the future, it's just as I said, he plans on spending more time away from the day grind to be able to devote his energy to his art. He is also going to be showing more of his work at the Steve Carpenter Gallery on Anderson St., across from The Barrel. I think it's quite fitting, because The Barrel has it's own abstract bodies dancing over there daily. HA!
For now, you can find Roberts art at the Bug Jar, as well as at the Lux Lounge at 666 South Ave.
Cheers Robert!
CLICK HERE TO PURCHASE HIS ART
Now, on to Allie Hartley...
Robert's better half and Rochester native, Allie Hartley, sat down with me for a few and had some interesting things to share as well, while I ate pizza. (thanks!)
Originally from Schenectady, Allie Hartley attended MCC for a bit but like most artists, I think it couldn't keep her attention.
"When I was in school, I would never get good grades on my projects because I didn't follow the directions of the project. I would always see something different in what I was doing and just go for it. My work was really good, I just didn't complete the assignments the way the teacher wanted."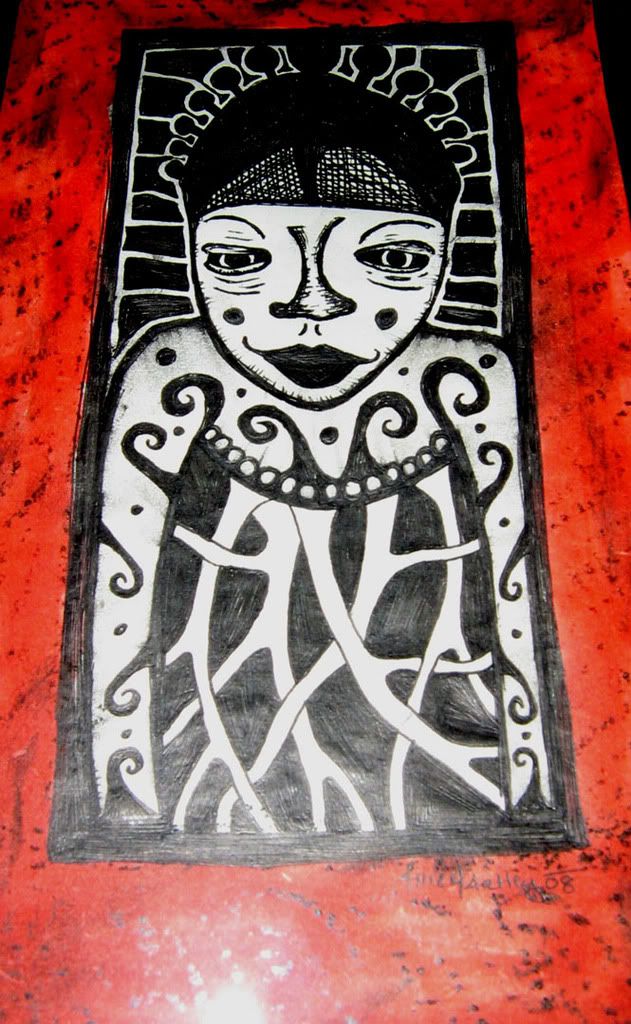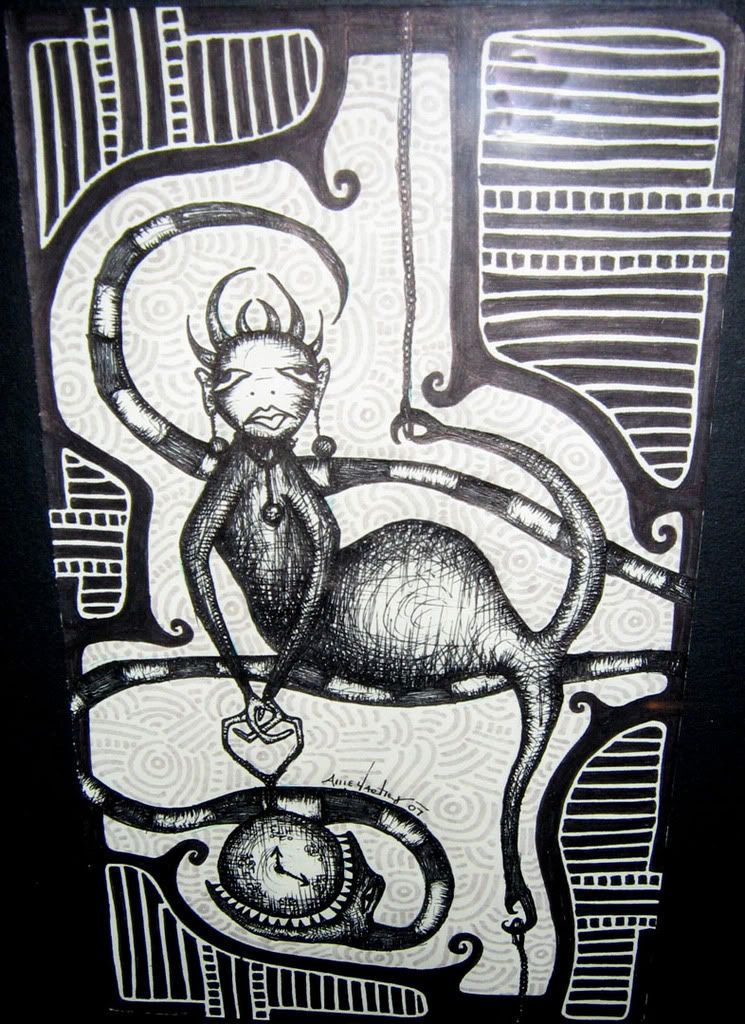 Most likely stemming from doodles, her work grew and grew since ninth grade. I asked her if she only drew on paper and she informed me that she likes all artistic mediums and reads a lot of fantasy material and draws from mythological inspiration. That could be seen very well in her "Lucifer" drawing.(below)
She says she loves the idea of people having split identities and the spirit of animals inside them. If you look at a lot of her current work, you will notice animals on top of a characters head or in their hands, etc.
I really love her drawings and suggest you all take a peek or pick some up while you can. She has already sold many of her drawings, so now is the time to do that.
Allie will have her frames for sale at the Bug Jar for now and plans on moving in more artwork elsewhere about the city. More details on that as the plans develop.
Both of these artists are extremely talented, as well as so many other artists in this city. I really urge you all to get out and spend more time hunting these guys and girls down.
You won't always read about them in the newspaper or see them on television, you really need to keep your ears to the pavement and get out to the venues where the shows are held usually, to find out more. The venues could do a much better job of being organized to help out young artists who are showing their artwork for the first time. They aren't sure, a lot of times, on where to go - who to call - or where to get the word out.
However, it's not the venues responsibility to promote the events. You young artists out there need to get out and make it happen. You have so much talent and creativity, but your work demands time and energy. That is where I would like to help.
If any of you out there need assistance with booking your art openings, organizing your events and want it done right (with your artistic integrity and image protected), then get a hold of us.
Painters, photographers, bands, MC's, graff artists, DJs...you all need each other.
A local painter could be painting your next hip-hop CD cover, or a photographer could be doing your shots. You can all contribute to the local economy. This includes printers as well.
We need to be more locally focused!
You can always contact me, GAMES @ actliveartists@mailcity.com, to find out more information or get booking or contact information. That way you don't have to call all over town asking twenty questions.
Bottom line, support your local artists.
Peace kiddies, I've got Bachelors of Science photos and review coming, an interview with The Dead Catholics, Soul Slingers CD review, a talk with Sarah at Utta Clutta on Park Ave....aannnndd, ACT:LIVE's birthing event - Reece Q's "Quote to Self" CD release party and Ben Steele Birthday Bash!

All coming soon on ACT:LIVE Rochester!!
- Games
Right now we're listening to:
Kool Keith
"Keith Turbo"
(
"Black Elvis/Lost In Space"
, 1999,
Real Talk
)