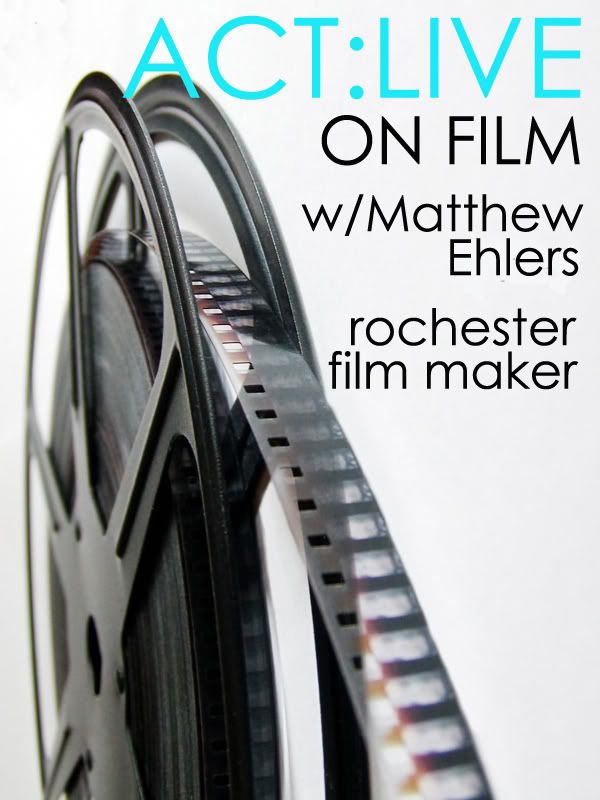 werd: james niche
Local film producer and director,
Matthew Ehlers
, may be a name you haven't heard much, but if you like films and if you like comedy, you might want to pay attention.
He has a company called
Eggwork Productions
, based out of Rochester and in 2006 he filmed his first feature film titled "Smoking Laws". All in Rochester and with a cast that was almost all originally from Rochester.
Prior to that, had been creating short films to be submitted to many film festivals and one titled "Lunch" that made it to the Sundance Film Festival. He's also taken a handful of these ideas to Comedy Central, The Cartoon Network and to the internet, with plans of whipping up his own version of Funny or Die, etc.
We met to talk about his movie "Smoking Laws", finding work in Rochester and his lessons from Los Angeles.
Here's a lesson in Rochester film.
"Los Angeles, to me, was just a playground and nothing was coming out of there that I really enjoyed", said Matthew.
ACT:LIVE:
He says this after his experience at USC as a film student and years working in Los Angeles.
"The whole goal of going to USC was to get into the industry, but everything was being made outside of Los Angeles."
ACT:LIVE:
So what did you do in the meantime out there while you looked for work?
I was actually a roadie for punk bands and heavily into music at the time. I had an internship at Mute Records, I was a fan of the "new wave", Depeche Mode kind of stuff.
I'm showing my age a bit, but that WAS the late eighties in Los Angeles. Depeche Mode probably still sells more than the Rolling Stones, which is just bizarre. Southern California just goes nuts for those bands."
ACT:LIVE:
So, you came back here right after school?
Yeah. I worked at GEVA, worked as a bartender and then finally got back into film in the mid-nineties with these three shorts that went to Sundance (Sundance Film Festival).
That was great because it gave me the "merit badge" to get my material read.
That got me hired by a producer in England to write a script in Manchester, which for me was a thrill.
I was walking around the same streets as Joy Division and Tony Wilson. I actually passed by Tony Wilson on the street. That was about a year before he died. I was really funny to be walking around all those streets and writing a script for all British characters.
None of that would have happened if I hadn't gotten into the Sundance Film Festival.
In terms of big studio stuff, it's very hard to get into and it doesn't really attract me. Rochester is just fine for me.
I go to New York City at least once a month, I've worked with Comedy Central and Cartoon Network trying to develop some short film stuff and that's fun for me.
We produced a couple shorts for Cartoon Network and are currently producing a short series of films for Comedy Central called "Cappers". I was actually editing it this morning and we're finally finishing it up.
ACT:LIVE:
So, now you're just writing and compiling for the networks?
What we want to do is keep coming up with content for these networks and entities. There seems to be a new one popping up every other week.
Super Deluxe just folded which is a shame, as did a couple others. There are so many others still going that we want to get the shorts onto. That's a mission of ours, to gain venture capital to create our own. "Cappers" dot com is taken, but we'll come up with something.
In that business there are colossal failures and awesome success stories. Hopefully we can learn from those failures and bring something successful to the market. No one knows exactly how to make it work yet though.
We're just trying to make as much material as possible and put it out there. This feature is part of that (Smoking Laws). We might take the feature and break it up into webisodes or try to develop it into a television show.
We'll see what happens this coming weekend at the screening. It would be nice to get a grassroots thing going, otherwise you're at the mercy of these distribution companies who are just inundated with this stuff. 90% of it is just crap out there.
ACT:LIVE:
How are you marketing the film for now?
Right now, we're working with Labatt Blue and Hank Parker. They're helping to keep costs down.
We had a full page ad in the Freetime Magazine, but on the non-traditional side, we put the trailer up on YouTube.
From now, until the end of time, I'll be telling people to go to Smoking Laws dot com and see the trailer, tell your brothers, tell your wife.
I'm trying to tell people this isn't just a funny video you get at work on YouTube. Please just send it to your friends."
ACT:LIVE:
So how did the Sundance opportunity come about for you?
We did the short film called "Lunch", it was slow going at first, even though we hit some really good festivals with it; but nothing on the level of Sundance.
What happened was, we got runner up at a festival and that put us on the radar for other festivals like "Just for Laughs" in Montreal, SXSW and others that we actually got into.
Those wouldn't have happened without the initial nod from that one festival. The festival was actually called "Dances with Films". Which is actually the worst title for a festival ever, but hey, people remember it.
Comedy Central then bought a short film and they keep calling back asking to make more short films. I hope that continues with them and other networks in the future.
ACT:LIVE:
Its sounds very similar to the life of a musician who just keeps writing track after track and ships them around until somebody picks up on it. The larger your arsenal, the better.
That's the plan.
I am always amazed as to what does become successful, like on YouTube and these other sites, so we're going to try to push the envelope a little bit with our work at Eggwork Productions.
We want to play off of ideas that have worked before and do something kind of outrageous.
ACT:LIVE:
What kind of comedy are you submitting to Comedy Central? I picture the [adult swim] type of market…..Tim and Eric style.
Those guys are hilarious, oh my god. They had their own show on Super Deluxe, I watched it all the time. It's so freakin' bizarre. They were one of my favorites on that show.
We had developed a show called "Animungus", which was a show about these wild animals and why they couldn't survive in the human world…it's hard to explain, but there's a link on the website if you want to check it out.
It never hit the air though, which was a shame. The show got canceled before it even aired, that happens more than most people know."
ACT:LIVE:
How does that happen? How does a show get picked up and canceled before it even airs?
Change of staff at the executive level...many different reasons. Somehow they do Neilson testing at the most random times, how they do that I'll never know.
But, with that project, we earned enough money and credibility to move onto the next one. It's like you said, the more material you gain and the harder you work at getting seen the more it pays off.
I'll be stretching that on my resume for years. I can at least then say our ideas worked for Comedy Central. I won't over inflate it though; I hate it when people do that. I'd rather let the work speak for itself."
ACT:LIVE:
When was "Smoking Laws" filmed and finished?
We shot that in March of 2006. We shot it three days a week, for about two months. It was a total of about twenty two days of shooting.
It was shot with an almost all local cast, some of whom had moved to either New York City or Los Angeles. They were all friends of mine. No real big names, but just people I like working with.
I liked that because for my first feature I just wanted to be amongst friends and have fun.
We accomplished the first goal, we'll see about the second one.
ACT:LIVE:
What's the response you've gotten about the film thus far?
We had a sold out screening at the High Falls Film Festival and a friend of mine helped us get it into the Little Theatre's "Theatre One". That theatre has a seating capacity of about 300 and we sold it out, then some.
That was a great reaction for me and word of mouth has been really good.
All the cast and crews family members like it, but then people I've never even met are coming up and saying that they saw it and liked it. That gives me a better feeling when strangers are approaching me about it.
I don't know about it becoming the next big "you name it" independent film, but who knows. Weirder things have happened.
We shot it for a shoestring budget, had a great post production house (Crystal Pictures, Fairport) work on it and I think it looks like a million bucks for having spent next-to-nothing on it.
I'll be using this one to try to get investors in on the next one, which are very hard to come by, especially in this economy.
ACT:LIVE:
Maybe for a shout out to other creative people in film in this town, are you ever looking for new help in the area? Writers, cameramen etc.?
Oh, all the time. I'd love to get an intern, who is really good with Final Cut Pro, web designers for flash and so on. Talent like that is always welcome.
It's hard to find people, because on the spec stuff, there's no money. But the stuff on the corporate level that I do, which actually pays, we're talking about jobs that only require one or two workers.
ACT:LIVE:
So you also do corporate videos like commercials and training videos?
A lot of commercials, and I just did a demonstration video for Verizon in New York City recently. That was great money, but not the most creative thing on the planet, self admittedly.
Yet, you do one or two of those a summer and you can spend the rest of the year doing what you really want to do. It's like everything else; it's one for love and one for money.
So, to answer your question, yes, I'm always looking for help or people that just want to hang out.
I'm in this great space behind the German House. It's in the offices of Rochester Talent. It's a great warehouse, well, not a warehouse but it's like a dance studio. I'm there alone half the time, so it would be great to have a bunch of other film makers just hanging out and collaborating. We need more of the back-scratching between film makers."
ACT:LIVE:
I actually know a couple of them so I will be sure to let them know the good word. And hopefully they are reading this now and will get a hold of you.
They should be aware of the film office here in Rochester. FilmRochester.org. They should definitely stop by, introduce themselves and get in some resumes.
Tell them to talk to Nora Brown.
ACT:LIVE:
Another great name in film here is Mike Dispenza. He has been doing some great work for those of us in the music community and is a student at RIT. He's a young guy with a vast amount of potential, his team is right there with him and he has a strong work ethic. He's someone you may be interested in having move some cameras around your sets.
He has clients who may be out of town, but I have seen only local work of his.
That's the best (Having local clients). What you have in this town, is a situation where all the clients are spoken for. For decades it's been this way.
So, for me, I have to go to New York City or Toronto to get work, which is kind of a pain in the ass. What's happened is no one is sharing the wealth.
Everyone is so fearful of losing their great clients, so the production community tanks. There's not enough work to keep people just coming out of college, so the kids just vanish. They go to Los Angeles or they go to New York City.
When a big production comes to town and says they need an art department that's four people deep, they need ten grips and so on; they can't fill it because all the crews left to the places I mentioned.
I'm sure that some of these students may move back and maybe work as locals, but why would they when they are working two hundred days a year out of town?
ACT:LIVE:
So in the movie, the narrator quit smoking…was that you and did you quit smoking?
I did. I quit eight years ago. I chewed the gum.
I had to free myself of going to any bars for like a month.
ACT:LIVE:
The premier here in Rochester is the 7th – the 10th correct? At Abilene's on Liberty Pole…I liked that place. The owner was cool and the layout is nice. I wrote a little something about it a few months ago.
We'll see what happens with it, there's a nice little buzz about it. City Newspaper has us as the pic of the week and I don't want to think about it too much. I want to just enjoy what I'm doing and hopefully things all fall in place.
Little known fact to most, is that Peoria, IL was at one point "the" test market in the US for movies, music, food and so on, but Rochester has taken that throne with more movie screens per capita than any other market in the US.
Do you want to know the reason why?
Because, in Rochester, there are significantly less Latino residents than there are other races. That is a true story. That is on their list of demographic reasons why food companies, music companies and film companies test and market products here first.
It's not like it used to be, but we're still a big test market.
Peoria was big because these companies just wanted to know if plain old Midwesterners liked it or not. What they feel is the good old American stereotype."
ACT:LIVE:
Interesting. I learned something today. I was always aware that Rochester was a large test market, but the Peoria thing I was not.
I wish Matthew the best of everything with his work and would gladly lend a hand in some writing. To the rest of you talented individuals who are in college or looking for work, get in touch with Matthew or stop by his space behind the German House on Gregory St. and spit some ideas at him.
Just in case you didn't catch it earlier, the screening of "Smoking Laws", a film by Matthew Ehlers and Eggwork Productions, will be at Abilene's on Liberty Pole Way in downtown Rochester.
Abilene's is a really comfortable place to relax and kick back and there is a good sized patio with a skyline view to enjoy. I wrote a piece about Abilene's a couple months back, so check through the archive if you would like to see some pictures of the place and meet the owner.
The screening will be held Sunday, September 7th – Wednesday, September 10th at Abilene's.
I have seen a copy of the movie already, and I have to say it is funny. It was shot at Mex for the most part and has a cast of some familiar faces from around town. I think any Rochesterian would enjoy it.
So, get up and get out. Get in line at Abilene's and support a local film maker who needs to get his work visible. Support him so he can support local students with work and keep them in the Rochester area developing their talents.
This are is filled with some of the greatest landscapes and set locations you couldn't find anywhere else. Keep it local.
I leave you with the trailer for "Smoking Laws".
- Games
This guy pays some bills:

Right now we're listening to:
Destroy
"Just Me"
(
"Soul Of The City"
, 2008,
God Money
)