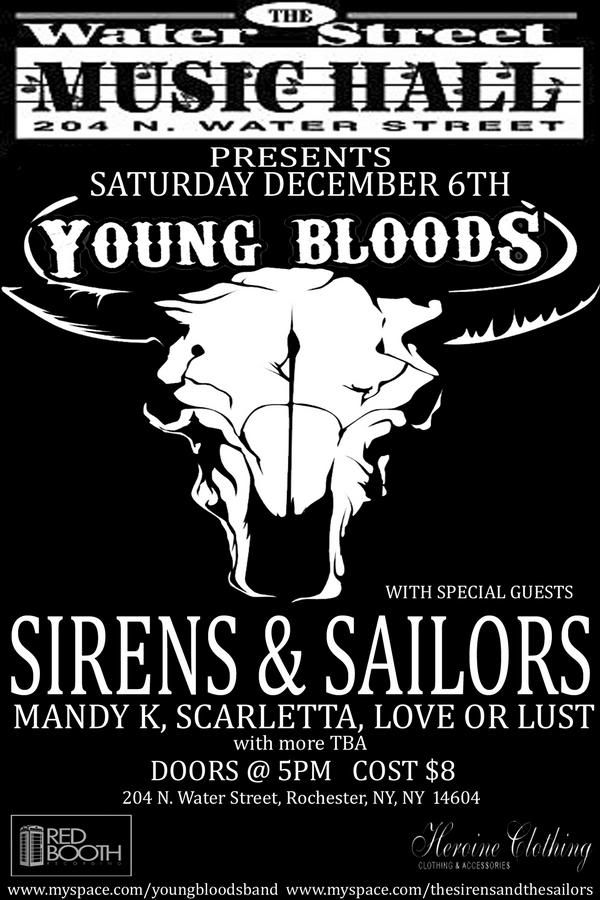 werd: james niche

Some of you may recall a cover we made last summer with a young man named Joey Arena on it.

I did an interview with Joey about his new project,
Young Bloods.

If you haven't had a chance to listen to their music, definitely click the link on the page where our local links are.

In a world of recycled, pop hash, Young Bloods are bringing something fresh to the Rochester rock table.

Maybe they've discovered it takes more than some eyeliner and kitschy guitar moves to actually be a band. Rochester musicians take note.

The sound is fresh, it's clean and Joey Arena makes no apologies.

Out of the ashes of The Boy and His Machine, Joey and fellow band mate Andrew Champion have formed a rock act that seems to be ready to roll right out their van onto the mainstream stage.

The Young Bloods hit the stage this Saturday, December 6th, for their first show at Water Street Music Hall.

They will be performing with Rochester natives, Love or Lust. Love or Lust also being a band formed out of the defunct, Trustkill Records band, Roses Are Red.

Front man Tom Zenns, one time guitarist for Roses Are Red, has taken what he knows and likes about the pop-synth-rock genre and coupled that with a liking for groups like Head Automatica and Army of Freshmen, to make what we now know as Love or Lust (LOL).

Catch both bands, Mandy K, Scarletta and more bands TBA this Saturday at Water Street Music Hall.

Peace Kids...

- Games
Right now we're listening to:
Glassjaw
"Cosmopolitan Bloodloss"
(
"Worship & Tribute"
, 2002,
Warner Brothers
)