werd: james niche
This Saturday is my birthday. It's my dirty, f-in'
30
to be exact, and I'll be spending my night as manager of Reece Q and ACT:LIVE representative.
It's not exactly what I thought I would be doing for my thirtieth, but it's another chance to kill some shit on the road.
Why am I going to be in Buffalo, you ask? Well,
Reece Q
's 'Jazz Couplets 2.3' from the 'Quote To Self' album, has just been released on '
Rebel Radio 4 & 5
'.
The Rebel Radio compilation is something that has been put out for the past four years by
Deep Thinka Records
, out of Buffalo, NY. I believe that the hip-hop group,
Fresh Guac
, are the founders of this label. Fresh Guac are also natives of Buffalo.
About 5,000 copies of the discs are made and it's all for charity.
There are artists on the compilation ranging from Skyzoo, Pacewon, Kanser, Edreys, Pete Rock, Styles P all the way to Reece Q.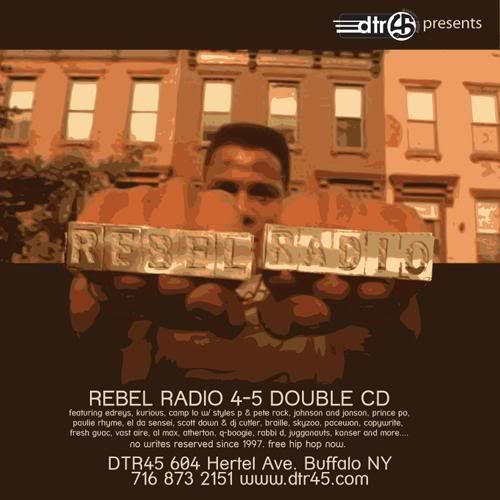 The artists come from all over the country to meet, network and have a good time. Once again, all for charity. I know each performer will only be performing two songs each, so it will be fast-paced and more of a party atmosphere as opposed to a long concert.
So, I'm going out to spread the good word of the Rochester hip-hop gospel. If you can make it out, definitely do.
The event is at
Broadway Joe
's on Main Street in Amherst, right down the street from UB. Afterwards, some of us will be heading to a drum and bass party going on. The name of which escapes me. But, for more info, ask this gentleman...SMD. You can contact him by clicking
HERE
.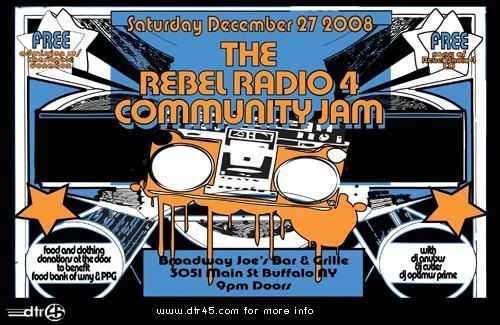 The Rebel Radio Community Jam, Saturday, December 27th. Broadway Joe's, Buffalo.
- Games
Right now, we're watching:
White Winter Hymnal
from
Grandchildren
on
Vimeo
.