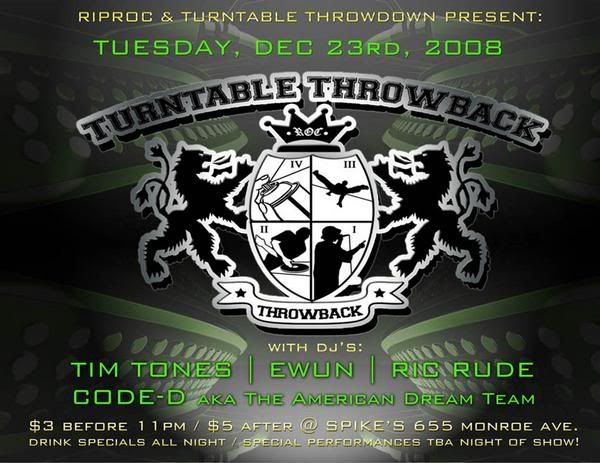 werd: james niche
Every promoter knows that the best nights of the year to be out with friends is right before the holidays, be it Thanksgiving or Christmas, everyone wants to go out and see their friends and get wasted before they return to their families the next day.
The boys at
RIPROC
and
Tim Tones
put on a show this past Thanksgiving Eve titled the 'Turntable Throwback', at Spike's of all places, and it went off like a bomb.
They are returning to Spike's this coming Tuesday night for another night of musical mayhem.
These DJs play tunes from all over the musical map in case you're wondering. This isn't a drum and bass party, it's not a rave and it's not a hip-hop show. It's a pop amalgamation of everything you love, crammed into a tiny space and projected through some sick subs, compliments of Wi Sound.
Tim Tones,
EWUN
,
Code-D
and
DJ Banshee
take the floor Tuesday night, December 23rd at Spike's on Monroe Ave.
Check the flier for more details or go to RIPROC online.
- Games
Right now we're watching:
Girl's World
from
The Scratch
on
Vimeo
.