foto: fox_photography
werd: james niche
This week I take a tour of Rochester's open mic madness. (Some of it. Trust me, there's a laundry list of joints)
Abilene
– The new place to be on Liberty Pole (Thank god somebody moved in there, Libery Pole needs new life!)
"Awwwww…this place is
SO
cute", says Al Fox of FOX Photography, commenting on Abilene.
Abilene, is a new member of the bar and music scene here in Rochester, located on Liberty Pole Way directly across the street from the
Harro East
.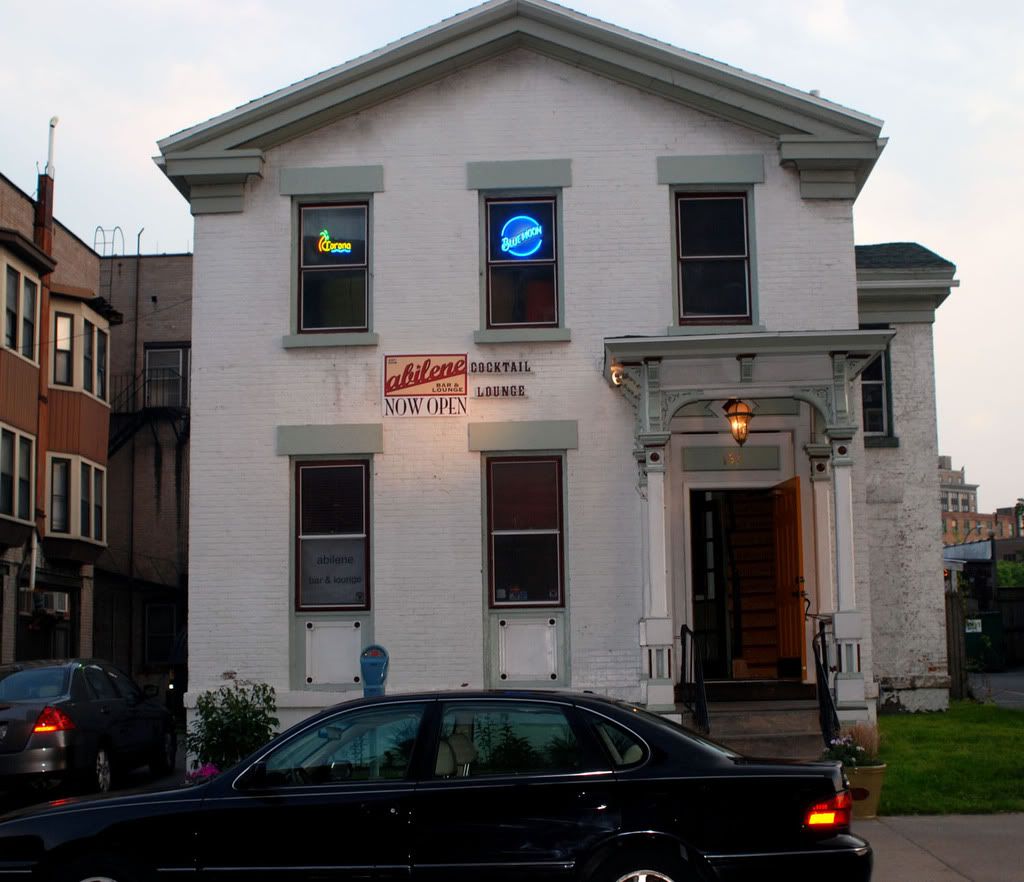 I noticed there are quite a few open mics around our fine city on Wednesday nights and Abilene is right there in the mix.
Abilene was opened about two months ago by Dan Deutsche, a Rochester music fan and long time member of the music community. This building housed Tara's, a predominately gay bar for the past twenty years and Dan says he welcomes whatever crowd wants to come in and have a good time, he would like to make sure the old customers still feel welcomed into his establishment.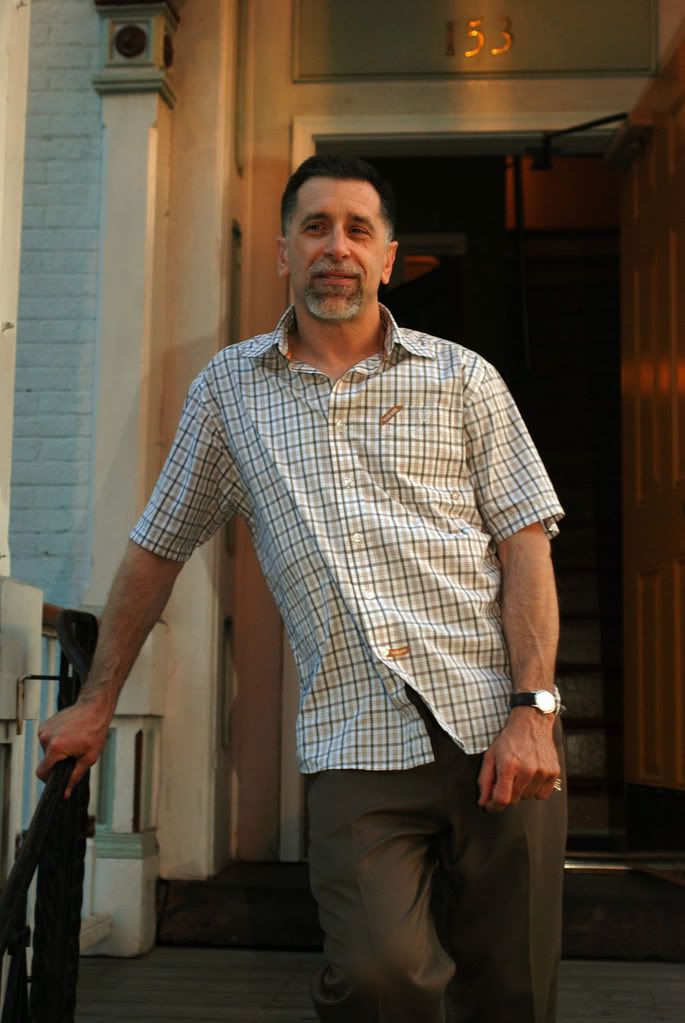 In the shadow of the Sibley Building downtown, it has quite a bit of charm. It's an older building downtown, in what may have been a house years and years ago. There is a good sized bar inside with a pool table and jukebox, and judging by the music in the jukebox, Dan must be a fan of the Austin, TX music scene. There's a good mix of country, pop country, blues, folk and bluegrass. According to Dan, the bar is named after a song by Dave Alvin of
The Blasters
, a rockabilly act out of California.
Abilene is a great place to get together after a long day at work or to come down and watch some really great music acts from right here in Rochester.
Glenn Donovan, the man behind the bar and acting manager, gave me a little insight on the activity there.
"Last Wednesday was a madhouse…there's a little bit of everything. Jazz, blues, Americana. We also will have a lot of live music here during
Jazz Fest
, we have a lot of live music here every Friday and Saturday as it is anyways, but come Jazz Fest, we will be packed and it's all free."
Approaching Jazz Fest, it looks like Dan is looking to expand his capacity and is in the process of doing so. He took us on an upstairs tour to see the expansion.
I have to say I really love the feel of the bar as it is; it took me to the feel of the Pythod on Broad St, an old Chitlin' Circuit club featuring a majority of African-American jazz musicians back in the early 1900's. Sure enough, he plans to put in some plush seating arrangements for the upstairs as well as a small stage. There is a bar existing up there at the moment, so that helps move this along for him.
Here are some of the acts performing for the Jazz Festival at Abilene:
June 13th – Double Stuff
June 14th -
Grand Canyon Rescue Episode
June 14th – The Sun Machine
June 15th –
Hard Logic Jazz
June 16th –
Madeline Forster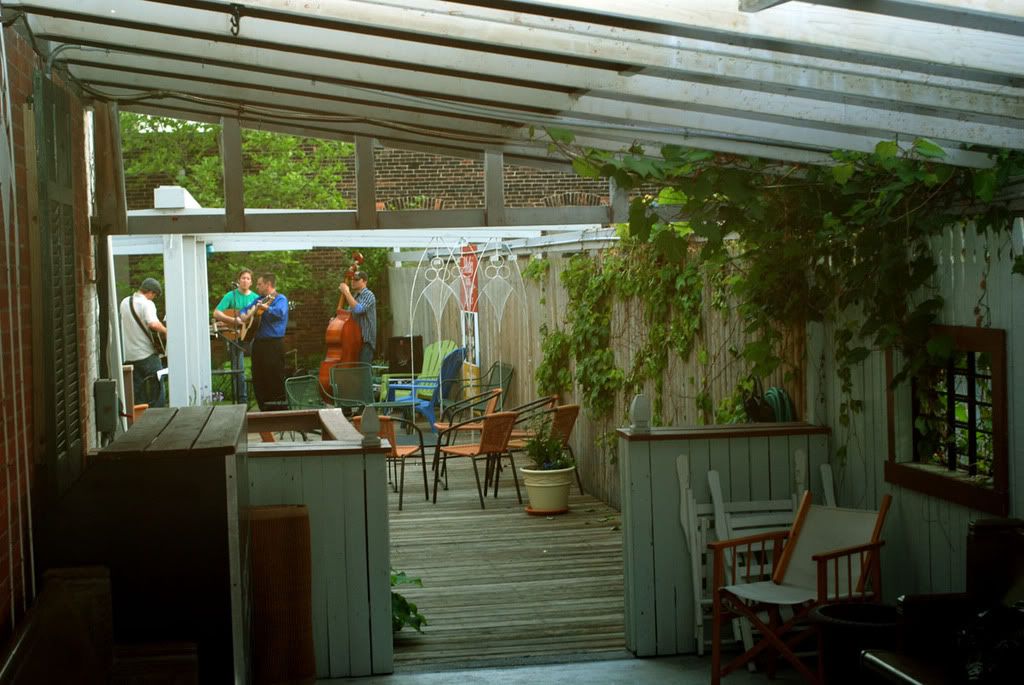 Abilene features a beautiful back patio with the city skyline as a backdrop. There is plenty of space for any size music act and plenty of space for the audience as well. This night, Grand Canyon Rescue Episode was performing and is typically the placeholder of the open mic.
I encourage all to stop down and say hi to Dan and Glenn; both gentlemen were extremely helpful and really down to earth. Good to see someone getting back on board on Liberty Pole, we damn sure needed something put in down there. Cheers fellas!
Boulder Coffee
- S. Clinton and Alexander St.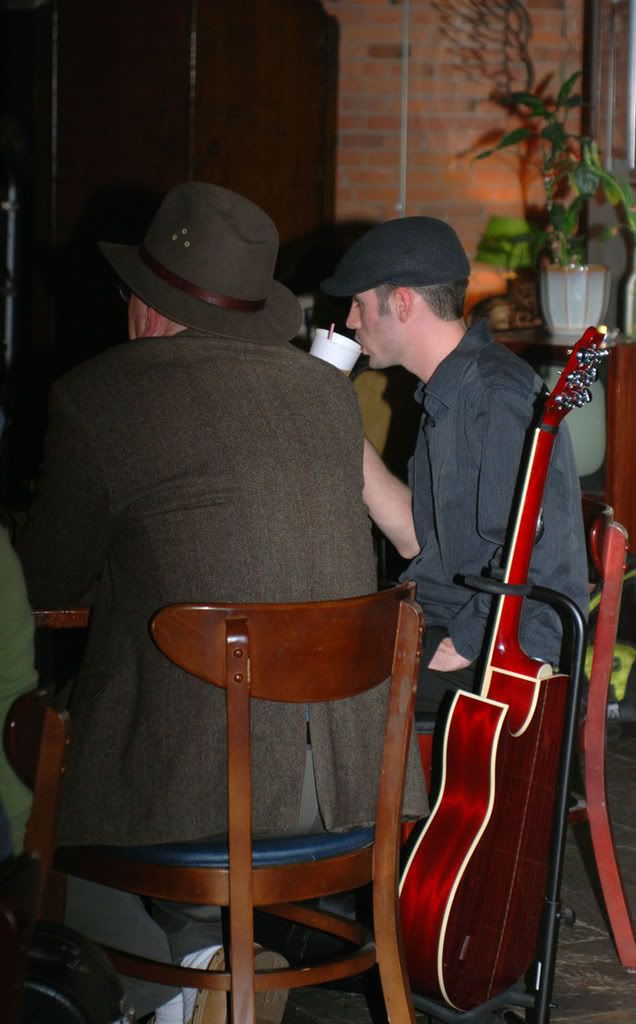 Seen the "chow line" of guitarists over at the Boulder Coffee open mic night? Then you haven't been there.
Part two of my open mic tour was to Boulder Coffee in the South Wedge neighborhood to see what's going on.
I have not been in Boulder since god knows when, but I was reminded of how chill it was to be there. The "chow line" of guitarists I spoke of was in fact that. Hungry for that mic, they were. Young and old, girls and boys all gathered there to share their bit of soul through the airwaves. Some definitely funny, some definitely wack (the suicide shit?! come on now). But as I sat down to get my pad and pen out; I took a breath of fresh air as
Brian Rath
raised his voice.
I took a few minutes with Brian after his set. This is what he had to say.
ACT:LIVE:
So, Brian Rath, you're from Rochester?
"Yeah, I grew up in Chili. I haven't actually been to the open mic in a while now, but about a year or two ago I used to host this. Someone else hosted it when the place first opened. I've watched it grow so much over the past year.
I also work behind the counter here at Boulder, so I've seen it have some huge nights. I've been to so many open mics in different cities, so it's nice to see such a good crowd here in Rochester. Everybody plays mostly originals, it's a good environment.
When we first started, there were like, a dozen people, if that."
ACT:LIVE:
I noticed quite a few people here tonight waiting in line to get on.
"Yeah, when they get that sign-up sheet out, it's a frenzy. People get tackled just to get a spot on the list."
ACT:LIVE:
How long have you been performing as a solo artist in Rochester?
"Well, I moved back here in 2003. I was in school in Boston for a while, but I have been playing steadily since I returned. I play all around town, in coffee shops, bars and lots of open mics. I just played a couple shows at Borders (Books)."
ACT:LIVE:
Where are you favorite open mic venues?
"Daily Perks, which is now the Mez, they have a great room and good acoustics.
Lisa Bigwood
is a really great folk artist who used to host it. She brought out a really good mix of musicians in different age groups, with different styles of music. I went to that one pretty steadily for a couple years.
Sometimes it's hard to keep up because they all fluctuate so often with constantly different musicians and hosts and venues."
ACT:LIVE:
Do you have any projects in the works for yourself outside of the jams?
"Yeah, I released a CD which I recorded in my basement and at a friend's house. That's pretty much what I have been going around town selling and promoting. These open mic nights are a great way to get exposure. That's what I like about them the most is all the new ears. These are a great warm-up for my own gigs. Open mics are how I started anyways."
ACT:LIVE:
Is there a title for the CD?
"It's self-titled."
ACT:LIVE:
How do you begin your writing process?
"Well, I definitely don't force myself to write, but when I was younger I was writing a lot more. Now, I just wait for the mood to strike. I have so many songs that are unfinished works in progress. Coming out to open mics makes it exciting again to do fresh songs."
ACT:LIVE:
They are surely a great testing ground.
ACT:LIVE:
What kind of music would you classify yours as? Explain for those that don't know you.
"Folk, rock, pop. Some of my songs are a little "bluesier", as far as the singing goes. I'm more of a singer than guitar player. I like guys like Roy Orbison, some of my stuff I like to style after that type of sound."
ACT:LIVE:
Ever work with any bands?
"I've tried to get bands together over the years, but it's so much easier just doing it alone in a lot of respects.
I can be hard to get everybody on the same page, even just to get them to show up.
Sometimes I wish I could just sing for a group, maybe with some guitar that's low in the mix so I could just concentrate on singing. So far I am just solo, and I am content."
I want to thank Brian Rath for shedding some light on what he does and also on the open mic scene.
I advise you to check his MySpace site out and take a listen. Strong folk influences with a cigarette pack rolled in the sleeve kind of attitude and pace. That is how I describe it.
What I really love about what I do is to be able to walk into events like this and find these hidden gems. Brian Rath is not the first, nor is he nearly the last, of great artists in this city, but you ought to know about this guy.
The Mez
– Gregory St. (the old Daily Perks location)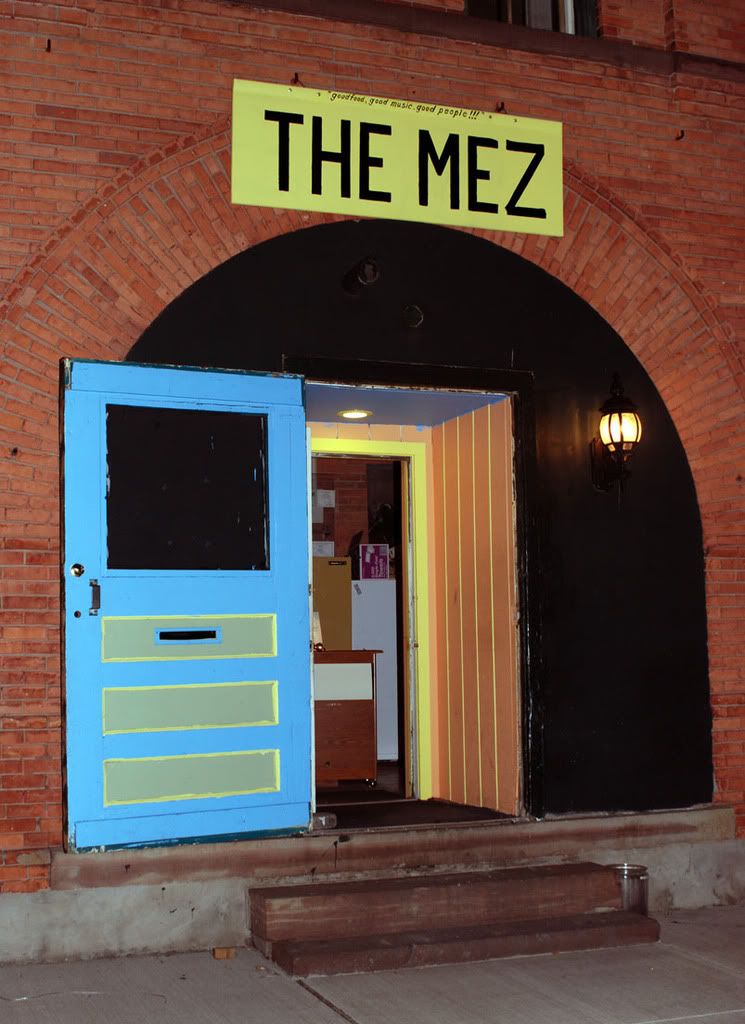 Alright, so the last stop on our tour is to the controversially named "House Of Hamez". Now just called, "The Mez".
I am to understand that there was some confusion with the original name because it sounded like a Muslim name to most.
The original name came from the town of Jemez (pronounced Ha-Mez) in New Mexico, a town where owner James Rowe lived for some time. So, for the record for all of you, it is not Muslim, and even if it was, who the hell cares? Somebody got some beef with Muslims?
James Rowe originally started out working at Daily Perks for about nine months before acquiring the space from the previous owner and has operated it since August of 2007.
I really dig the feel of The Mez. It really feels like you're in someone's house when you're in there. It's cozy, the acoustics are good and the vibe is really mellow.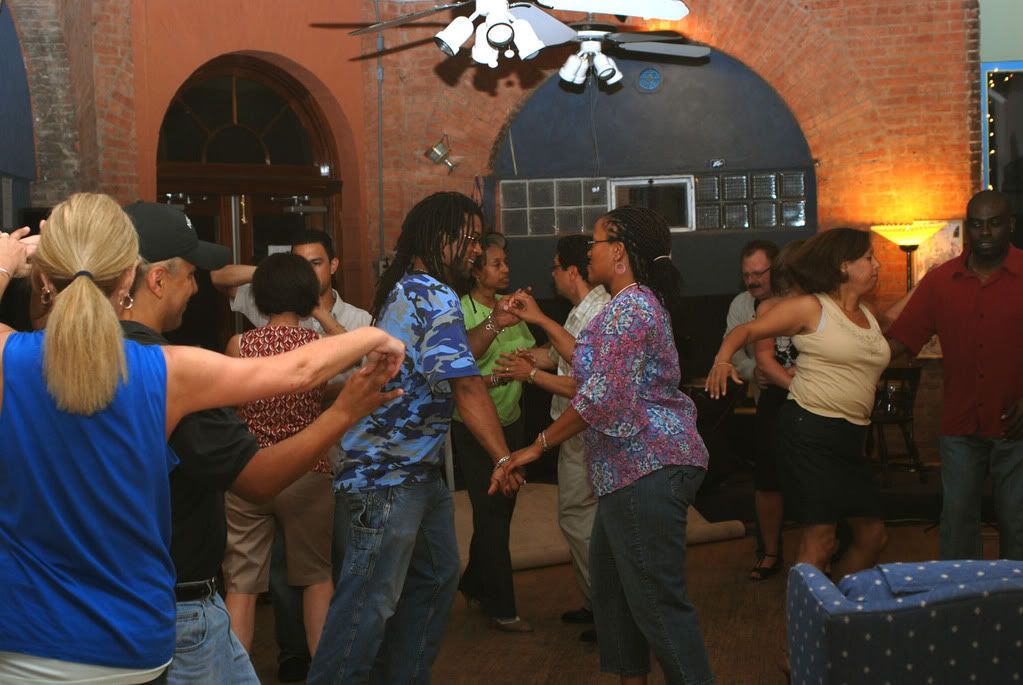 When we arrived, there was a salsa class coming down from upstairs that uses the Mez as a space to extend their dance time when the class ends. There was a good mix of ages and ethnic backgrounds and everyone was very friendly.
James was also very friendly and easy to talk to. He had no problem talking to me about his operation and his feelings about politics as well.
Somehow he got on the topic of
ASCAP
, and his battle with the multi-media giant. ASCAP, along with BMI, is a group of lawyers, essentially. The group was originally formed to protect the rights and royalties of songwriters and artists alike in the U.S and the rest of the world. Now, ASCAP has become a great pain in the balls to a great number of bars, restaurants and coffee shops nation wide.
ASCAP likes to have the owners of these establishments pay out the ears for the royalties of artists' songs who may be performed by cover bands, songs that are played by DJs and songs played over any sort of PA system. Meaning, if you own a restaurant or bar, and you play music, you have to pay. ASCAP says that if you are charging people to eat in your establishment and music is being heard overhead, you owe them.
"It should be the responsibility of the performer…it's ridiculous, it should be based on capacity. We're being exploited", says James Rowe.
I do agree to a certain extent. If a club owner makes his living on booking DJs and having them perform, then charge the DJ. The owner often has no say or knowledge of what material will be played and has no certain control.
These DJs and bands are the ones playing the music. They are the ones getting paid from it, not the club owner.
I can tell James has a tough political side to him that may be just waiting to unleash. He spoke of trying to form a group of owners against ASCAP and their never-ending harassment.
"I like going after giants", he says, with his "Terrorist" shirt blazing.
I like this dude.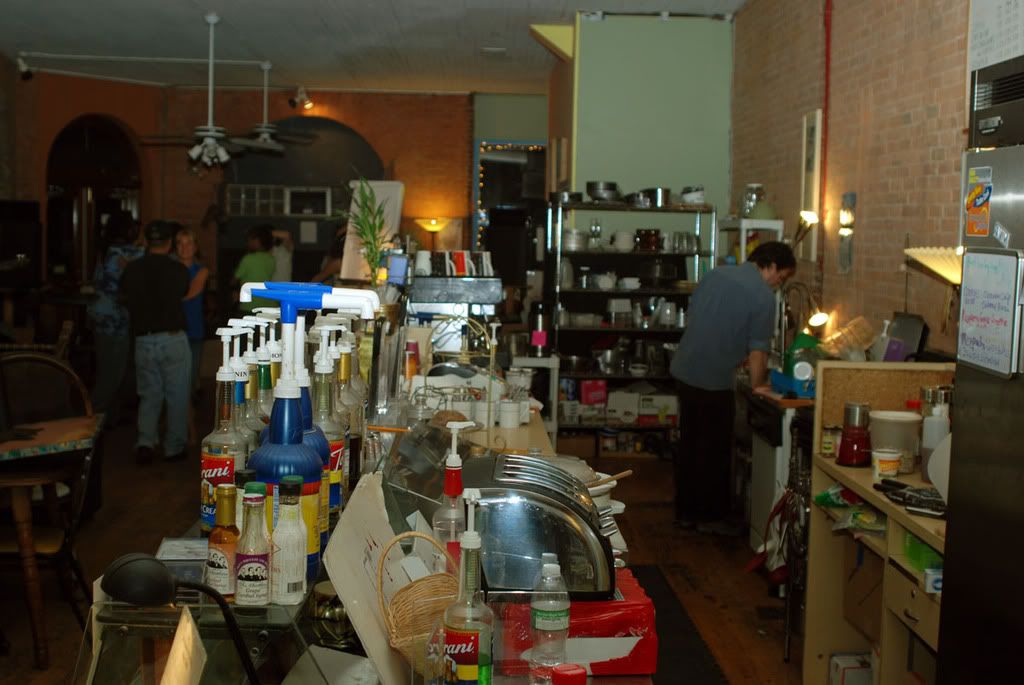 After speaking with him about the topic it reminded me of my interest in that subject. I will be doing some research and investigative work around the city to really explore this issue and see what we can do to get these people together, the owners that is.
Before I get going on that tangent, let's check out the open jam at The Mez.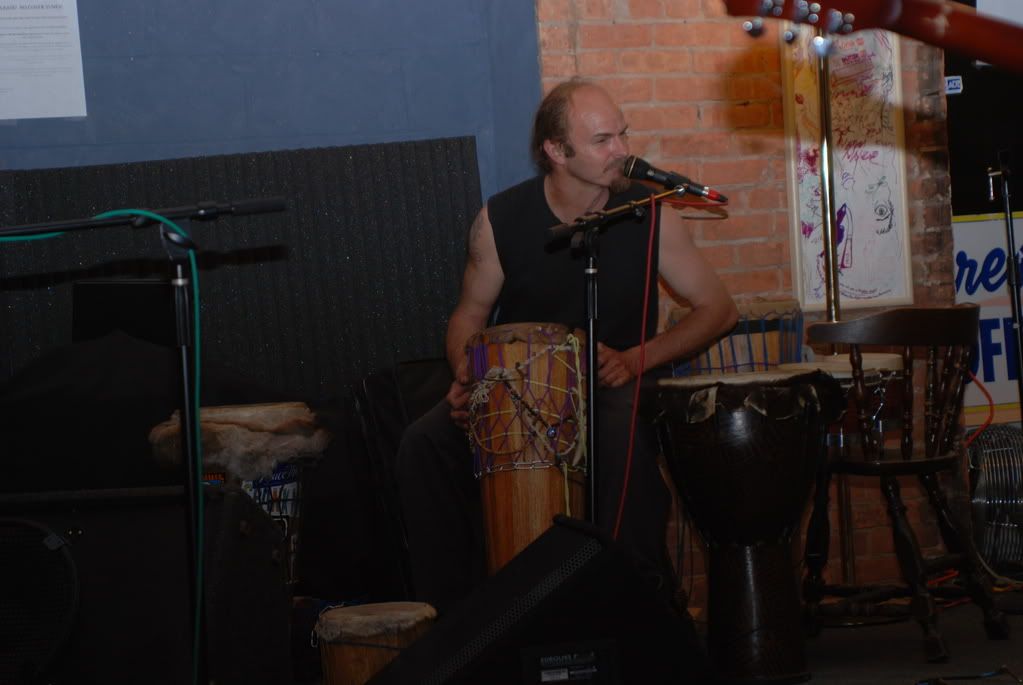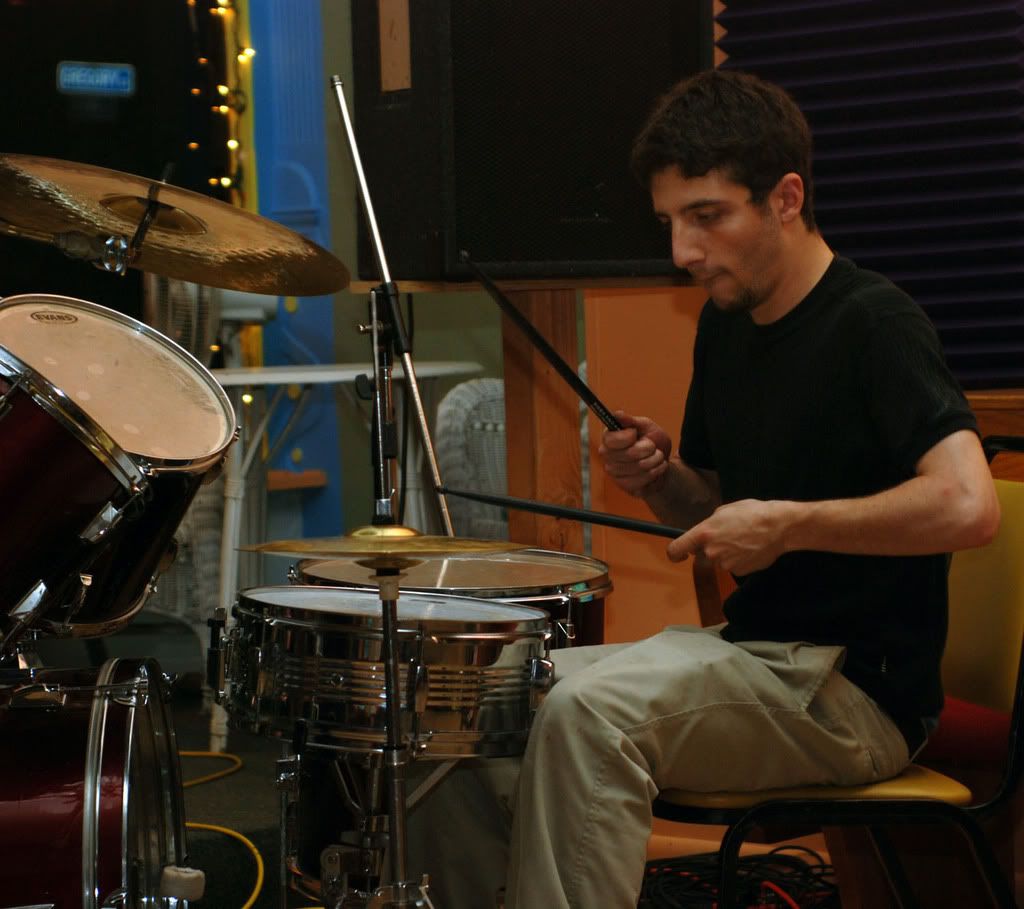 Dave Barron, a gentleman I met at the event who is a founding host told me a little bit about the night there and what it is.
Dave plays drums and other forms of percussion. He also constructs drums, many of which you can find hanging on the walls of the place.
He says that this open jam can have anywhere from five to fifteen members jamming all at one time. A lot of these artists have not jammed with any of the people that they are seated with before, so for one to really get into it, one must make a conscious effort to become part of the collective and tune in to each other.
There were performers of all ages but this was a really young group that night, some guys had just graduated high school.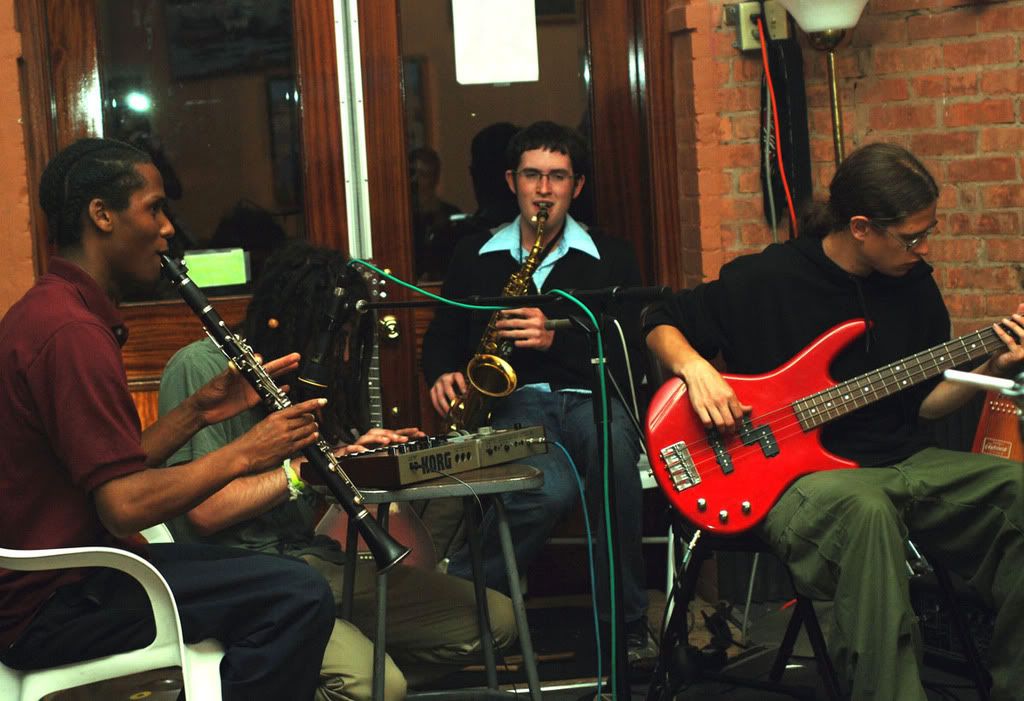 The jam runs for about an hour, and in the beginning was kind of rocky, in fact I really felt that some good acid was needed to get on board, but things really came together well.
Dan Flynn, saxophonist, really did a great job of keeping things together and Steve Bertolone brought in a small synth that added some serious depth to the mix.
Apparently that was the first time anyone brought a synth, so keep on doing it Steve because that was ill.
All in all I really enjoyed myself down there and it was a pleasure to make some new friends.
Shout out to Dylan Osborne of Chili for the smoke break in the car. Cheers.
If you stop down, there are also some locals cats CDs for sale. I saw some of Ed Downey and Dave Gervasi's, so go take a peek and pick up some local music.
I want to thank James Rowe for being so cool and letting us do our thing, and for the inspiration to do the ASCAP story. Best wishes to you in the fight, James.
Final Note:
I really hope that this website helps more and more of the local artists really get the exposure that they deserve.
This city is an oasis of great talent. I know so many people that have said, "It's not worth it; we tried, so you won't be able to do anything with the scene".
Well, they gave up. I will not listen to the voice of a quitter. I believe in Rochester. I believe that these artists need to work smarter, harder and like any other collective or group,
NEED
to be
ORGANIZED
!!
- Games
Right now we're listening to:
Robin McKelle
"Abracadabra"
(
"Modern Antique"
, 2008,
Cheap Lullaby
)