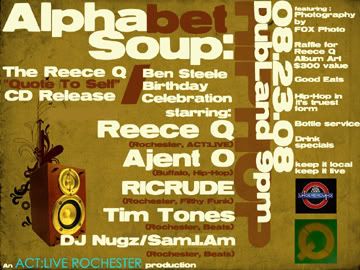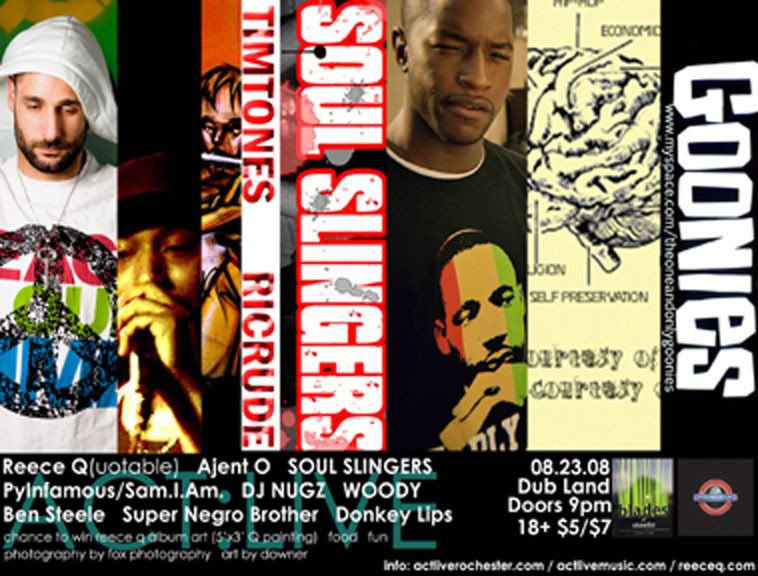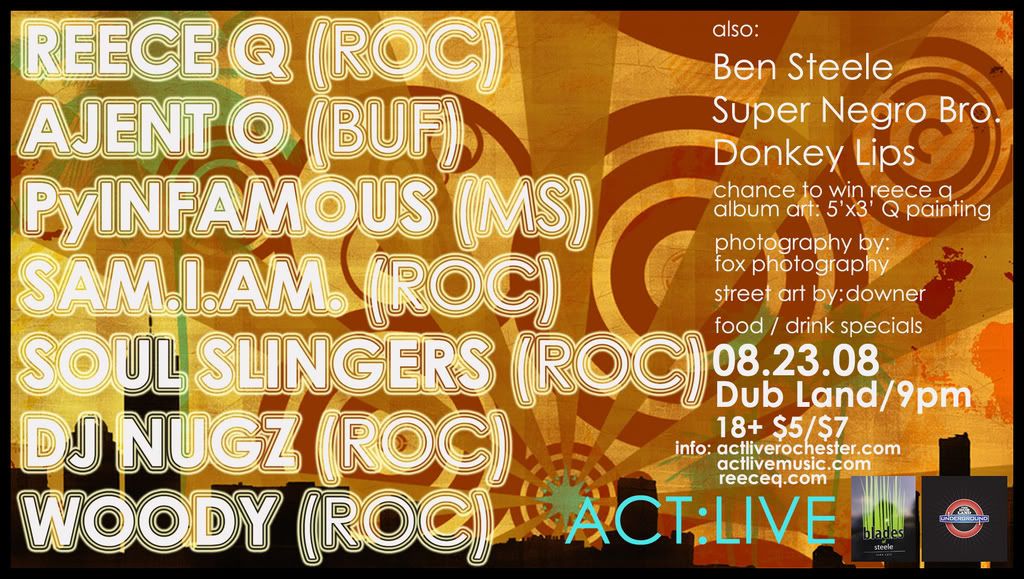 werd: james niche
It doesn't matter how you see it, the show is going to be dope.
ACT:LIVE has put together a hip-hop and art show to be remembered for a long time in Rochester.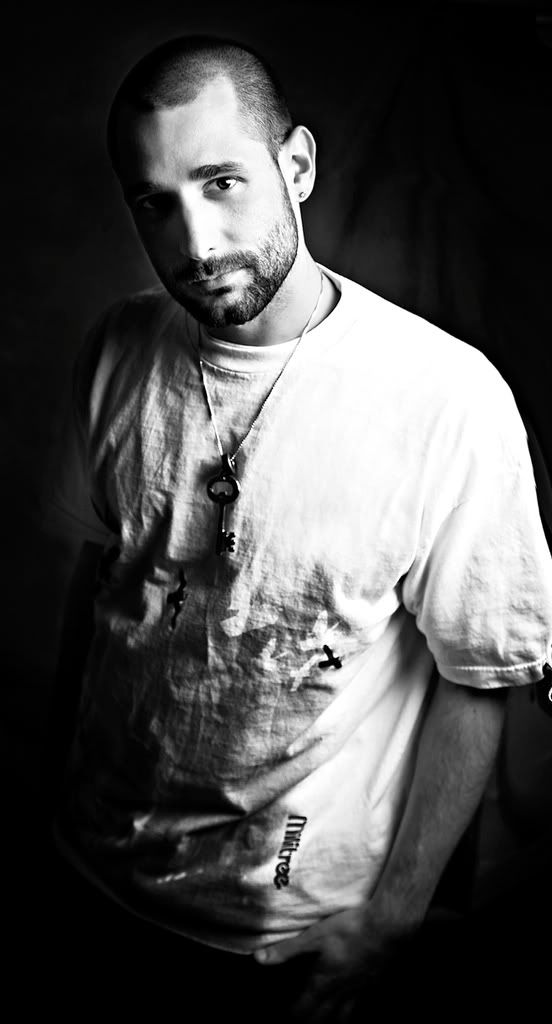 ACT:LIVE artist
Reece Q(uotable)
, along with the GOONIES and Sam.I.Am, has been working hard for the past year to put his notebooks and thoughts down into his debut CD "Quote To Self"; to be released for the first time in it's entirety August 23rd at the Dub Land Underground.
"Quote To Self" is a "post-it note" type of debut, featuring experimental songs from the past year and a somewhat jazz based introduction to who he is and where he's coming from.
Reece Q is backed up by
Sam.I.Am.
and
DJ NUGZ
live, and the three of them have more energy combined than RG&E.
They blew off the doors at High-Fidelity last month and are bound to bring even more power to their set on the 23rd.
An act you do not want to sleep on.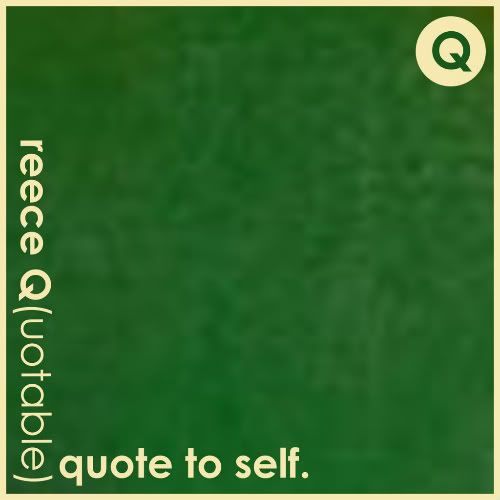 You can hear the album live and first-hand at the show, but to quote DJ NUGZ:
"It's one of the best CDs to come out of Rochester, independently".
This album will be available at the show for $5 and at all local record outlets in Rochester.
Opening up for the evening will be
WOODY
of the Rochester based production crew, the
GOONIES

WOODY is going to be spinning some party music to get the crowd warmed up and also premiering some of his own music. He popped out some of his new material at the High Fidelity show and it was all slick. He's got some great drum tones and if you like old school hip-hop breaks, he's got your jam.
Following WOODY will be
PyInfamous
and Sam.I.Am.
PyInfamous is traveling all the way from Crystal Springs, MS to get the word out on his new CD with local Sam.I.Am., "Intelligent Discussion".
PyInfamous is also of the duo, EBB & FLOW, with partner Demo; out of Boston.
Sam.I.Am. is a local producer, who at a young age is making some serious connections and displays a great work ethic. These guys have a very bright future ahead of them.
Next up is
Ajent O
from Buffalo, NY. Hip-Hop originator and party proper MC.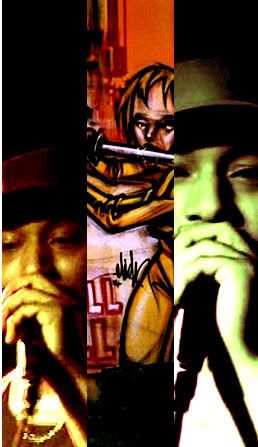 This man has been kicking it for a while in Buffalo and knows how to keep a party rockin'. He's got incredible stage presence and a killer attitude.
He's definitely going to be a lot of fun and he'll be coming with his DJ.
What else can I say about the next artists on the line-up that hasn't been said in their review earlier?
The
Soul Slingers
are on the stage August 23rd.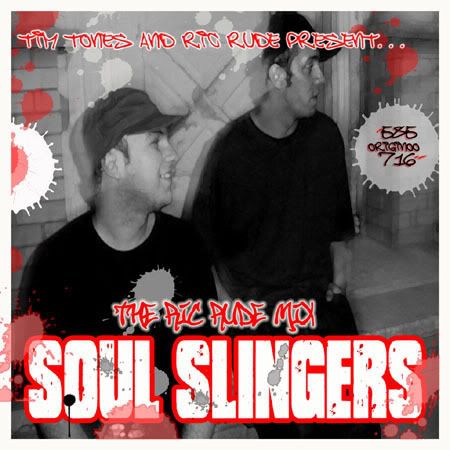 They just released the mix CD, just finished the video and have been on fire here in Rochester.
Get down and see these guys. Tim Tones and
RICRUDE
are another act not to be slept on at all.
RICRUDE is well known for his work with Filthy Funk over the years and Tim Tones is well known all over town for towing his tables around like a security blanket. (The man is everywhere with the 1s and 2s)
Right before Reece Q, Mr. Mumblz(hip-hop, turntablist ninja), will be lighting up the SL-1200s with a turntable set that will set you right for the night.
Reece Q(uotable) will be closing the evening but that's not all that ACT:LIVE has in store for the evening.
There will be food and drink specials for everyone, but more importantly, there will be some killer art on display and for raffle.
Local graff artist Downer has painted an amazing stage design for your viewing pleasure and artist Ryan Smith will be displaying his unique brand of modern art as well.
The painting below is a 5'x3' painting done by GAMES for the Reece Q album photo shoot.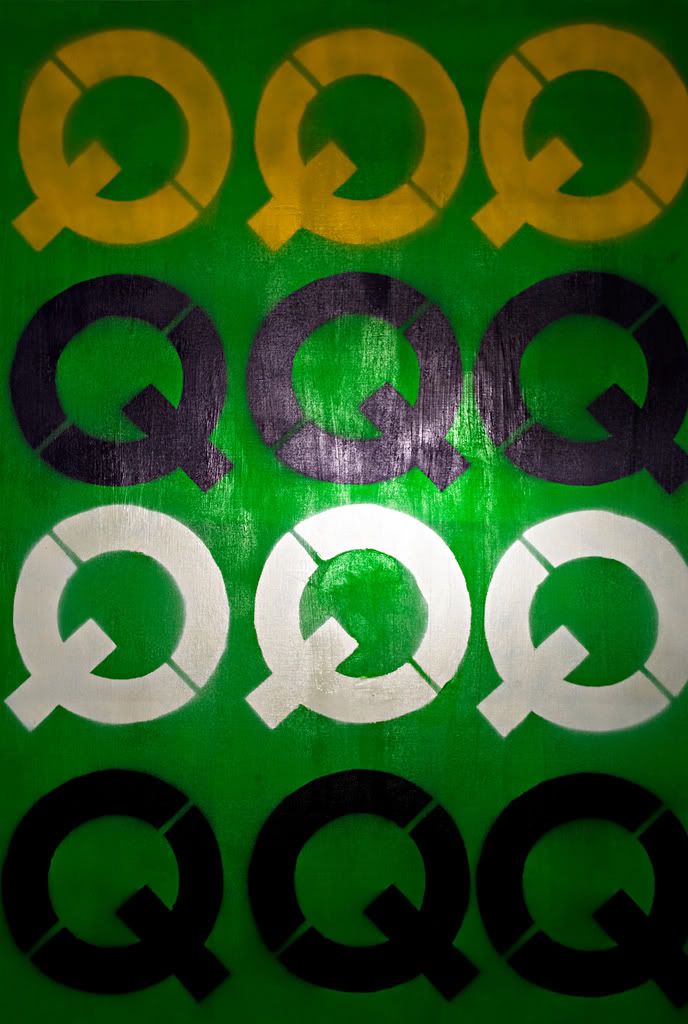 This painting will be available by raffle at the show.
The tickets will be priced at 1/$2 or 2/$3. Look to the merch table for tickets and information at the show.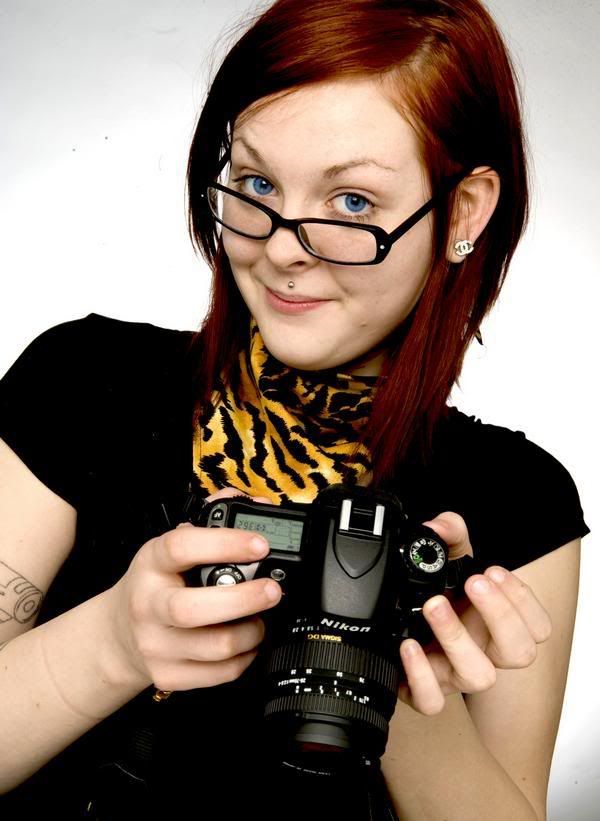 Alexandra Fox
(above), of FOX_Photography, will also have a few pieces available for viewing and purchase at the show too.
And I can't forget Ben Steele and The Super Negro Brothaz. Ben Steele is celebrating his birthday that evening and The Super Negro Brothaz will be entertaining the crowd mid sets and keeping you busy.
All in all, a lot of artists and musicians have been working long and hard to ensure an amazing show next Saturday.
ACT:LIVE will be presenting more events in the future, but this is the first one. The birthing event, if you will.
In the future, we want you to know that when you see the name ACT:LIVE attached to an event, you know it will be good.
We're bringing hip-hop back people. Real hip-hop.
Rap - Lies = Hip-Hop.
For more information go to any of the pages linked here in the article or contact us at actliverochester@mailcity.com.
IT ALL GOES DOWN AUGUST 23rd AT THE DUB LAND UNDERGROUND, 10pm!!
18+ $5/$7
Peace kiddies, we will see you at the show!
- Games
Right now we're listening to:
Wu-Tang Clan
"Hellz Wind Staff"
(
"Forever"
, 1997,
Loud Records
)
This article is powered by: