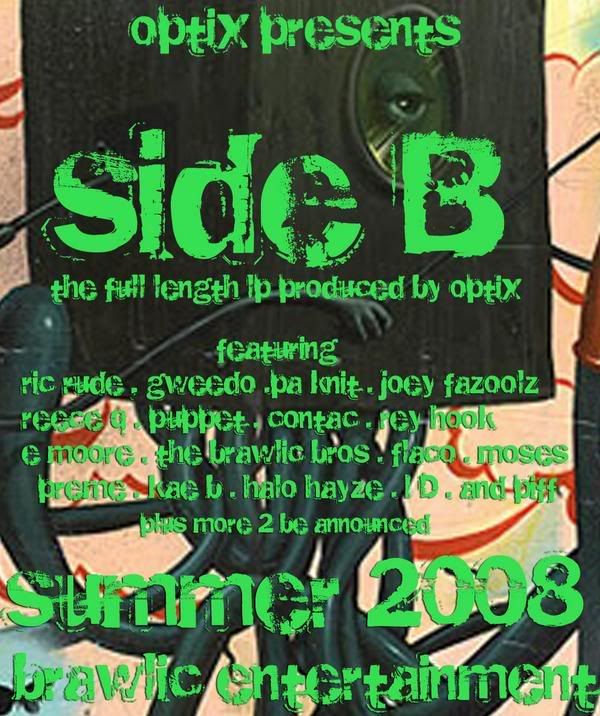 werd: james niche
Stranger to some of you younger cats in the hip-hop community and well known to most of the older cats in Rochester, is
CONTAC
.
He has been featured in various local publications in Rochester, for better or worse, but I would like to give him a little more credit than some of these other publications.
He's 29 and lives on the city's north side, but at one point lived in Williamson for about seven years. Shout out to all of our Wayne County hip-hop heads, you know who you are and that section of the county has always loved its hip-hop.
He has worked as an active MC here in Rochester for the past ten years, playing mainly at the Penny Arcade (when that was good spot to get to for hip-hop), out of town at venues like Peabody's in Cleveland, has been producing his own CDs, providing miracles on wax for other artists poorly recorded CDs and has started his own music label called Brawlic Entertainment.
His list of associates ranges from
Coach Build Parsells
,
OPTIX
, Gweedo, Sol, Halo Hayze, Skitzo, The Do Work Kid, Elemental,
Mr. Mumblz
(turntablist) and the newest addition to his line-up is
D-Rock
. D-Rock is a native of Ontario, NY, but the man is quickly making Rochester his base and is pumping out some quality work.
Contac has also teamed up with Gweedo, to form The Brawlic Bros. I have yet to hear the Brawlic Bros. album work, but I did get a chance to listen to Contac's "Hellavator Music" and "Meta 4 Phisis".
After further listening to Contac's sound and delivery, I like what I hear most often.
I can tell that he uses his platform as a solid vent, in an Eminem kind of way. He will admit that if asked to.
I'm not saying he sounds like Eminem, but the artwork, the attitude and the vibe is definitely dark.
He touches on political issues fairly often and has even garnished some attention for his song "Mr. President" and the lyrical content.
That's the only thing we can thank war and politics for; great art.
Contac and Brawlic Entertainment have been working on putting out the long awaited "Side B" project.
The project includes works from Reece Q, RICRUDE, Puppet, Rey Hook, E Moore, Kae B, Halo Hayze and many more.
The CD was expected out this past summer, but apparently they are in the process of recording two more tracks and putting the whole thing through the blender.
The interview we did was really informal and loose, I just put the mic on and let the tape go as we smoked, kicked down some brews and talked some music.
Here's a bit of what Contac had to say to me…
ACT:LIVE:
So you MC and produce?
I make beats, but on the side mainly. I don't really go hard on the beats like I should, it's more of a side hobby.
ACT:LIVE:
The beats I have heard from you are really epic sounding, you seem like you have a good ear for soundtrack type of writing. The progressions would go well into dramatic movies.
Everybody says I should start making movie soundtracks, it's funny you say that.
That has always been my beat style, when it comes to production type stuff I grew up idolizing guys like DJ Muggs. "Temples of Boom" was one of my favorite albums to listen to. The same goes for groups like The Fugees. I love beats with a lot of atmosphere to them.
ACT:LIVE:
So what is the progress of the artists CDs under Brawlic?
The way things are going now, most of the CDs are on their way to being finished, we're just finding venues to have the release parties at.
We've been at the Penny Arcade a shit load of times and Dub Land a couple of times. I like Dub Land, but the sound has never really done it for me. I heard that Miguel got some new gear in there recently, so maybe it's gotten better. I haven't been down there in a while.
ACT:LIVE:
I know what you mean, but I think Miguel has done a good job to pick up on that.
I'm also working on finishing up
M Dot Coop
's latest CD.
ACT:LIVE:
I'm pretty familiar with Coop now, he has been around a lot more recently, and I'd like to hear how that sounds.
So what's your thing live? How does a CONTAC show usually go down?
I am big on getting crowd participation, I love getting the crowd into it. I really like to talk to the crowd.
It's one thing when you're at home at you get like fifty heads talking back to you, but I did this show at this club out of town one time where there was like six thousand people and when I started talking to them the whole place erupted. I've never felt anything like that before. I could say anything I wanted to and they would just blow up. It was crazy.
ACT:LIVE:
Who are some of your influences or favorite musicians?
I grew up listening to 90's music, man. Right now, I am not really into anything mainstream at all.
I am into real music and real life. That shit about guns and pussy is wack. Everybody is a gangster.
I'm into listening about real feelings and shit everybody can relate to in real life.
I'm not into image.
I'm a poet, I write from the heart. There's way too much bullshit out there.
I like Tupac, Talib Kweli, Method Man, Redman a lot of 90's artists. That's what I listen to outside of Rochester music.
There's a lot of stuff in Rochester that I really like.
ACT:LIVE:
Like who?
I'm a big fan of
Reece Q
, the GOONIES and some hood shit too. Guys like Piff, P.A. Knitt. The dude who just got killed was sick too, Shaf Amil.
It's too bad what happened to him. He was shot five times and they didn't even mention in the news that he was an artist. He was real good.
There are so many cats in this city that front on the mic though. They think that they have to talk a certain way to be on a song, or act a certain way.
I see right through those cats. But I have respect for the hood guys that get on the mic because they are not only good, but that really is where they come from and what they know. It's not a front.
ACT:LIVE:
I'm not a big fan of that and I know what you mean. The music is a form of expression and I believe you should use it as an outlet, but to put on act because you think it's cool…well, it's not cool.
I'm glad that we feel the same way about a few things.
As I said earlier, "Side B" is coming out pretty soon, so keep a look out hip-hop heads.
For now, click on CONTAC's link at the side and you can check out his music. Or, click on any of the above mentioned names to check out the whole Brawlic cast.
Peace kids…read on.
- Games
This guy pays some bills:

Right now we're listening to:
Depeche Mode
"Enjoy The Silence"
(
"Violator"
, 1990,
Mute Records
)