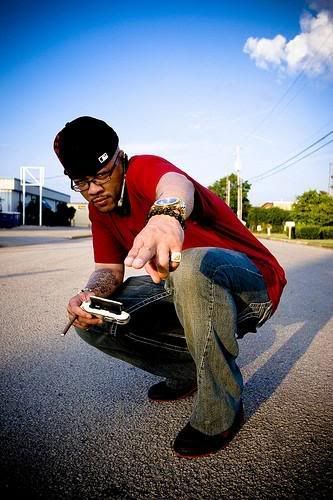 werd: james niche
"So, we printed 500 t-shirts, 5,000 CDs (between Destroy and Tha Coach), the ride was all gassed up and then we get a call a half hour before we're ready to leave from the founder of the march telling us it's canceled because of the rain."
ACT:LIVE:
The Million DJ March was being held in Washington, D.C. this past weekend and local hip-hoppers
Coach Build Parsells
, Destroy and their manager, Snacks, were about to make a big promo move but instead they were rained out.
The march was planned for the Washington Mall, a huge lawn that had been ruined due to the rain. There was so much that they couldn't even properly raise the stages.
So, what did Tha Coach do? He didn't buckle in and stay home. Instead, he and the crew took advantage of a beautiful weekend and headed west, to Chicago.
We'll get into the trip to Chicago, but I sat down with Tha Coach and Snacks for a little one on one and wanted to find out a little bit more about what Build 'n Destroy have been up to as well as find out more about the Million DJ March and the God Money Music Group started by Build, Destroy and Snacks.
"A. Shaw was my contact down there; she's from Rochester and is one of the founders of the
Million DJ March
. She moved here from Oakland and we met in middle school, we've been cool since the start.
Then we met up on MySpace ten or twelve years later and she presented us the opportunity to do the march.
The rain kind of washed that away, but I'm not the type of person to let that stop me.
We're Build and Destroy, our set was destroyed, so we just had to build off that."
ACT:LIVE:
So, how did you build off that?
We have some contacts in Chicago, we had all this material to spread, its Labor Day weekend, and we have money in our pockets and gas in our ride so we went to Chicago's south side where we have people at.
When we got back, we counted up the goods and I know we went through at least three thousand CDs and a lot of t-shirts. That's all the CDs we sold and gave out, we're just trying to get the word out.
At the end of the day, that's what it's all really about.
I had never been to Chicago before, so what better way to introduce myself and get the love out than to give my people some product.
That's what I'm on right now; I'm on a promotion blitz.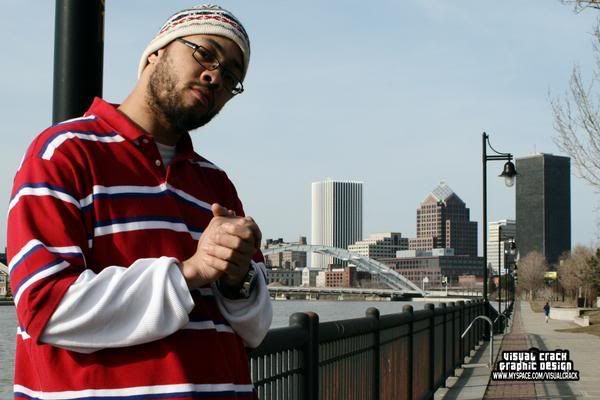 ACT:LIVE:
You're promoting The Demonstration CD, right?
I'm promoting that and I'll be out of town next week working on the Line Of Scrimmage project. But, for now it's The Demonstration. That's not even the full album; it's just a preview to let everybody know what we got going on.
Let me just give you a little bit of info on what I've been doing, I'll just jump into it.
ACT:LIVE:
Cool, go ahead, that's what I want to know and what the people should know. Tell me what you're doing.
I'm glad you came and talked to me because sometimes, we get left out of the loop. We're all working hard over here.
It's great to have an opportunity on a local level to tell people what's going on. Here's what I do…
I rap, I produce, I do videos, I also have a management company with about four artists. I had to down-size a bit because of the economy, we all know how that is.
I'm working with these artists on a production level and just "coaching" essentially. I'm Build Parsells, Tha Coach.
I've had my hands in a lot of stuff around here. A few of the people you've had on your website are people I have been working with or have worked with. Jay Quest is one. shouts out to my man Jay Quest. I did the cover for his SkyZoo beat mix.
I also produced
Nikal Fieldz
next single, "You Gonna Love Me".
ACT:LIVE:
That's the single he has been shooting a video for here recently, right? I'm pretty sure he was shooting at Pearl the other night. He has a weekly party at Pearl now on Thursdays.
Yeah, he just won the UMA, shouts out to him for that. I remember when he first played the "Racist" single for me and I was worried he would get typecast into a certain type of rapper for doing that. But, I know Nikal and I do know that he does like controversy, but he stuck to his guns and pulled through with a win.
Congratulations to Nikal for having his mind made up and going for it.
ACT:LIVE:
I agree, a lot of us may not agree with some of Nikal's ways, but he is a hard worker and he is persistent. A lot of cats could learn a lot from him on the points of publicity and persistence.
That's what I'm trying to do now with the new CDs and with our new music company, God Money Music.
I'm holding up the t-shirt as we speak.
God Money Music is me and my partner, Snacks. We started working together about six years ago.
Snacks and Destroy have been at the core of who I've been working with. Then there's a partner of mine named Pounds, he's down south in Atlanta doing some things. I have like two beats on his new album and some stuff out on the table with him.
Destroy is my man though, you know, we started this whole Build 'n Destroy thing together. He's been my partner through the ups and downs, the bad days and good while we would fight over two bags of chips and a fifty cent soda…those kinds of days.
I got his back in whatever he does and he's got my back in whatever I do.
That's why I'm here with his CDs as well as mine.
Right now it's a Build 'n Destroy promotion blitz.
ACT:LIVE:
Where can we get your CDs and T-shirts and gear?
The website for God Money Music is coming very soon; you can get everything you want there. We're working on God Money Digital. Shouts out to Go Gettaz Union, that's my man Destroys crew.
They got some cool Go Gettaz fitted hats right now.
ACT:LIVE:
Sounds like you guys are trying to work on an empire of hip-hop.
It started out as just a hobby, but this can be a good living. That's what it's all about, just making a living.
This is the music business, so if you don't have businesses sense you're halfway out of the game already.
I love hip-hop and I am a man from the streets, but I want to make a living.
My work will not only pay off for myself, but for the Rochester area too. We can work together to make that happen.
All the artists I mentioned already are damn near on, there's so much talent here.
And, everybody is doing it for themselves; we don't got no help from nobody.
Outlets like ACT:LIVE and MySpace are the best ways to spread the knowledge and spread the seed. We can't always travel, so by way of the internet, it's like traveling without going anywhere.
I have to give a shout out to Quan DaBomb, he really introduced me to the game and really put me on for the first time.
I'll always show love for him, he helped me out so much and a lot of people in Rochester don't really show love, so I'm gonna make sure that Tha Coach does.
He and I started Deftown Records, that was really his brainchild.
ACT:LIVE:
A month or so ago, I saw SubSoil at Spike's on Monroe and Destroy did and unannounced couple of songs with those guys and I liked the energy that was put off. Destroy looked like he was really having a good time with those guys and I'd like to see that again. The crowd really wanted more from Destroy.
"Snacks: We've done several shows with
SubSoil
over the summer and after touring with them for a bit, we've become good friends. We knew them before they were Subsoil.
Coach: We're artists and we'll show you that you can't really pigeonhole us.
We've been working with them for a while, like Snacks said. All of us, we've been in the game for a while now in Rochester and are a solid part of Rochester history. I just hope these young cats coming up pay homage to the older generation, and I'm talking about the cats that were here even before me.
None of us can just do this by ourselves; we have to make a pipeline to feed this energy out to get that fame.
We have to work together.
ACT:LIVE:
I totally agree. I'm glad we share that same notion. The talent needs to be true though. The young guys need to understand its hard work, but it's a great payoff and a lot of fun.
I'm glad I had this talk with Tha Coach and Snacks. I want to thank them for meeting me and allowing me to share a positive message to more of you reading.
Tha Coach is right, the community of artists and musicians needs to work together and not worry about holding their cards so close to their chests because they're worried about the next mans hand and not share.
None of the hip-hop crews, like the Stones Throw group, Quannum Projects out in California, Motown Records or even Def Jam Records (Def Jam/Island, now the largest record company on planet earth) would never have been successful if the city didn't work together. And in the end, just have fun together.
Coach Build Parsells has a new sampler called "The Demonstration" out on God Money Music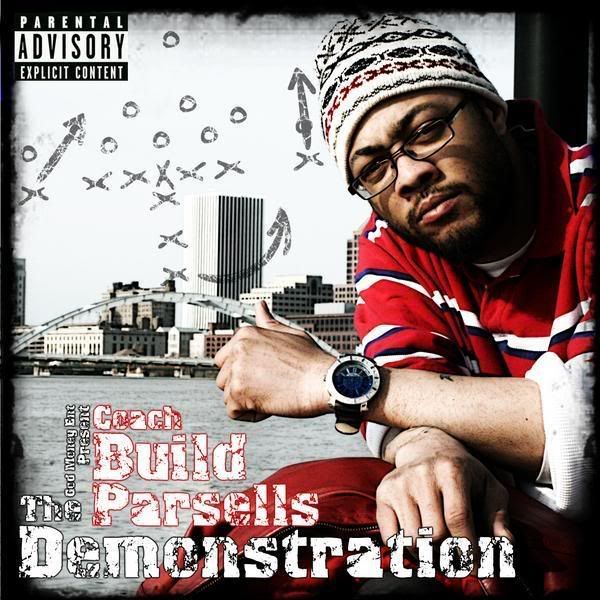 And, Destroy, his partner, has a new sampler called "Soul of the City"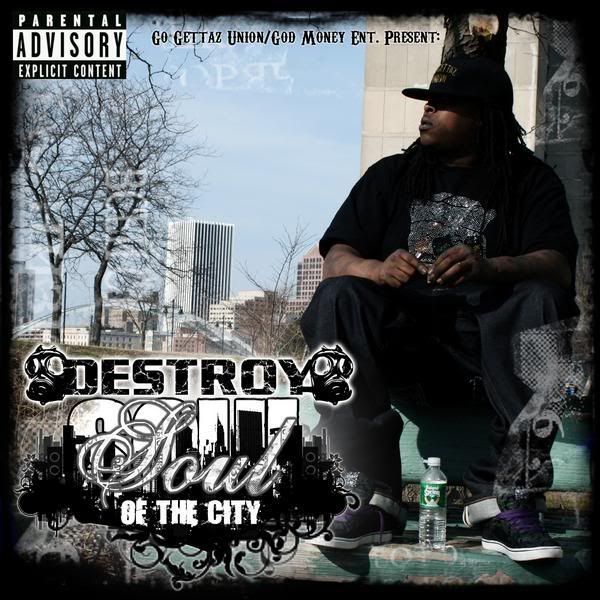 ACT:LIVE has an event in the works for November, right before you all get away from classes. I'm sure that some of the mentioned artists will be involved and some other fun things.
For now, check a video with a really good message for the community from Tha Coach Build Parsells and crew. This was a story run on WROC-TV 8.
Peace. I, am out.
- Games
Right now we're listening to:
Pantera
"Mouth For War"
(
"Vulgar Display Of Power"
, 1992,
Elektra
)