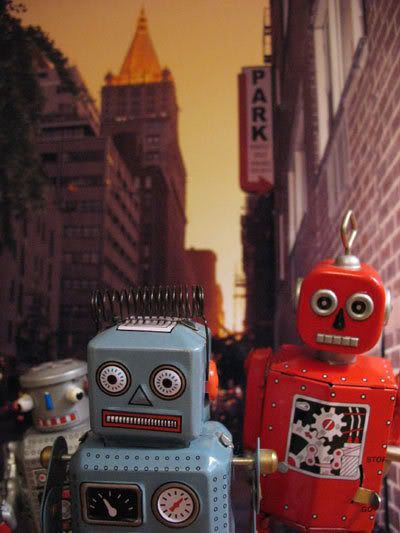 werd: james niche
So, I'm browsing the web as usual the other night, when I come across some strange videos on YouTube containing images of robotic percussion instruments.
These aren't just drum machines, they are robots designed and programmed to make a beat on anything.
Or, some were videos of some mind-blowing adaptations that some people have made out of simple household toys.
Either way, here are some crazy futuristic drum machines of various kinds...enjoy.
And speaking of drums...why the hell is there a picture of a fake band on the cover of the Insider this past week? Once again, that magazine blows. Serious. The editors need a shovel through their brains.
Maybe that could sort out the small part of brain matter that they could potentially use.
Enjoy percussion sounds.
Peace.
- Games

Right now we're listening to:
RUSH
"Tom Sawyer"
(
"Moving Pictures"
, 1981,
Atlantic Records
)