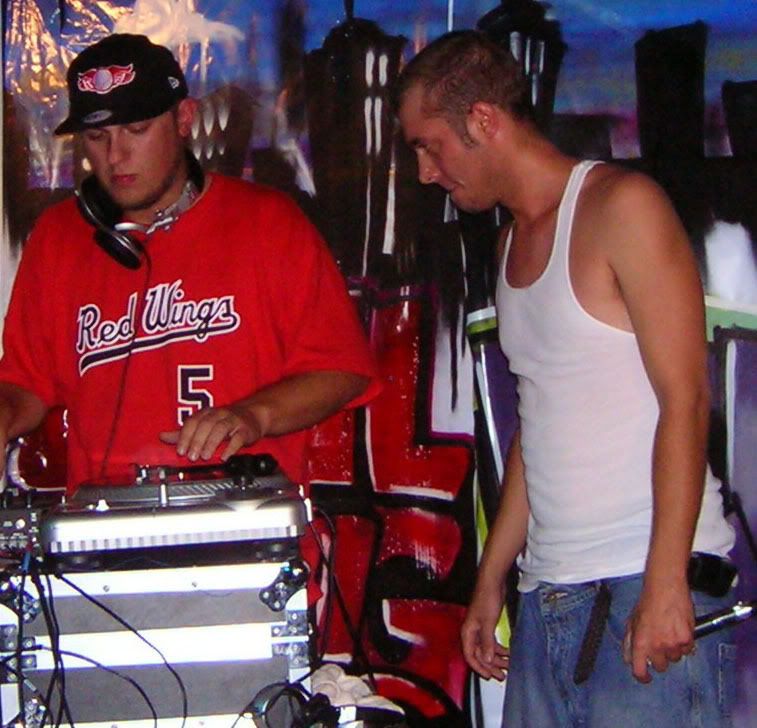 werd: james niche
Born out of the ashes of run-of-the-mill hip-hop groups in this city, the Soul Slingers are here.
Tim Tones and RICRUDE are two of the most talented hip-hop duos in this city if not in this state.
We can all thank Filthy Funk and Miguel Urbina for giving these guys the motivation and support they needed to get on their feet here in Rochester and make a name for themselves.
Tim Tones has worked hard and steady on his turntable craft for the past ten years, performing at house parties, clubs, concerts, skate events and any place he can fit two turntables.
He has also been a long time skater and is a good friend of the Krud Co. group on Monroe Ave.
He paired up with RICRUDE a few years ago when Tim began seeing him perform with Filthy Funk.
RICRUDE grew up in Rochester and hip-hop has been in his blood since a child. He started freestyling as a teenager on his front porch and was quickly escorted into a studio to put his thoughts on wax.
He has a style all his own, a great work ethic and a solid heart.
He makes sure to credit Filthy Funk for all the guidance he has been given by them.
Together, Tim Tones and RICRUDE make a pair that is unparalleled in Rochester, NY.
Tim Tones is a highly skilled DJ with a great ear for the crowd and RICRUDE is commander and chief of the stage.
They represent Rochester in every fashion including their love for baseball and the Red Wings.
Their latest CD, "Soul Slingers: The RICRUDE MIX" is a hot item and you need to pick it. It's one of the best mix CDs available right now.
WOODY, of the GOONIES CREW, is responsible for the majority of production work on the disc and it shows.
Local producer OPTIX is putting Rochester on the map with the single "Native Of The City", as well.
Soul Slingers produced a video for "Native Of The City" with local director Mike Dispenza and it's one of the smoothest videos to come out of Rochester.
Let's let Soul Slingers tell you the whole story...
ACT:LIVE:
Where did you grow up RIC?
RIC: Rochester, NY. North east side by Durnan St., North St., that area.
ACT:LIVE:
Is that where you're living now?
RIC: No, I'm not over there any more, my family is still over there though.
My little brothers are still growing up there. My mom is still over there too. I'm trying to get them out from over there, but who knows. The neighborhood gets rougher by the day.
ACT:LIVE:
What brought you to hip-hop as a kid?
RIC: I really didn't pick up real hip-hop tapes until I was like thirteen.
I was just into what was popular on the street at the time.
Then I got into the 'Gangstarr's and groups like that, but my boys weren't really into that. I would just listen to that music on the side by myself.
I was fairly well rounded with all the music that was around me.
ACT:LIVE:
How about you Tim?
Tim: For me, I was always really into underground hip-hop.
Then, as I went through high school, that music kind of died out a bit. I started picking up some artists like Jay-Z and a lot of Def Jam acts for a couple years. That was until Mos Def came back in, it made it good to go home to underground hip-hop again.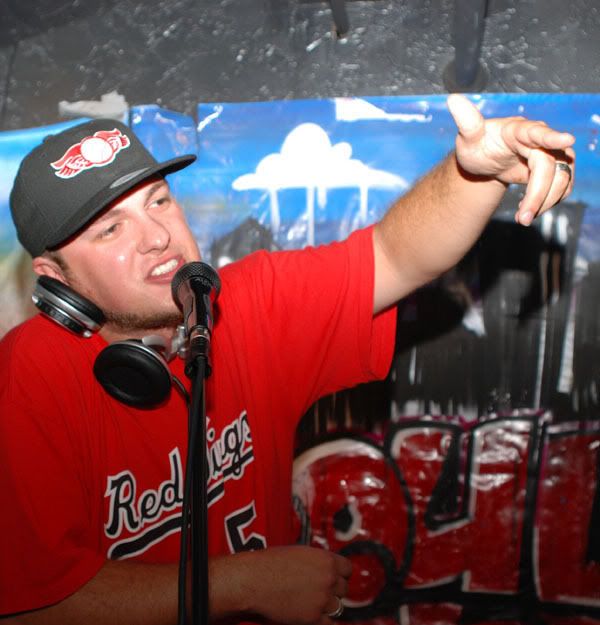 ACT:LIVE:
How old were you when you really started rapping, RIC?
RIC: I was sixteen. I'm twenty five now, it's been like nine years.
I didn't really start rhyming in front of people until like twenty one.
It went from doing a couple poems in the bedroom, to rapping on the porch with some friends. Then high school came and we would bang on the lunch tables and people would throw me into the center of the cypher. It all grew from there.
ACT:LIVE:
What did you really like about it? Was it the way to express yourself, or was it because of the crowd reaction? What really did it for you?
RIC: It was definitely a good way to get things off my chest. But also, coming from the background I come from, what I was doing was unique.
Coming from the neighborhood that I did, it wasn't as popular at the time for a white kid to be rapping. Things have changed, but I was unique so people dug me.
The biggest thing was the outlet for me, to relieve stress from things I was going through. I was doing a lot of dumb shit, so it was a good way for me to put it all on paper.
That's what I use hip-hop for now. Instead of possibly lashing out at someone or blowing up, I just put it in a bar.
ACT:LIVE:
I can see the venting when you are on stage, every time.
RIC: The stage is the one place I feel truly free, and I don't have to worry about anyone saying a damn thing about it. It's another realm.
Tim: For him, I feel like it's a transformation. When I'm riding with him to shows sometimes, he can be so quite and wonder if he can do the show. Then he gets up on stage and tears the place down.
RIC: It's a spiritual uprising.
ACT:LIVE:
Is the Soul lingers duo the first act you have been in formally, RIC?
RIC: Yeah.
Tim: Well, we've been performing together since 2005, but we didn't solidify the union or have music on CD before now.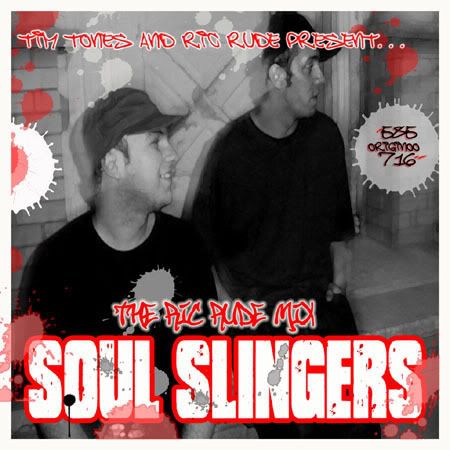 ACT:LIVE:
So when you got together, what was your aim for the group live?
Tim: When we started performing live, we at first disagreed about how to do our shows but things came together show after show. We try to remix songs live, add scratch routines into the set and other combination's of that.
We never half-as it and we always rehearse.
We always give 150%.
I've seen shows by some big local cats and national cats and have been either bored, or they forget their lines or the just don't even have any presence. You won't catch any of that here. Those guys are lackluster.
You can't forget about live presentation. You need to practice.
RIC: Live performance is the real life representation of your music and what you want to say.
You can write a thousand songs in the studio, but if you get on stage and you can't perform, then nobody gives a shit.
When people go to a show they want to party, they want to have fun and they really want to be told what to do. If you can't demand any kind of control or respect on stage, you have a problem.
Even if I'm sick, you're going to get the best show possible and that's they way it has to be.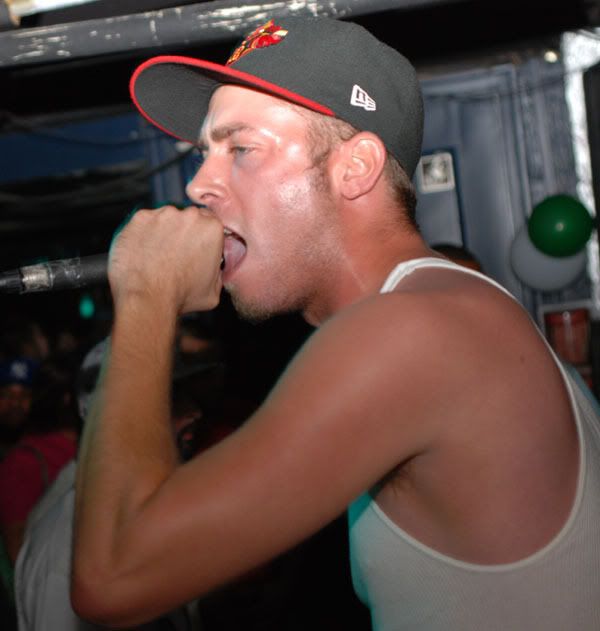 ACT:LIVE:
So you guys have a show this Friday at Spike's?
Tim: Yeah, we're playing with Hassaan Mackey, SubSoil, D-Rock, Optix, The Drips and Harvey Wallbanger. Reece Q is hosting with Harvey and the Drips are formed by Harvey and WOODY.
WOODY, I have to mention, is one of the main reasons the mix CD sounds so good. He produced like eight or nine tracks on it.
Some of those tracks go back to 2005, so that shows you he's been producing some great tracks for a minute. People need to know that.
The show should be really good.
ACT:LIVE:
What do you guys want out of hip-hop? You have an amazing CD to work with, you have a lot of respect and talent, so what do you want to do with that?
Tim: I personally want to play as much as possible and see where it can go. I want to always push it as far as I can.
I want to see what other people's reactions are and get the music out to as many people as I can and see what comes out of it.
As far as doing shows, I like to be able to top the last one we do, every time.
RIC: I want the release of it. It's my way to get away. There's nothing better. If I get some notoriety out of it that's great, I'll take it.
For me, it's about letting people get to know me. RICRUDE.
I feel like I have a unique story, I feel like I have a lot of things to contribute hip-hop and music in general.
Whether it's things that I've been through, or things that I'm going through I write a lot of personal stuff.
Like 'Dear Dad'. That's a 100% true story.
A lot of people in Rochester grew up without a dad and a lot of young men don't have a figure to model themselves after.
So where do they go? What do they do?
Trying to figure that out is a really big puzzle.
ACT:LIVE:
You can help people that may have gone through something similar. You can insire them to do great things too.
RIC: If I can, I'd like to give them a different way to look at things.
In turn, I think it's makes me a better person on the inside, inspiring someone else to grow stronger.
ACT:LIVE:
You seem to have a real love for the streets and for people in general. I understand you coach a little league team in Rochester. Tell me more about that.
RIC: I coach 11-14 year old city kids.
Baseball, in this city, is a dying sport. There aren't too many kids that play ball in the inner city, and these kids need an outlet.
They need some direction and some one there to show them a few things, maybe spend five minutes with them.
A lot of these parents just drop their kids off and expect you to babysit them. All these kids want and need is attention.
When you start showing them a thing or two, you see a dramatic change in their attitude and perspectives, especially if you're showing how to do something fun.
When you give the a goal and they complete, no matter how big or small, it's a feeling of accomplishment. Those kids need that feeling.
It can give them the incentive to keep going, with anything they want to do.
It shows them a way for them to make it in life and keep them out of trouble.
The trouble lurks every where you go in the hood.
So, that's what I do over at the South Side Youth Association.
Tim: That's another place where we meet on the same page. Community service.
I do work close to that with underprivileged youth through a social service agency. We are doing some of the same things but it's a bit more formal in the sense it's run by the local and state government.
I really get to spend a lot of time with individual kids to develop their own personal interests and talents.
It can be as simple as showing a kid how to start his own bank account so he knows how to save money.
The music does the same thing, with songs like 'Dear Dad'. Songs like that are very personal and I credit RIC for the way he did it because it's very tasteful and shows you an alternative to getting down, instead RIC is showing you how to stand on your own two feet.
It feels good to back lyrics and a song like that and makes me more of a fan of RIC at the same time, because of the honesty involved.
ACT:LIVE:
If there's a message that Soul Slingers would like to send, what would it be?
RIC: Be yourself.
Tim: Put the work in...and be true to your self.
ACT:LIVE:
I have one more question for you, I ask everybody...what's your superhero name?
RIC: Batman, I'm feeling Batman right now. He's the only superhero without superpowers. His back story is what I really feel.
Tim: Tone-A-Tron. It would be a big ass robot that morphed from the X-Ecutioners turntable set-up (laughs). Tone-A-Tron, know what I'm sayin'?
Another fun interview for sure. Thanks to Tim and RIC for sitting down with me.
Another great example of hard work and sensibility in Rochester.
Soul Slingers will be performing this Friday September 26th, at Spike's for the Fall Classic with the acts mentioned on the flier.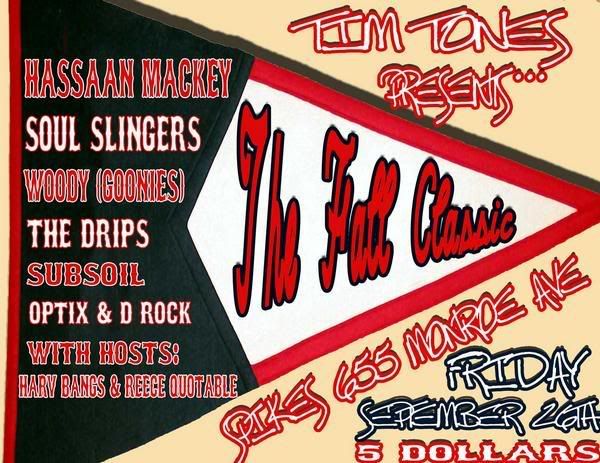 Soul Slingers will also be performing October 25th at the after party for the Red Bull Pro BMX Competition sponsored by Red Bull and Krud Co.
Then, they play again at the much anticipated Halloween Mash-Up Party at Pearl. The party is sponsored by Thread Clothing and put on by RIPROC. Note for all of you, tickets are on sale now and I suggest getting them now. Last year it was sold-out and was also named the party of the year by Rochester...cringe...Insider.
I leave you now with 'Native of the City'. Produced by OPTIX and directed by Mike Dispenza.
Peace.
- Games

Right now we're listening to:
Aesop Rock
"None Shall Pass"
(
"None Shall Pass"
, 2008,
Definitive Juxx
)