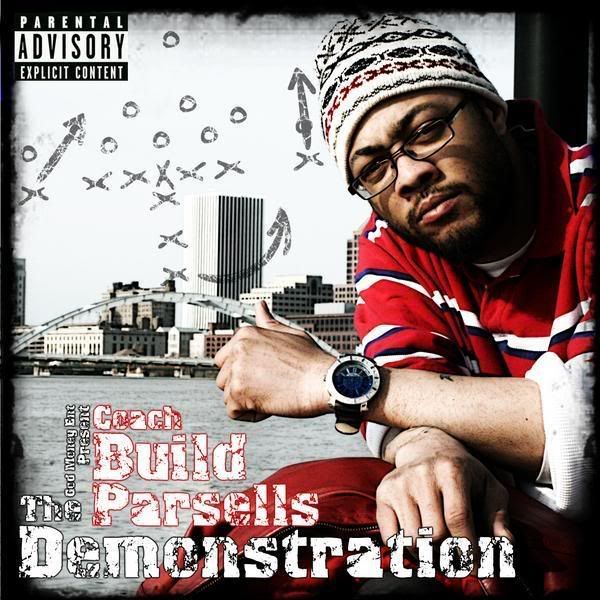 werd: james niche
Tha Coach has been on the promo move, like he said recently in an ACT:LIVE interview.
"Eye contact in interviews means a lot...", he stresses on his track "Resume" from the CD "The Demonstration".
I hope I provided that well enough for him in our interview.
Tha Coach has been a solid part of the Rochester hip-hop community for the past eight years at least. He's right there with guys like Nikal Fieldz, Emilio Rojas, Hassaan Mackey, Destroy, L.I. and more.
I've been listening for a while now, and this new CD (which is more like a sampler and teaser), is Tha Coach's greatest production yet.
I had a chance to meet Tha Coach and Destroy at their listening party for the new discs and was not only impressed with their attitude and personality but the production value of "The Demonstration" is top notch.
It's no wonder he has had his hands in almost every one's cookie jars around town.
The CD is fifteen tracks deep of songs for "shorty", songs for the boys on the street and songs of experience and desire.
The theme that remains constant is the message of the grind.
The more I listen to "The Demonstration", the more I become a fan.
I'd have to say I am definitely a back-packer type of hip-hop listener, but my tastes travel all over the hip-hop world.
I can't compare Tha Coach to 50 Cent, mainly because my respect for 50 has dwindled, but if you like that solid grind of banging kick drums and rolling piano melodies, you'll love this CD. It's all topped off with lyrics that have charisma and keep you interested.
All in all, I rate CDs on a scale of 1-5 Elements, based on Chinese lore.
"The Demonstration" goes home with 4 out of 5 elements. Cheers, Coach.
Keeps your eyes open for "The Line of Scrimmage" to be released soon on God Money Music, too. That's Coach's next big project.
If you want to catch him live in action, get down to the armory October 31st for the Fabulous show. Tha Coach will be opening up for him that night. He's got an arsenal of songs for everybody, so I can guarantee you'll have a good time.
He will also be performing at the FUTURE SOUND show, sponsored by ACT:LIVE and Ekonomix Clothing at Dub Land Underground, November 15th.
Check the flier below.

Till next time...peace.
- Games
This guy pays some bills:

Right now we're listening to:
RedMan
"I'll Be Dat"
(
"Doc's Da Name 2000"
, 2000,
Def Jam
)