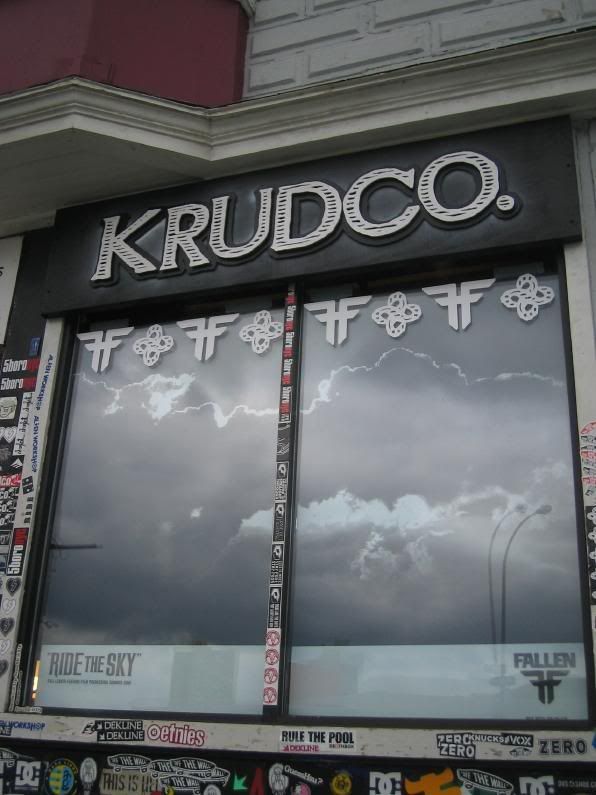 werd: james niche
Aaron Costa and Alan Presutti have been longstanding members of the Rochester skate community, and in 1994, Aaron opened up a shop at the corner of Monroe and Howell Street, downtown Rochester.
The shop has become a respected and solid member of the local arts and music community, as well as become a positive example to the youth in the area.
From three cardboard boxes of gear in his trunk, to now working on a million dollar skate park, Krud Co. has come a long way.
The proposed site for the skate park is downtown under the 490 bridge by Dinosaur BBQ, but to know more, read on as I lay out the interview with Aaron Costa and Alan Presutti, the men behind the skate madness.
ACT:LIVE:
Want to introduce yourself?
My name is Alan Presutti, I am a 34 year old Gemini. I am married though, with a child on the way.
Sorry, ladies…and gentlemen.
I've been helping out and working at
Krud Co.
since about 1996-1997.
Aaron started out with a pager and a trunk load of stuff, and then he moved to his father's garage.
The day I moved back from college, a friend called me up to help his friend move his store. The guy moving his store, being Aaron, had like three cardboard boxes full of stuff and we moved into the space we're in now.
ACT:LIVE:
What's your role been at the shop?
I started out volunteering and helping out with events, bringing ramps, basically doing all the things that needed to be done.
Helping out just made sense because these guys skated and I loved to skate, so, why not?
I was also a customer for a long time.
ACT:LIVE:
What were you doing for work at the time?
I was working at the YMCA as a counselor, had moved away, then Aaron called me back up because he needed help at the shop.
Aaron: I was getting Flowbee'd at the time.
Alan: Yep, he was. So, we talked and negotiated a deal and I've been full-time for about ten years now.
I'm the events coordinator, so all the contests, demos, fundraisers and so on, I take care of all that.
ACT:LIVE:
Who handles a lot of the advertising?
Well, it's a small shop and there are only two of us, so we have guys like Erich Lehman help us out a lot. He works hard for us.
I shoot a lot of photos for the shop, too.
ACT:LIVE:
Tell me more about the skate team…how are they doing?
Well, there are many different stages of our skate team right now. That's mainly because we have a lot of older heads on the team that may have moved away, or have other things going on in life.
Some of them just like beer more than they did when they were younger.
We have sponsored guys for a while so we have a really broad range in ages.
We have about six active guys.
ACT:LIVE:
What do you offer as a sponsor?
We end up becoming their manager, but besides that they get things like free grip tape, free wheels, free decks, free bearings…the essentials.
They also get a chance for exposure in the industry.
We have pull with some of the right people, so there's a lot of room for progression, if they want it.
We can give them a foot in the door, and they can take it from there.
If they want to be Johnny Rock Star and travel the world and drink Red Bull, they can do it.
ACT:LIVE:
What's the state of skating here in Rochester compared to ten years ago?
The guys have definitely taken it up a notch. They've progressed and done their job.
They're doing bigger things than the last generation of kids.
Skateboarding, in general, has changed so much too.
ACT:LIVE:
In the sense of style?
Yeah, kids are just doing some really crazy things now.
But, I would still rather watch the older guys skate, even though they may not be doing what the younger guys are doing.
Rochester skaters definitely hold in down in the world of skating.
ACT:LIVE:
So, we're coming up on winter now, so you may not be having many more events for the year, but what do you guys have planned for fund raising events?
We would like to do some parties with some bands and really just try to get the word out over the winter so we can start collecting donations.
We also have a silent auction idea in the works.
Everything is in the talk mode right now.
As far as skating events, we are promoting at every skate event we are at, trying our best to get donations.
Our next event is called 'Fuck The Mall' mini ramp contest. That's event to concentrate on all local talent and all local companies.
The idea is to support all local entities and support local roots.
People that aren't selling shit at the mall.
For the kiddies, it's called 'F- The Mall'.
ACT:LIVE:
What's the public opinion on getting the skate park built downtown?
There's conflicting opinions.
Once you get a skate park built in the city, you are going to run into more trouble skating downtown, which means, if the park sucks, then everyone will be disappointed.
There's a lot of pressure for the right park.
A lot of kids don't want a park because they don't want to get arrested.
We were recently warned that the kids need to watch out because they are going to start buckling down again.
ACT:LIVE:
Does the city come right to you guys when they have a problem?
Of course, they know who we are, we've been here forever.
We're able to not get arrested because usually they look the other way or they have something better to do, what ever the rational is.
The problem is the building owners and the security guards. They get pissed, so the cops are obligated to say something.
ACT:LIVE:
What are some of the ideas you guys have going for the park as of now?
We're trying the difficult task of pleasing too many people. (laughs)
We want to do something that is more of a street orientated park, which is based more around ledges, steps, rails…things that are attractive to skaters, downtown.
We also want to attract the bikers and the transition style of skating. Ramps are fun too.
We want to have some lights, we want to have a chill area and we want it to be parent friendly.
We want it downtown, we want it safe and we want to know that the police are patrolling it.
We have thought about all the issues for a very long time, and I was very anti-downtown for the construction for every reason that a lot of people have been.
Mainly, we don't want to increase the risk of getting tickets.
There was going to be a park built downtown anyways, and the idea was presented to us by a guy named James Madison and it looked good.
ACT:LIVE:
What does James Madison do?
He is a grant writer; he works for the city school district.
He's very active in the community.
I'm glad he approached us about ideas because we knew that if we weren't involved the project could be awful.
A lot of people have made attempts at parks in the suburbs and rural communities, but unfortunately they fall short and that's what the kids are stuck with.
We want to do it right and we are taking the right approach.
The kids deserve better than a turd in a tennis court with weeds sticking out of it.
The park is confirmed to get built; it's just a matter of paying for it and securing the land. We're not the only people that want that land.
ACT:LIVE:
Where can people go online to find out more information on the park project?
ROC CITY PARK
is the website.
None of us have ever done this before, but we're doing our best to do it as professional as possible and get serious money.
ACT:LIVE:
What kind of investments are you looking for?
The website says $500,000, but we're looking for a million or more.
We want to do it right.
Aaron: I like money.
ACT:LIVE:
How have things at the shop been?
The shop is good. It has the usual ups and downs.
ACT:LIVE:
What do you do to adapt to that?
New advertising strategies and getting involved in the community.
We try to establish the difference between 'us' and 'them'.
ACT:LIVE:
What kinds of things does Krud Co. do to stay active in the community with charity or support?
We do a homeless charity event and we also go to a lot of schools for community cays and talk to the kids about skating safety and also try to show these kids that they can do some fun things in life and be successful.
We try to show them that they can be successful as long as they work hard. Look at us, you know?
It's great because I was getting kicked out of school and look, now I'm getting paid to come to your school and do jumps over your teacher!
Aaron and I are both very active and attend town meetings and help battle for parks when needed. We try our best, but there's a lack of cohesion within the local communities.
We're doing an essay competition with the Brockport skate club for some prizes right now, too.
If kids want to bring in their report cards and they have good grades, they will get a certain percent off depending on their grades.
We don't see a lot of the cards come in, but we look good doing it. (laughs)
ACT:LIVE:
What are your best selling products?
Our biggest sellers are the shoes, because they cross over to different markets.
ACT:LIVE:
Who are some local musicians you guys really like?
I like Hassaan Mackey and guys like Tim Tones and RICRUDE. Those guys always support us and help out. M Dot Coop, he's another one. We listen to the Reece Q a lot too.
I like bands like the Isotopes too, but I'm going to get in trouble if I don't mention everybody. I know a hundred dudes in bands. (laughs)
ACT:LIVE:
What's your favorite local place to eat?
Recently, I've been enjoying the breakfast burrito at the South Wedge Diner. They're awesome because they serve breakfast until three o clock.
Dogtown Hots is pretty damn good for lunch.
Dinner time is tough because I get out of work late, so no place is open. This town just doesn't want to make money after eight or nine o clock. (laughs)
I like dinner at home with the wife.
ACT:LIVE:
What would your superhero name be?
Nothing appropriate.
ACT:LIVE:
I spent most of the interview talking with Alan because it was a busy day at the shop and Aaron was busy taking care of customers. Here now is Aaron Costa's portion of the interview.
Aaron Costa is the founder of Krud Co. and has owned the shop for fourteen years.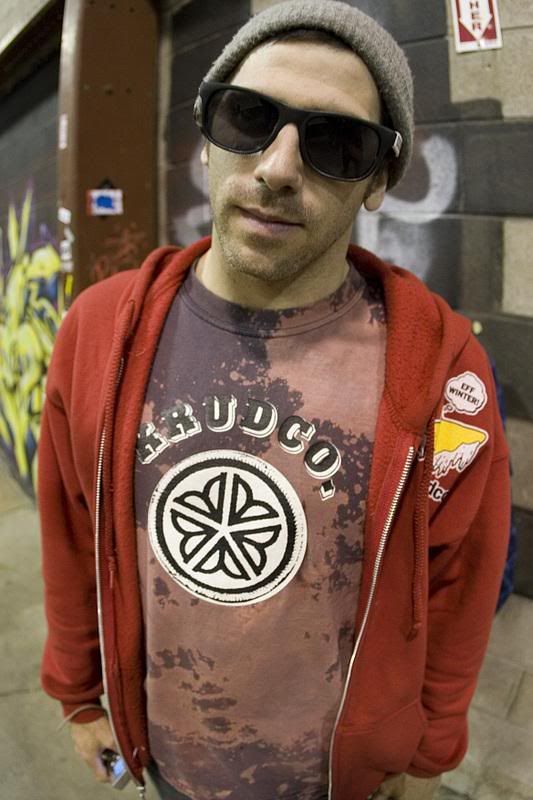 I've covered a lot of bases, but what else can you share with me?
For me, at first, I was against the whole idea of a skate park.
I figured if the city was going to build a park, they were just going to do it their way and throw up some pre-fab piece of crap in a tennis court.
When City Newspaper interviewed me on the idea, I was not for it.
Then, James Madison, a grant-writer and employee of the city school district approached us and showed us how this could be ours and not just a pre-fab project.
ACT:LIVE:
What changed your mind?
Well, I just think that if the kids are going to get tickets and if the cops are cracking down, then let's get them off the street. Every year it gets a little worse.
It's an opportunity to keep younger people downtown, too.
Parents and their kids can make a day of coming downtown in the summer. They can go to the park during the day, maybe go catch a show at night and get some food over at Dinosaur. It's another chance to feed downtown merchants.
It can make downtown a destination for families.
And, if we have lights down there, it can be someplace to go twenty four hours a day.
When I go to places like Louisville, I'll get there really early in the morning and sleep in the car for a bit, then get out and skate. You could do the same thing here, doesn't mean you have to sleep in your car, but people coming into town will have the option of skating outdoors, twenty four hours a day.
ACT:LIVE:
Has the project been more difficult than you initially thought?
It's been way more difficult.
Getting every one on the same page and getting everything to work out is the hardest.
It's hard because our citizens planning group is made up of myself, Alan Presutti, James Madison, Arden Zelwig, Scott Goetz and Cory Vance and we all have lives of our own and many responsibilities in those lives. So, time to spare is tough to get.
Getting big money from companies and investors is hard at the moment because the economy is in rough shape.
So, we are just trying to do our best by going as many different directions as possible and raise awareness through interviews like this.
We know we are going to have to nickel and dime our way there, but we are looking for big dollar investments.
ACT:LIVE:
What's been the best way to raise money thus far?
Through little shows and demos we put together, even these cans that we have around town. We figured out that a full can of cash is about forty bucks, so that helps in little increments.
We have a bumper sticker that you can buy for twenty dollars that says you donated, those can be effective.
ACT:LIVE:
How do you feel about the shop after fourteen years of business? Are you where you thought you would be?
Yes and no. It's kind of always going, but also staying the same.
I don't get to change the shop as much as I want because I'm so busy just running the shop, but the ceiling just got painted along with the bathroom. We update where we can, when we can.
ACT:LIVE:
Is there anything else you would like to send out to the community or to people not really familiar with the shop that may be reading?
Go to all the websites…
Krud Co.
,
Roc City Park
, etc.
We're here; we're a shop that's been here for fourteen years. This isn't a joke. We mean business and we want this park to succeed and we want downtown to succeed. We bring hot shit to this town.
We don't just sell to skate boarders anymore either, no way. We sell to everyone, especially in the sneaker market.
We also have a dog. (laughs)
ACT:LIVE:
My last question…what's your superhero name?
Alan would say it would be Hawk Eye. I can't really name myself.
I would say that Alan's name would be MC Pancakes.
ACT:LIVE, along with several local musicians, will be assembling some fundraisers for the downtown skate park this coming winter and spring.
Make sure to stop by Krud Co., donate some cash, buy some gear and support a great local project put together by local guys that care about the community.
Be sure to also go to
Roc City Park
and find out more information about the park.
I commend Aaron and Alan for their incredible work in the community and their great attitude.
Support local enterprise and say 'Fuck The Mall'.
Peace.
- Games

Right now we're listening to:
HIM
"Join Me In Death"
(
"Razorblade Romance"
, 1999,
BMG
)