werd: james niche
What better time than now to show you all, what many would call, some scary shit.
It is that time of year for blood and dungeons, Halloween is here and we have the final installment of the Saw series coming up, so let me show you something cool
I did an interview with LAZ, of SubSoil and Extreme Graphix fame, last week and met this young girl working behind the desk named Ashley Gary. Ashely intrigued me, mainly because of the scarring on her back, so I asked I asked some questions.
She explained the scarring later, only to tell em that it was due to hooking herself and suspending herself from the hooks...in mid-air.
It makes me cringe, but I think it's dope.
I had to come back and interview her and find out more about this girl.
Here's a few minutes with Ashely Gary, piercer and receptionist at Extreme Graphix. (Steko & Dewey Ave.s)
ACT:LIVE:
You're from Rochester?
Yep.
ACT:LIVE:
How old are you?
19.
ACT:LIVE:
How long have you been piercing?
I've been piercing for a year and a half.
ACT:LIVE:
Where did you learn this craft?
At Extreme Graphix. I was hanging out with my ex-boyfriend at the auto shop right next door to the old location, when John came over and asked if I wanted to pierce. So, I said yes.
ACT:LIVE:
You didn't need a background in biology or medicine, or even a certificate?
I was working in a hospital at the time, so I knew sterilization processes and things of that nature that made it easier for me.
I had a few piercing at the time, but wasn't really a complete freak then.
ACT:LIVE:
Do you consider yourself a freak now?
Now, yes. (laughs)
I just a got a tattoo of a skull birthmark on my ass and the back of my neck pierced, for the third time.
ACT:LIVE:
New York State doesn't require any certification to pierce?
New York State doesn't, no.
My boss, Sniper, is pushing for laws to change though. He wants to see these people certified so we don't have hacks out there giving good shops a bad name.
ACT:LIVE:
Sniper's been in business for a long time now hasn't he?
I'd like to say about twenty years.
ACT:LIVE:
How is business since the shop moved?
Business slows down when school starts, but business has been great.
ACT:LIVE:
I've seen the new commercial, has that generated a lot of attention?
Yeah, we get a lot of random phone calls from people that say they like the commercial, and then they hang up. (laughs)
ACT:LIVE:
What's going on with the proposed reality show?
Sniper had a meeting with MTV about the show and was told they really like it, but that they want to see Sniper in it more.
He was planning on being in the background or not even seen, but he has a great story and they want to show it.
He came from a really rough background and has made a little empire for himself.
ACT:LIVE:
Yeah, I can see it in the reflection on his Bentley.
The man doesn't sit still, never. Even when he broke his elbow and couldn't tattoo, he was building Naked Clothing next door, with a broken elbow.
ACT:LIVE:
So, Naked Clothing is Sniper's, too?
Yeah, he built it.
The grand opening is November 8th. There's going to be music and a big party.
It's a member's only clothing store behind our shop. It's huge.
ACT:LIVE:
I liked what I could see through the window. It's like Yellow Rat Bastard meets a strip club.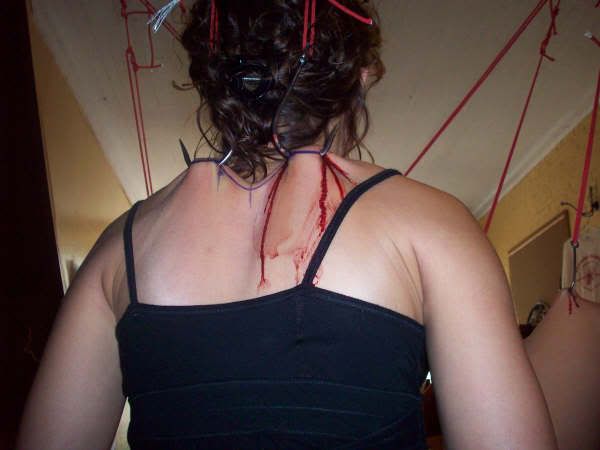 Back to piercing. What do you like about what you do? Does it satisfy you to stab someone?
I guess I'm a weirdo. After a piercing, I feel like I've accomplished something.
There are some piercing projects that are really intricate. They take planning and attention to detail, so when it's done it's a big feeling of accomplishment. How many people can say they do what I do?
ACT:LIVE:
I've seen that a lot of people that do patterns of piercing on their back will take them out shortly after? It seems only temporary, is that the purpose?
Yeah, it can happen. But people get pierced for the piercing, not to keep it. The process itself is what you're paying for.
The scarring can look really cool on your back though.
ACT:LIVE:
Ok, so how did you get into suspending yourself by your skin?
Noah Lahrm, he's at the Geneva Extreme Graphix.
He does scarring, branding and suspensions. We were talking one day and I told him I wanted to get something new and try something new.
I went down and hung out with him and saw what they did.
ACT:LIVE:
What did they do?
Well, there's different ways to do it. There are different positions.
You can hook by the back, or you can hang in the Lotus position, which is what I do.
He showed me pictures of a man he just suspended, who was lying on his stomach, face down, and then was pulled up by his back. I wish I could have seen that.
I'd really like to learn how to insert the hooks.
Noah was saying that he is looking to form a suspension team of people who can insert, suspend and release people.
ACT:LIVE:
Sounds like the suspension Olympics. (laughs) I think I would actually lose my Wheaties.
What's the risk factor involved with suspension? I mean, what are the chances of ripping your flesh right off your body?
As long as the placement is correct, it's actually safe.
I've heard the knee is a very difficult place though.
ACT:LIVE:
Does Sniper suspend?
He does. I think he has a few times.
We would like to have a suspension party, but with how busy everything is we haven't planned much yet, but it's going to happen soon.
If it does happen, it will be in Geneva.
ACT:LIVE:
I equate personalities like yours, to firefighters and race car drivers. You are a breed that haste a real taste and for the extreme, with no fear.
I've been told that.
ACT:LIVE:
How does the hook work? Is it a real hook or is it like a needle?
It's like a thick needle. It's hollow, so it goes through in one fast motion. It's relatively painless.
ACT:LIVE:
What do your family and friends say about it?
My family doesn't really know anything about it, but some of my friends think I'm a freak.
ACT:LIVE:
Tell me more about the Zen effect it has on you…
Once you're up there, you don't really have a sense of what's going on around you.
You can sit still or swing, I preferred to swing slightly. It was more calming to me.
When I first got up, it was really hard for me to relax. Your instinct goes against it.
I suspended myself for about forty five minutes the first time.
ACT:LIVE:
Not for nothing, but you could take this to the stage and perform with other acts…where do you want to go with this? Or, is this a Zen thing for you and that's it?
I would definitely just like to travel and meet other people like me who do this, people that don't think it's weird.
ACT:LIVE:
What are the piercings with the balls under the skin?
Those are implants. To put those in, they make an incision in the skin and peel the skin back, the slip in the ball.
ACT:LIVE:
No anesthetic?
Nope. That's the point.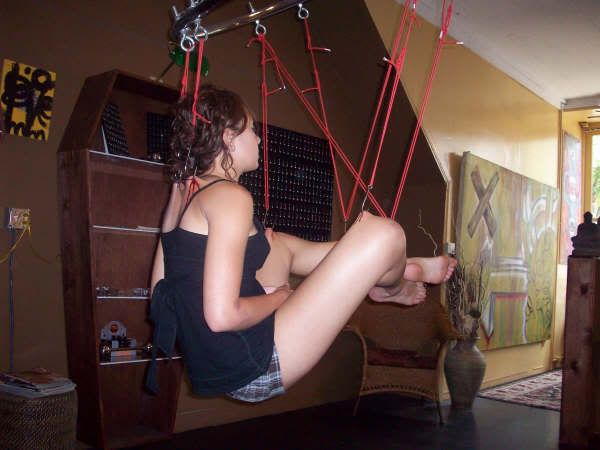 ACT:LIVE:
Are you in school?
I'm at MCC taking doing the liberal arts thing. I'm not sure what I want to do, my whole goal is to get my bachelors.
ACT:LIVE:
Are you a religious person?
No, not at all. My whole thing is Tai Chi. I just like the philosophy; it's driven around earthly things and just a positive way of clear thinking.
It's not about praying eight times a day, you just are.
It relaxes me and centers me.
ACT:LIVE:
Have you traveled much?
I have.
I've been to London, when I was younger. A couple summers ago I took a six country tour of Europe. It was a blast. I went with my two best friends.
I was also thinking about the peace corps and going to China.
The Philippines are also on that list. I'm half Philipino.
I want to go everywhere.
ACT:LIVE:
Do horror movies scare you?
I can't handle seeing bones popping out and nasty gore, but I can handle them just fine.
ACT:LIVE:
What does scare you?
Sharks. Jaws ruined it for me. I'm a big movie nerd.
ACT:LIVE:
What kind of music do you like?
I like all kinds of music. I was on a Bob Marley kick for a little while recently.
ACT:LIVE:
What is a favorite thing to do in Rochester?
I go kayaking, snowboarding and I love hanging out with friends from the shop downtown.
ACT:LIVE:
Last question…what's your superhero name?
I have always wanted to be like a chameleon. I don't know what my name would be, but that would be my power.
If you would like to know more, stop into Extreme Graphix on Dewey Ave (at Steko) and say hi to Ashely.
Shout out to every one of you guys down there reading this, too. The Canada Dry was much better this time.
Sniper's got a great shop down there.
See you kids next time for the Halloween issue!
Peace.
- Games

Right now we're listening to:
CKY
"Welcome To Hellview"
(
"Infiltrate, Destroy, Rebuild"
, 2002,
Road Runner
)