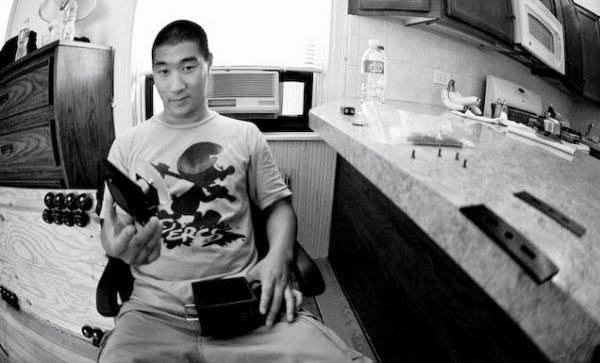 werd: james niche

One Fairport native and RIT student, is making some serious noise as a music video director here in Rochester. His name is Mike Dispenza.

Korean born and almost self taught, he has been putting out incredible work locally, with artists such as RICRUDE and The Soulingers, to ACT:LIVE's own, Reece Q.

I had the pleasure of working with Mike on a shoot last month for Reece Q's 'Promotional Use Only' video and really got some insight as to what kind of work truly goes into making a music video and film making in general.

Not only was I impressed but extremely thankful.

He has an eagle eye and a keen business sense for someone his age.

Read on as I sit down with mike and talk about the music video business in Rochester and also explore the ACT:LIVE music video premiere and red carpet event this coming January.





Mike: I'm Mike Dispenza, I'm twenty three and I'm from Fairport, NY.

I was born in Korea, I moved to Fairport when I was three years old.

I had a pretty normal childhood. I liked video games and electronics a lot. I really liked anything with moving images, which was the biggest thing for me.

ACT:LIVE: What was the movie spark?

When I was about six or seven, I went to a laser light show with my family for Christmas and was mesmerized by it. It was at the planetarium.

I remember asking my brother, who was next to me, "Can we do that".

I asked because we always did little projects and arts and crafts things together.

He said yes, we can. I remember that moment vividly because I couldn't believe it was possible, but it made me so excited to create something like that for a ceiling show at home.

We never actually did it, but I believe that if he hadn't told me I could, I may have led down a different path.

My parents knew I was into film, so they would take me down to the community darkroom and they would get me into all the arts in general.

It was about ninth grade that I started to see it as a career.

ACT:LIVE: I heard you really got your start shooting skate videos with your friends. Is that true?

I was really into skating and I would steal my parent's video camera and go film my friends skating all the time.

My parents didn't like that, so somehow I got my own camera.

I have boxes and boxes full of 8mm tapes, VHS tapes and miniDVR tapes of all my friends. We made so many videos.

That's where I really learned to become a camera operator.

I used to skate a lot but I sort of transitioned into the videographer.

This was all at about the age of sixteen and seventeen when it was fun and wasn't a job. I just did it all for the hell of it never really expecting anything.

From there I just wanted to film more and more things.




ACT:LIVE: You are attending RIT and a graduating this year, right?

Yeah, when I got out of high school I went into the RIT Film School.

RIT has definitely been a lot of fun.

Going into college, I had already been doing crappy skating edits for years so that and camera work were nothing new for me.

Because I didn't get into RIT right away, due to grades, when I got in I think I was a little bitter. I went in and kind of sized everyone up, wondering what they had that I didn't.

It was a humbling experience; there are so many talented kids who go to school there.

There are so many resources you can utilize to become a better film maker.

Overall, I have learned that making professional films is a collaborative process and you really have to have trust in your friends and peers ideas and talents.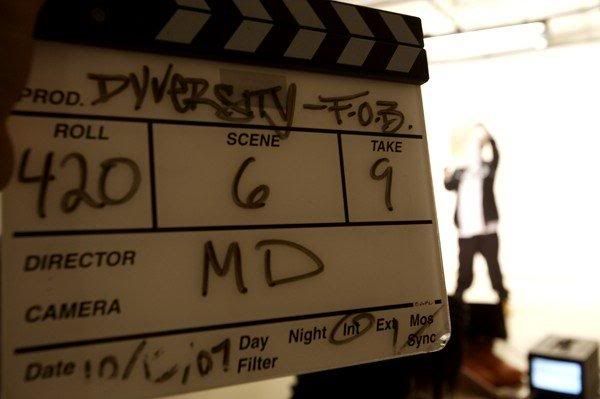 ACT:LIVE: Are music videos your focus and aim for a career?

I want to pursue music videos, short films and eventually, feature films.

When you're doing music videos, you are basically labor for hire under the direction of a label or artist, so you are kind of under their control, but you can still make a great piece of work on someone else's money. That's a great thing about doing a commercial or video.

The end goal of almost any filmmaker is to do feature films, I think. I mean, that's what we all fall in love with as kids going to theatres.

ACT:LIVE: What are your favorite types of movies?

The first movie I really loved was 'Dumb and Dumber'. It was a really smart movie you could watch over and over.

I really like director Paul Thomas Anderson and the guy who made 'City of God'.

ACT:LIVE: What is your take on film making in Rochester and the resources the city has?

I was talking with another filmmaker about this recently. We agree that there is a real need for filmmakers here and there are so many resources. There's musicians who need video work and businesses as well. There's no need to outsource to New York or elsewhere.

The video talent needs to unite and work together more often.

The filmmakers that I really respect are at RIT, and I really like Neil Dhand. Film making aside, he is a really entertaining person.

I learned so much from him about carrying yourself as a director and being helpful and respectful.

There's an artistic side to directing, but there's also a social responsibility as well.

Somebody that I really have to give respect to is Barry Sonders of Film Orange.

He has done a lot to get work into Rochester as opposed to taking it down to New York or Los Angeles.

He's busting his ass to make sure big acts get into Rochester to shoot.

That helps to keep jobs here.

ACT:LIVE: There are an abundance of great locations here as well.

Yeah, there are.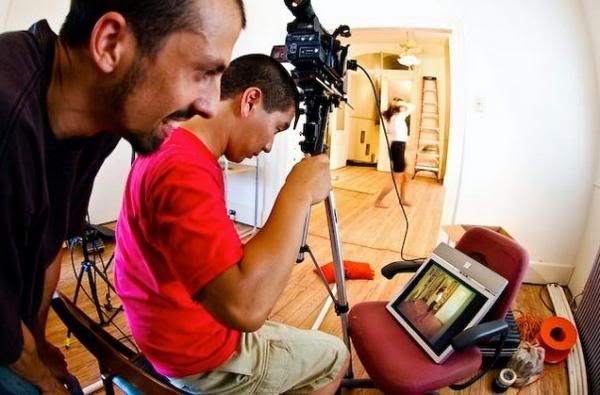 ACT:LIVE: How did you make the RICRUDE connection to start work on their video?

I started going out to try to tap into the Rochester music scene and ended up meeting John Viviani of Filthy Funk, who then introduced me to RIC. I met John through Mike Catone, a sick trumpet player I did a video for last year at the Flatiron Café.

I have learned when to say no to a project if it's something I don't really want to do. There are many hip-hop artists out there that show up and do absolutely nothing on a set, are lazy and really think once they're on set, they made it.

I never got that from RIC, ever. So, for me, it's a pleasure to work with him and for him. I know that he is the type of guy that will work hard and do everything he can to get the job done, so I make sure that I give it right back. Guys like that make me want to work even harder.

There are so many talented and enthusiastic musicians here in Rochester.

ACT:LIVE: So at the end of the day, where do you want to be?

At the end of the day, I just want to be known for my work. I don't care if people can recognize me, I just want my work to speak for me. There's a reason I'm behind the scenes. (laughs)

So far, it's been a very fun year. I never envisioned myself to be here five years ago, sitting here talking to you and having the relationships I have now.

I hope to stay here in Rochester and make more music videos and films and just try to develop and keep the scene going.





The video Mike and I referred to was the Soul Slingers video for 'Native of the City".

The video has opened up a can of work for Mike and has gained the attention of thousands since the release on YouTube.

ACT:LIVE has also worked with Mike recently, on a video for Reece Q's 'Promotional Use Only' single, which will be released in January.

I have never seen an independent crew of workers sweat so hard and put so much attention into a shoot in my life. These guys sweat sweat for eight hours straight in one of the most obnoxious party situations imaginable.

The footage has turned out amazing so far and we are set to release the video with the single at ONE Restaurant and Nightclub, January 10th.

This event will be a red carpet, celebrity event that people will be talking about for a long time to come.

The night will feature performances by Reece Q, The Soul Slingers, an introduction to ACT:LIVE and Mike Dispenza and then the presentation of the videos for the first time on a 27 foot digital video screen.

To end the night, none other than Rochester native and world-wide DJ sensation, Kill The Noise. He will be killing the set till 2am.

It's a night of glitz, celebration, stars and fun. All sponsored by ACT:LIVE, Red Bull and Ekonomix Clothing.

Stay tuned for more information coming soon about that!!

For the meantime, check out the video for 'Native of the City', directed by Mike Dispenza.



Check out Mike's website HERE.

Peace Kids...

Future Sound is coming....

- Games




Right now we're listening to:
Kill The Noise
"Kill Kill Kill"
(
"Independent"
, 2008,
AM Only
)