werd: james niche
Monday rundown….
I stumble into a 6-piece Brazilian rock band named,
Garotas Suecas
. Sweet.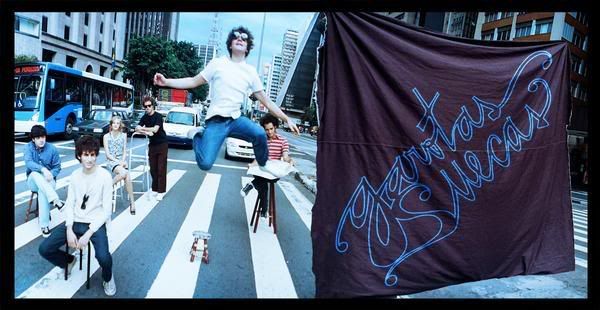 I finished a long day of work and really wanted to unwind, so my companion and I were headed to ACME for the Monday night 2 for $1 deal. This, by the way, sounded so good.
But, instead, I remember I am holding fliers for The Mustache Party, so what better place to promote than at The Bug Jar?!
(The Mustache Party (Jake's Birthday!), January 28th @ The Bug Jar – starts early, 6:00pm)
I'm glad we did because we caught the Brazilian 6-piece, Garotas Suecas.
I'm pretty sure that Lou-Lou (from famed groups the Sharp Sword and Thievery Corporation) had a hand in bringing this group up, but I know it was an event put on by the Croquet group.
After talking to the band, I learned that they had a show canceled in New Jersey before their New York City gig, so they decided to give us a visit.
The show was a lot of fun and the turn-out was well deserved, they really packed it in for a Monday night.
The band reigns from Sao Paulo, Brazil, speaks Portuguese, but if you shared dialogue with any of them you would never guess they were any further away than Henrietta.
The music reminded me of a pop rock group that I can't put my finger on, but it was a rock sound that sounded very American born. You could definitely dance to it, and sing along to, regardless if you spoke Portuguese or not.
All in all, awesome show, cheers to the $2 Guinness drafts over there at the
Bug Jar
, too.
Check out more with,
Garotas Suecas
.
Peace.
- Games
Right Now, We're Watching