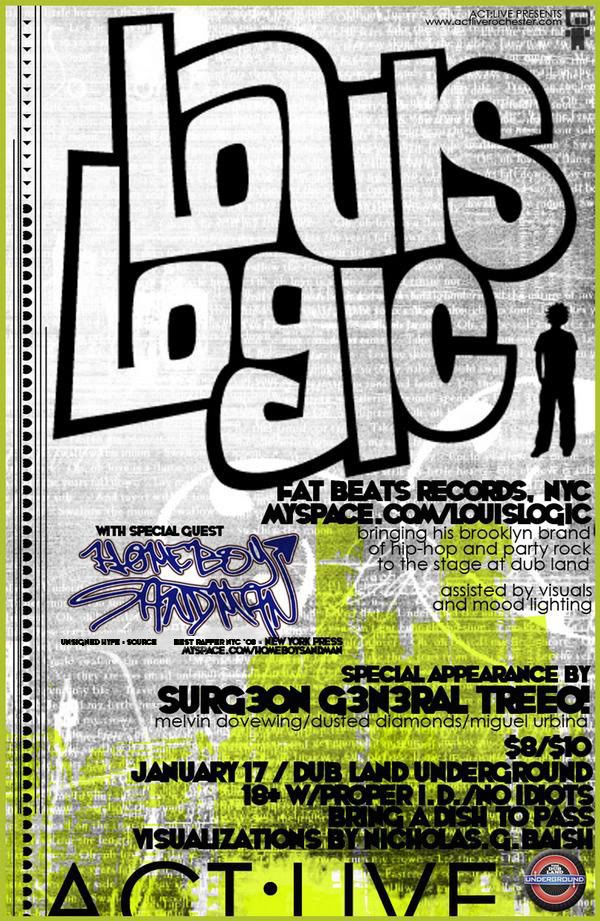 werd: james niche
Hip-hop has a new member to it's team here in Rochester and with just a few small shows under their belt and an opening slot at the
Cassidy
after-party at Dub Land Underground. Who, you ask? The Surgeon General Trio, comprised of
Miguel Urbina
on the skins, Dusted Diamonds (Woody) on the MPC and none other than
Melvin Dovewing
(Reece Q's alter ego) on the mic.
They have a really slick sound and the whole concept is a lot of fun.
The stage set-up is very lounge-y, with candles adorning the stage and comfortable, plush furniture that gives the audience a very home-like feel.
I've seen them several times within the past two months and it gets better every time. Melvin (Dovewing) has decided to take vocals from the Reece Q CD, Quote To Self, and translate them into a live remix with live instrumentation.
The boys may be onto something that is quickly gaining attention from Dub Land Underground patrons. Cheers to them for bringing the funk.
The Surgeon General Trio! will be performing as an opening act for the upcoming show with
Louis Logic
(Fat Beats Records, NYC) at
Dub Land Underground
on January 17th.
Be there or you will most likely die in a car accident if you go somewhere else...that's what I was told.
- Games
Right now, we're watching: